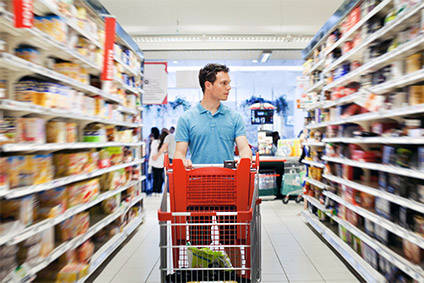 In the latest of its monthly columns on just-food, FMCG market research giant IRI surveys the main issues food manufacturers and retailers will have to consider as they market and sell to consumers in 2017.
Remembering the importance of bricks and mortar
The shopper experience is changing – not just in way people shop, but how they feel about it. Food manufacturers and retailers will have to work together build a true multi-channel experience and learn to engage with customers via digital channels. Traditional stores have taken steps towards the demand for online grocery shopping and in developing a mix of online, offline, and a hybrid of both, with click and collect for example. With more people than ever shopping online – record sales of tablets and smartphones with larger screens are increasing the propensity for mobile commerce, and click-and-collect purchases becoming more popular – we will see more developments in this area.
But stores are not going anywhere soon, and even pure-play e-commerce sites are seeing the benefit of engaging with shoppers face-to-face by opening bricks and mortar stores. Amazon shocked the grocery sector this year by announcing plans to move into fresh food, and now has plans to open physical stores to stock more perishable items like meat and milk.
Pleasure is a priority when shopping and it's not just the physical experience of going into a store to look and buy, shoppers also want to try new products – to taste, smell and see them. Unfortunately, too many retailers today fail to offer this in a one-one situation, with less staff available to service customers, offer tastings and demonstrations. It is a sad fact that, while shoppers claim to have less time, the response is to get them in and out of a store as quickly and conveniently as possible.
2017 could be the year when we see a classic balance of offline and online shopping for today's multi-channel shopper, while manufacturers and retailers work better together to bring stores back to life and excite the shopper once again.
Data, data everywhere
While technology will play an increasingly vital role for enhancing the shopping experience – online and offline – and digital technologies become increasingly embedded, a challenge will be turning an ocean of data into smart information.
Most manufacturers and retailers are struggling to cope with the sheer volumes of data available within their organisations and making sense of it. For food manufacturers understanding this wealth of data – a goldmine of information – will become crucial to understand the path to purchase and in helping develop the next innovation to create an edge over the competition and to grow their business. Manufacturers will miss growth opportunities if they are unable to speak the language of data.
With more computing power available through the cloud and more powerful analytics capabilities, we expect to see manufacturers and retailers use big data for predictive and prescriptive purposes to develop effective price, promotion and media strategies, according to customer profiling and behaviour, and help drive sales and deliver growth.
Premiumisation will be the way to differentiation
New product development is widely regarded as the lifeblood of FMCG, but we can see the number of new branded products being launched is falling. Some manufacturers do continue to innovate, but according to IRI data for the number of products launched in the UK between 2013 and 2015, launches fell by 13%.
However, in 2017, food manufacturers will have to differentiate themselves better than ever before. Part of this will be through premiumisation – better quality products with a higher price point.
With the broad FMCG sector in a phase of no-to-slow growth across Europe, we are seeing certain brands in certain countries growing at the expense of others. They are selling more in value than in volume, which suggests consumers are looking for quality and selecting premium products. In France, for example, organic brands are growing, while local products, such as cheese, ham and olive oil, where provenance is important, are more attractive to shoppers looking for something different.
Manufacturers with a single brand in a single category will be forced to differentiate in order to make their brand stand out, and we predict this will be largely through premiumisation.

Digital media will help brands engage shoppers
Brands need to connect with shoppers on their path to purchase before they even enter a store. With the latest figures suggesting young people spend more time online now than watching TV, it is clear digital media is becoming more and more important to reach potential customers.
With more opportunities through paid search, video on-demand, social media and display advertising, digital media can provide the perfect marketing scenario of 'right product at the right time to the right audience', with the benefit of providing additional content and details of promotional offers.
While 2017 will not see global brand owners throwing out the baby with the bathwater by abandoning more traditional forms of engagement, we will see them push more of their budget into digital marketing and customer engagement particularly around mobile. Whatever their budget, brands will also have to get the marketing mix right by integrating media impact analysis with other data, including point-of-sale, promotion and price, to find paths for growth.
Pressure on promotions
IRI's latest data on promotions has shown the first real decline in the use of price discounts by European FMCG manufacturers and retailers since 2012. While a fall of 0.8 percentage points may not appear significant, it suggests that a pattern will emerge with further decline in 2017.
Price promotions are particularly well used by food manufacturers in the UK, where half of all food products are sold in deal. However, suppliers are becoming increasingly concerned about the impact of promotions as marketing budgets come under pressure to show the offers are working. We are already seeing manufacturers in France, Germany and the UK reduce volumes of goods sold on promotion and this is set to continue.
Offers like multi-buys, which have become less popular due to concerns over waste and healthy eating, will also continue to fall out of favour, while marketers will assess the impact of BOGOFs and other promotional offers on their brand equity.
Over the coming year we will see more food brands move marketing spend from promotion to activities that communicate brand benefits such as advertising, as well as NPD. The use of advanced predictive analytics will help manufacturers decide which promotions are most effective at driving sales growth.

Collaboration
Price will remain a major talking point between suppliers and retailers (it was ever thus) but now, with better access to technology and big data by retailers, we will see these discussions move to a more collaborative approach.
For retailers who have a collaborative portal, for example, it means manufacturers can speak the same language and become 'category captains' for the benefit of both parties. The price war in some countries, like the UK and France, will continue into 2017, but manufacturers will find opportunities for growth by working much closer with their retailers. In 2017, we will see many more retailers move to a more collaborative model and winning manufacturers will benefit from this.

Here's to a happy and growth-delivered 2017!