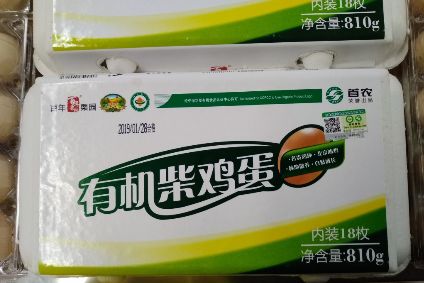 Spending a few weeks in a Beijing suburb over Chinese New Year is an ideal time to check out the latest trends appearing on the country's supermarket shelves.
A development that catches the eye is what I would like to call branded agriculture. You can, for example, buy pork but also spend a little more on a similar cut of the 'Beijing black pig'.
According to information material provided at a Hualian Supermarket I visited in the Beijing district of Gongzhufen, the Beijing black pig is a type of pig developed in China since the 1960s, using genetic stock from Asian, European and US origin, and officially recognised by the authorities in 1982. Its meat contains 8.87% unsaturated fatty acid, in particular, α-linolenic acid. It also contains more than average concentration of the amino acids aspartic acid, glutamic acid, glycine, alanine and inosinic acid.
Such a list of chemical terms will not impress most European consumers but a story like this sells in China. Meat from a black pig is considerably more expensive than a similar cut from a regular pig. Pork belly from a black pig is about 10% more expensive. Tasted minced pork from a black pig has a distinct meaty aroma.
Branded mutton does not require such a technical story. A region of origin can function as a brand. The supermarket's meat section includes a special counter selling mutton from the north-central Ningxia Autonomous Region, an area inhabited by the Muslim Hui minority.
The 'mainstream' Chinese, referred to as Han, mainly eat pork and used to dislike the strong taste of mutton, which is also more expensive than pork. However, with increased discretionary income, Chinese consumers have started to vary their diet and started eating more mutton and beef.
The suppliers of mutton from Ningxia are trying to cash on this growing interest in mutton and stress in their promotion that mutton from the region is tastier than the mutton from other parts of China. Their sheep, so the promotion, says feed on grass that grows at a special elevation in a favourable climate. Moreover, Ningxia mutton is not that more expensive than mutton from a region near Beijing.
Unfortunately, I can't report about its taste. My wife's brother-in-law has friends in Inner Mongolia who regularly send him their own local mutton. The quality is OK, but the Mongolians are not as commercial as the Muslims from Ningxia and have so far not started to sell branded mutton elsewhere in China.
That was merely the meat section. What is really impressive in Beijing supermarkets is the number of branded eggs. In my own Dutch supermarket, shoppers can choose between regular and free-range eggs and occasionally eggs from maize-fed chickens. For organic eggs, consumers need to go to a specialised supermarket.
In my nearest Beijing supermarket, you can pick up any number of eggs from a huge basket with unmarked eggs, or choose from a variety of branded eggs.
Each brand has its own story, like that of the Beijing black pig. Branded eggs are distinguishing themselves by colour. A favourite type is 'purple eggs'. Here, 'purple' is slightly exaggerated; it is a very light shade of purple. The purple eggs in the photo above of Bainian Liyuan, a brand of the Beijing Capital Agribusiness Group, also have an official organic certification by the COFCC (China Organic Food Certification Centre).
The company's promotional material describes the quality of the eggs using categories such as flavour ("high nutrition and good flavour") and colour (a "bright yellow yolk"; the term 'purple eggs' is explained as "the eggs are laid one month after a hen starts laying".
The information also touts the shape of the eggs and expands on how the chickens are bred and fed. The chickens laying these purple eggs are, the company says, raised in a forest region and fed with maize, fresh vegetables, alfalfa and soybean pulp.
Another representative approach to branding eggs is the promotion of the 'crude eggs' of Beijing Xiangtu Trade Co., Ltd.
'Crude' here is my translation of tu, which originally means 'earth(en)' and is also used to refer to crude, unprocessed produce.
Tu often has a negative connotation. Here, it is used in a new positive sense, referring to original and uncontaminated agricultural produce. Some of its special traits as indicated on the packaging are: thin but strong shell; thick egg white; firm reddish yellow yolk; and a stronger flavour than most other eggs.
What could this trend for branded agriculture mean for international suppliers?
Only a very small part of the imports of fresh produce and meat is branded. Much of these imports come about through bilateral agreements between governments. Exporters apparently do not believe that branded agricultural produce has a market in China, while government officials can lack commercial insight. So, for example, a country's beef or pork may be exported to China but only in bulk and not marketed as specific products from specific regions and from specific companies.
The majority of fresh produce and meat sold in China is domestically produced and reared – and the bulk of that, too, is unbranded. However, there is a visible trend towards branding, supported by local governments.
Foreign processors of agricultural produce interested in developing in the Chinese market should no longer rely solely on their governments and try to approach the market directly, promoting the unique aspects of the meat, fruits, or vegetables from their region.
It is easy enough to translate and adapt that story for Chinese consumers. In my home country of the Netherlands, the Livar (short for 'Limburgs varken', pig from the Limburg province in the south of the country) is a lean breed of pigs developed in the 1990s. Its story is centred around an abbey farm in Limburg, which gives it a 'classic' image, similar to the 'crude, simple' image of the 'crude eggs' from Beijing.