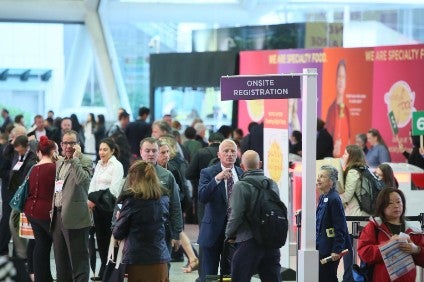 One of the key dates in the US food-industry calendar, The Winter Fancy Food Show is seen by product developers and trend-watchers as an event where executives can pick up a flavour of what's to come in the sector. just-food's US columnist Victor Martino was there once again.
The Winter Fancy Food Show, held in late January each year in San Francisco, serves as a bellwether of upcoming new products, trends and overall strategic thinking in the US – and increasingly global – food industry in the year that follows.
The event has become an important warm-up as well for the giant Expo West natural products show across the Golden State in Anaheim each March.
Taken together, the two events in many ways can be viewed as bookends for the trends and major developments that will play out in the growing speciality and natural foods market in the US. It is a sector increasingly becoming mainstream.
On food industry innovation, many even like to say: 'As California goes, so goes the nation.'
This year's Winter Fancy Food Show offered an interesting glimpse – from the exhibition floor and numerous business seminars to conversations inside and outside the nearly one million square-foot Moscone Convention Center – into what is going to be an exciting and dynamic year in US food.
I scoured the jam-packed exhibit hall, attended seminars, and talked with industry players in the aisles and outside the hall over two days at the show in late January looking to distil the most important developments into five takeaways for just-food readers.
Near-boundless optimism
The overall mood at the show among exhibitors and attendees, which include food retailers and a wide cross-section of industry and allied players, was one of near-boundless optimism for 2018.
Packaged foods companies large and small talked about what they see as great opportunity in retail and other distribution channels, including selling direct.
Nearly every exhibitor I talked to also mentioned optimism for sales growth, sighting the growing retailer and consumer interest in speciality foods in the US and globally. (Food companies from nearly ever major country exhibited at this year's show).
For example, Shelly Balanko, senior vice president at the respected Hartman Group, says US speciality foods sales are growing at about 10% annually, according to data the firm compiles, as compared to about 2.5% for conventional food brands. This data backs the optimism that was so evident this year.
Additionally, David Lockwood, the director at Mintel, said in a presentation at the show the industry should expect the market for speciality foods to keep growing, based on data his firm has compiled over time.
"The market is going up and up and up and has a lot more potential to go up going forward," Lockwood said.
According to Mintel, total US speciality food sales reached $127bn in 2016, the latest year for which the firm has complete data.
"What we've seen is, in 2012-2016, an averaged compound annual growth rate of 9-10%, and going forward for 2017-2021, we have it at 7.9%, only dropping off one percentage point," Lockwood said in the presentation. "For a market this big, above $100bn, that's a really high growth rate."
Lockwood explained the way Mintel has measured speciality foods, it projects the segment will go from 14.8% of the total US food market to 18% in 2021, which leaves plenty of room for growth – and industry optimism.
Retailers were also upbeat. During one of the seminars, "Shaping the Future of Food," Jeremy Gosh, executive vice president and chief strategy and innovation officer for Midwest-based supermarket chain Hy-Vee, said the increasingly innovative grocer is using speciality foods as a key point of differentiation, including against the increased competition in the Midwest from German discounter Aldi.
"For Hy-Vee, speciality food is as big a differentiator today as Kraft Macaroni & Cheese was 20 years ago," Gosh said. That statement puts the changes happening in the industry today in good perspective.
Investor hunger
Notable at this year's show were the number of venture-capital firm principals and associates and other investors roaming the aisles of Moscone Center. They too were optimistic, looking for highly differentiated packaged food products, mainly in the plant-based, organic, free-from and related categories.
The next new, new thing in consumer packaged foods was top-of-mind among the investor class this year.
What's really new?
That search for the next new, new thing in food is not really all that easy though.
The reality is most of the new products launched at the Winter Fancy Food Show and most all other similar shows are more "me too" than they are unique or trailblazing.
Confections, snacks, desserts, condiments and the like comprise the bulk of the exhibits, most being similar versions – or with a slight twist – of what's on the market already in abundance.
But that's fine, the marketplace does a good job overall of sorting out what makes it and what doesn't make it.
Reinvention and disruption
Amid much similarity, a clear theme and focus at this year's show was reinvention of product categories and disruption of the packaged foods industry overall. It's what I often refer to as "the rise of the small".
Challenger brands and wannabe challenger brands, which comprised the majority of the 90,000 food products exhibited this year, see great opportunity to upend the status quo, big brand processed foods companies in a host of categories.
These same big food companies though, which increasingly are exhibitors at the show, realise this fact, which is why 2017 saw a record number of acquisitions of these smaller brands by big food makers. We'll see even more in 2018. I call it disrupting the disruptors via acquisition.
One potential breakout category from the show is plant-based seafood, which is being pioneered by a few start-ups, including New Wave Foods (plant-based shrimp) and Good Catch (plant-based tuna), both of which drew significant attention from retailers.
Fresh and convenient
As we head into a new year in food, look to the concept of fresh and convenient playing a major role in consumer shopping behaviour.
Hartman Group's Balanko says the research firm is seeing a significant shift in consumers moving away from highly processed foods to fresher and cleaner options. Refrigerated products rather than shelf-stable, for example, and branded products that offer cleaner and more sustainable energy inputs.
Speciality products featuring attributes like premium, single-origin sourcing, plant-based, organic, small-batch and fermented fit into this consumer purchasing shift and are gaining sales across all channels of distribution.
Campbell Soup Co. is one big food maker that sees this shift happening. It is growing its Bolthouse Farms brand across nearly every conceivable fresh-refrigerated product category to try to capitalise on this new consumer.
Next month's Expo West show in southern California will offer a second bellwether on how 2018 will play out in US food.
Look for a greater-than-ever presence of big food companies not only exhibiting but looking to make deals with niche brands this year.
The one constant is change. The industry is increasingly becoming more consumer-focused and even led. Those who grasp this have the best chance of winning. Those who don't might not get a second chance.
just-food columnist Victor Martino is a California-based strategic marketing and business development consultant, analyst, entrepreneur and writer, specialising in the food and grocery industry. He is available for consultation at: victormartino415@gmail.com and www.twitter.com/nsfoodsmemo.