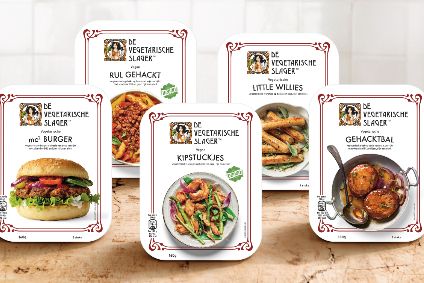 Unilever is looking to further tap into consumers' interest in plant-based alternatives to meat and dairy products – an interest that has intensified during the Covid-19 pandemic.
Within "the next five to seven years", the FMCG giant, home to brands including The Vegetarian Butcher, wants its annual sales from those plant-based alternatives to reach EUR1bn (US$1.2bn).
GlobalData projects global retail sales of meat substitutes will rise 8% in 2020, cumulatively amounting to a value of US$5.1bn.
Moreover, the company's most recent survey (published 10 November) suggests the Covid-19 pandemic has seen health, sustainability and ethics become more of a priority among consumers globally.
All these issues influence plant-based consumption and, while sales of alternatives to meat and dairy were increasing prior to Covid-19, in retail and in foodservice, consumer interest appears to have to have grown further during the pandemic.
Covid-19 has driven consumers worldwide to consider what they are eating and Unilever will be looking to appeal to a growing number of consumers attempting to reduce their meat and dairy consumption, as well as the subsequent impact it has on the environment.
Additionally, among global consumers, 57% of respondents to that recent GlobalData survey said how a product impacts their health always or often influences their product choice and plant-based diets often benefit from a 'health halo'. Unilever is therefore targeting several overlapping important trends by looking to drive its plant-based business.
Unilever's new sales target is part of the company's new 'Future Foods' initiative, which also includes pledges to halve food waste in its direct global operations from factory to shelf by 2025.
Initiatives to tackle waste are only going to appeal to the growing number of consumers becoming more interested in sustainability and the impact of what they eat on the environment.
Unilever refuses to disclose the exact figure for its current annual sales generated from plant-based meat and dairy products – but the company has said to get to the new target of EUR1bn annually would mean a growth of about five times from the current level.
In getting to the target, the Magnum maker has said this week organic growth will be its priority. The growth of the plant-based meat and dairy markets means Unilever is looking to expand in a couple of buoyant sectors and it has already had some success in, for example, building the presence of The Vegetarian Butcher – a plant-based business in the Netherlands acquired in 2018 – to more than 30 countries.
However, Unilever admitted this week hitting the "scary" target will "require really, really high growth rates", so it would not be a huge surprise if the company made more bolt-on acquisitions to support its growth ambitions.
Unilever's recent product-development work has also seen the company launch plant-based alternatives of brands including Hellmann's mayonnaise and Magnum ice cream. It is the roll out of plant-based options to mainstream brands that will play a critical role in growing Unilever's sales in this area but also helping support the overall expansion of the market as a whole, attracting not just vegans but flexitarians towards a more mixed diet.
Nevertheless, Unilever will need to continue to invest in new product development to ensure it stays on top of trends in the plant-based arena. The 'health halo' that has so served the emerging sector well is starting to lose some of its shine as more consumers start to look closely at the ingredients lists of some meat- and dairy-free products. With consumer scrutiny growing – and more consumers coming into the category – more manufacturers will be looking again at their recipes to ensure they are meeting demand in the area of health and sustainability.