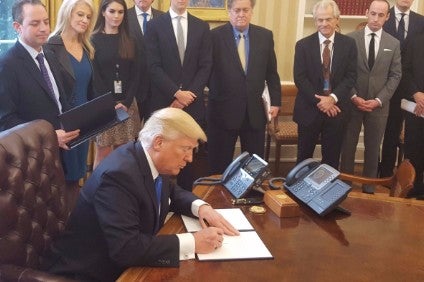 Donald Trump's first 11 days in the White House has seen a series of executive orders and, while some have provoked a storm of global headlines, the US food industry is trying to digest what impact the new President could have on the sector. As Ben Cooper writes, so far, the US food industry has been reluctant to comment but that may soon have to change.
The worst fear of those who opposed Donald Trump's bid for the White House was, added to all they find so hard to accept about him and his policies, he would be a man of his word, and follow through on some of the most radical and unorthodox campaign pledges a Presidential election has ever witnessed.
The opening days of the Trump presidency have shown his preparedness to do just that. Perhaps it was always likely the first non-politician president in the US would break with established political precedent and immediately set about doing what he said he would do.
The response of a number of major corporations to his temporary bans on all refugees and people coming from seven Muslim-majority countries speaks to the unease the business community may have about Trump's new broom.
De-regulation may be attractive to many companies and sectors but industry will want a judicious and considered approach to such reform, not least in relation to regulation around food.
Meanwhile, the Trump view on trade is more than a little unsettling for global corporations, many food multinationals among them. The lukewarm view some of Trump's key advisers have towards the World Economic Forum, which held its annual meeting in Davos in the week of the inauguration, underlines the point, and it is reciprocated. There was no heralding of a new era emanating from Davos, where the guest of honour was none other than President Xi Jinping of China.
Business rallies against Trump on climate change
One of Trump's most extravagant claims during the election campaign was that climate change is a hoax invented by China to stymie US industry – and it is his promises on environmental policy that have so far attracted most vocal criticism from the business community.
In response to Trump's pledge to withdraw the US from the Paris climate change deal, Boston-based sustainability non-profit Ceres launched the "Low-Carbon USA" campaign, which has been backed by 630 companies and investors, including food manufacturers General Mills, Unilever, Campbell Soup Co., Danone and Mars Inc.
"Companies have a lot to gain by supporting continued US leadership on climate and standing up for low-carbon policies," says Anne Kelly, senior programme director of policy at Ceres. "Companies who invest in clean energy will ensure long-term prosperity for our nation and help to build a healthy, sustainable thriving economy. They will help to create jobs and advance innovation, and boost our economic competitiveness around the globe."
Once again, it was hoped by many that his pledge to withdraw from COP 21 was more campaign bluster. However, Trump's appointment of Scott Pruitt, well known for his sceptical views on climate change, to head up the US Environmental Protection Agency, followed by his executive order giving the go-ahead on two controversial oil pipelines, appears to have shown his resolve in taking a very different direction from his predecessor on the environment. There is now stronger concern than ever Trump will indeed withdraw from the COP 21 accord.
This is would be a blow to food companies, Kelly suggests. "Food companies, in particular, face challenges from drought, flooding and hotter growing conditions that affect their water and agricultural supply chains. More and more companies are responding to these threats and calling for continued action on climate to protect their own bottom line and global food supplies."
US food industry's wider reluctance to comment
While some big names in US food manufacturing have signed up to the Ceres campaign, the US food sector has been reserved in its public comments about Trump, both during the campaign and since his election, in spite of the potentially significant impact his policies could have on food production in the US.
It may be some time before any clear idea can be gained on his intentions in relation to agriculture and food, not least because of the delay in naming his Agriculture Secretary until the day before his inauguration. Sonny Perdue's appointment was welcomed by the American Farm Bureau Federation but its statement pointedly mentioned the impact immigration reform might have on the sector.
The Grocery Manufacturers Association, which represents US food manufacturers, also publicly welcomed Perdue's appointment but made no reference to the significance of immigration. When asked by just-food about the immigration issue, a spokesperson said the GMA has "not been commenting on these sorts of inquiries on the new administration given that things are still pretty early in the process".
To a degree, some reservation on the part of industry representatives is to be expected. A general reticence to comment publicly on controversial policy issues suggests the GMA prefers the back-channels of communication with policymakers rather than conducting its dialogue through CNN and The Washington Post.
Moreover, as Trump said relatively little about food policy while campaigning, industry advocates and campaigners alike are understandably unsure quite what to expect. However, Trump appears to have hit the ground running. The "too early to tell" defence may be short-lived and fairly soon the food sector may find it necessary to declare a position, particularly where aspects of the Trump "repeal and replace" agenda might run counter to industry interests. Trump has promised that for every new federal regulation, two will be ditched.
Fierce debates are certain to ensue if Obama food policies, particularly those relating to food safety and child nutrition, come under serious threat of repeal, as appears possible. There will also be much discussion in the coming year about the content of the 2018 Farm Bill, which includes the Supplemental Nutrition Assistance Program (Snap). Even though the bill is not due to be voted on until late-2018, House and Senate agriculture committees are scheduled to begin holding hearings during the course of 2017.
Tempering de-regulatory zeal
In this regard, campaigners are as concerned about the impact of a Republican-dominated Congress, as they are about Trump's own agenda. The Freedom Caucus, a group of conservative Republican members of Congress, has drawn up a list of 232 regulations the President should target in his first 100 days in office, including legislation relating to food safety, school meals, food labelling and environmental protection.
US consumer advocacy group Center for Science in the Public Interest describes the Freedom Caucus agenda as an "anti-science, anti-progress and anti-health ideology that now has newfound legitimacy in the new Congress and Administration", describing its agenda as a "regulatory kill list that targets sensible updates to Nutrition Facts labels, healthier foods served in schools and the entire National Organic Program".
Moreover, President Trump's immediate use of executive powers to freeze regulations that have been passed by Congress but have not yet come into effect could result in significant changes to how legislation governing the new Nutrition Facts Label and the Food Safety Modernization Act are implemented. When asked about this, the GMA spokesperson was again non-committal, saying: "At this point, we don't want to speculate."
However, Margo Wootan, director of nutrition policy at CSPI, believes the food industry has an interest in preserving federal regulations that standardise practices and reduce costs. "While conservatives paint all regulations as anti-business, many food companies prefer national policy to having to comply with a variety of approaches in different states and localities," Wootan says.
The Food Marketing Institute (FMI), which represents food retailers, has been marginally less circumspect in this regard than the GMA. In a blog published on 17 Jan, FMI president and CEO Leslie Sarasin wrote: "We certainly expect to see significantly fewer regulations from the Trump administration than that experienced during the Obama administration. While an intentional slowdown in federal regulation sounds welcoming, we must be aware that such a slowdown at the federal level can ignite accelerated activity from environmental and consumer activists and spark more action on state and local government levels."
When contacted by just-food, an FMI spokesperson said: "These first few days out of 100 have been fast-paced and we're still trying to absorb and assess where our organisation will engage," adding that FMI was still in the process of defining its priority issues.
President Trump has set a dizzying pace, once more surprising pundits with the speed he has set about enacting his campaign pledges. Food policy specifically will be affected though it remains to be seen in what areas and to what degree. Meanwhile, his broader policies on immigration and trade, about which more was known and where he has already demonstrated his intention to act decisively, seem certain to have as much or even greater impact on US agriculture and food manufacturing.