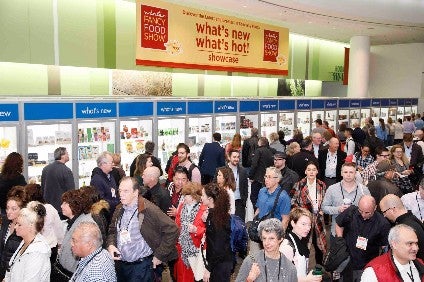 A veteran of attending the annual Winter Fancy Food Show in San Francisco, just-food's US columnist Victor Martino reflects on the changes seen since he first hit the event and outlines four key trends from the floors this year.
I attended my first Winter Fancy Food Show in San Francisco in the mid-1980s. What I recall most from that show, and from those that followed for many years after, was that imported brands, primarily from Europe, were the stars of the show.
But, beginning in the mid-1990s, that began to change, as America's entrepreneurial, natural and speciality companies started coming into their own, introducing innovative new products the big CPG groups didn't offer.
It was also about the time when these same big brand companies started to look more closely at the start-ups and emerging companies that exhibited at the show.
By the early 2000s, the entrepreneurial natural/speciality CPG movement was moving forward at warp speed. The Winter Fancy Food Show, along with its sister show in New York City (and the two annual Expo West natural products shows, the next of which takes place next month), reflected this reality, as the talk on the show floor and in the local watering holes, where the real action usually happens, was focused more on the newest speciality, organic or free-from brand from the entrepreneurial US companies than the latest import brand and products from Europe, as had been the case in the past.
This brief historical journey brings us to 2017, which is a time of big change in the packaged foods industry. Start-up and emerging entrepreneurial CPG companies are driving innovation in the industry. Product quality and healthier options are eating marketing.
That is not to suggest we've reached the end of marketing in the packaged foods business. Far from it. Rather, while the hallmark achievement of the modern packaged foods industry has been marketing over product quality, by contrast, the new-wave packaged foods revolution has at its vanguard a focus on healthier, higher quality products, many of which contain alternative ingredients.
To use a Hollywood analogy, the old-wave, processed, packaged food paradigm featured marketing in the lead role. In today's new-wave scheme, marketing takes a supporting role.
Most big brand packaged foods companies are starting to get this changing reality to a certain degree. General Mills, Kellogg, Campbell Soup Co., Unilever and some others are acquiring entrepreneurial brands and investing in emerging companies through newly-formed venture capital arms, for example. This is a positive move because to a large degree these innovative businesses have become the innovation departments for the big packaged foods companies, which in the main have made little investment over the last two decades in innovation.
This reality was evident at the recently-held Winter Fancy Food Show in San Francisco, where among the nearly 40,000 attendees were numerous big brand company executives, all searching for innovation and opportunity. For example, you could spot the General Mills' guys at the Annie's Homegrown booth from a mile away. General Mills acquired California-based Annie's for US$825m in 2016.
I can't tell you specifically which categories and brands the representatives from the big CPG companies made note of at the show. But what I can do is suggest four areas that should be a focus to all big packaged foods companies.
Plant-based everything
The sales growth of plant-based foods and beverages will continue to soar, and new product introductions will proliferate.
Two emerging companies to watch are San Francisco-based Ripple Foods, which makes a plant-based milk from pea protein, and Kuli Kuli Foods, located across the bay in Oakland. Ripple has raised $46 million so far and recently launched an aggressive marketing campaign. Kuli Kuli, making food products based on the moringa plant, in January raised $4.5m in a Series A funding round, led by Kellogg's new venture arm, Eighteen94Capital.
Snacking as a meal substitute
In many ways snacking is the new meal, which is why there's such a proliferation of new snack food brands and new product introductions from existing snack makers.
My two hot-pick brands are Hippeas, which are made from organic chickpeas, and Smashmallows, which is an organic and sugar-free mini-marshmallow snack product from Sonoma Brands, which was started last year by Krave Jerky founder Jon Sebastiani following the sale of the very successful meat snack brand to Hershey.
Liquid feast
The success of a number of bone broth brands has proven there's more than one use for meat and vegetable broth. And soup will be one of the next areas in which more manufacturers will be looking to create new usage occasions for existing products. Sonoma Brands recently introduced Zupa Noma, an organic, ready-to-drink soup made with whole vegetables. It's positioned as an all occasion beverage rather than as the traditional meal occasion positioning that soup has. Campbell is watching the brand closely.
Fats are back
Animal and dairy-based fats are making a big comeback, in large part because of the consumer trend away from margarine and hydrogenated oils, along with the popularity of whole-foods based and Paleo diets. General Mills caught on to this trend last year when it acquired two-year-old Epic Provisions. Epic, which makes meat, nut and fruit energy bars, and recently launched a range of animal fats and oils (beef, bison, pork and duck) in glass jars, is gaining significant distribution.
Why General Mills must tread carefully with new asset Epic Provisions – just-food analysis published in January 2016
Butter is also back, in large part because nutritionists now say it could actually be good for us. Premium dairy butter, particularly organic, is a hot category to watch. Even more promising is the emerging alternative butter space. The most interesting new product entry on my radar is 4th & Heart Ghee Butter, which is made out of ghee, a form of clarified butter popular in south-east Asia and the Middle East. The Los Angeles-based start-up just raised $1m via crowd-funding, and his numerous venture capitalist firms interested in investing.
We've reached a tipping point in packaged foods towards healthier and better quality. The innovators are the emerging and start-up companies that line the aisles inside the exhibit halls of trade shows like the Winter Fancy Food Show. These brands also are increasingly taking grocery store shelf space previously held by big processed foods brands.
The next wave in the US CPG industry has arrived. Are you ready?
—
just-food columnist Victor Martino is a California-based strategic marketing and business development consultant, analyst, entrepreneur and writer, specialising in the food and grocery industry. victormartino415@gmail.com / www.twitter.com/nsfoodsmemo.