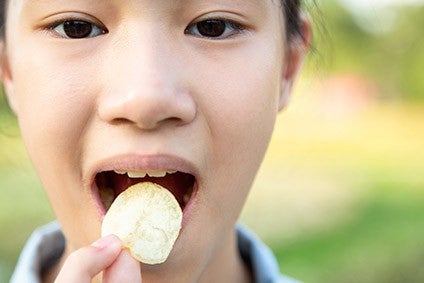 After weighing up what China's "post-90" consumer wants from packaged food, just-food columnist Peter Peverelli looks at what the 12-to 18-year-olds in the country's "post-00" marketing cohort could be demanding.
Chinese marketeers like to divide the country's population in cohorts named after a decade – such as the post-80, the post-90 and the post-00.
The youngest generation, of course, takes in a broad age demographic, ranging from infants up to those set to turn 20 and of an age when they have developed their own opinions on what they want to eat and when (and why).
This column takes in the high school (12 to 18) age bracket, a group forming their own distinct consumption habits. According to the current Chinese population pyramid, this segment is roughly good for 5% of the population, a cohort numbering 70 million people.
China's high-schoolers, armed with pocket money, like to rush to fast-food restaurants or coffee shops after school before going home.
On a recent visit to China, I also saw groups in an Italian restaurant where I often meet friends. Most patrons are (grand)parents who go there with their (grand)children. However, it is not them taking the children out, but the children leading their (grand)parents there. It is the children's choice and the (grand)parent's role to pick up the tab. That restaurant symbolises a modern Western lifestyle.
In August, my friends and I were again at the restaurant, when a group of high-schoolers sat down next to us; unaccompanied by (grand)parents. They had brought some packed food with them, but also ordered some dishes from the menu (I have reported this mixing of restaurant food with food brought in from elsewhere before).
I started a conversation with the group. Asked about their favourite foods in general, they were remarkably uninformative. It was as if the topic of food did not interest them that much.
I connected with one of the boys in the group through the Chinese social network WeChat and asked with the following question: 'if someone offered to buy you ten of your favourite foods in a supermarket, what would be your selection?'.
His reply was surprising: he only came up with four items: crisps, pies, sausages and candy. These are all subcategories of what Chinese food statistics refer to as 'leisure food', food eaten between meals to satisfy an appetite, or to comfort oneself, but hardly a source of nutrition. His choice, in particular the pies and sausages, reminded me of what I see university students eating during breaks when I give lectures in China.
Crisps do not need explaining. In China, although there are domestic brands, most potato crisps consumed are international brands like Lay's.
Pies are cakes with soft, creamy fillings. A large range of such pies is available in Chinese supermarkets. Chinese love soft, moist cakes. Most of the fillings are creamy in texture but taste and smell like a collection of additives, which is confirmed by the ingredients lists on the packaging. Some pies have a fruit-based filling, but the 'fruit' there is also heavily processed. The packaging is always colourful, to create a cheerful feeling. I have seen teachers handing out pies as awards for good grades, or rewards for students who helped clean up the classroom.
Chinese university students also carry portion-packed cakes and cookies in their bags. They, too, are usually not interested in discussing the nutritional value of these 'foods'.
Sausages refers to the many types of packed sausages that Chinese carry as snacks while travelling, working, studying and so on. Although they count as meat products, many of these packed sausages have a high starch content to make them soft enough for easy consumption on the road (and to lower cost). The reduction in flavour and mouthfeel is made up with, again, a cocktail of additives. Like the pies, they are usually relatively small and individually packed.
Candy is another category that does not need much explanation. We often refer to candy as 'sweets' in English. In Chinese, the relation is even stronger, as the word tang ('sugar') is also used as a generic term for candy.
I tried to corroborate my observations with information from China's micro-blogging platform Weibo. A common term in such posts is that high-schoolers 'love junk food'. The categories specified confirm the selection of my young friend on WeChat: crisps and related salty snacks, candy, convenient foods, desserts.
However, the accompanying pictures show that those 'junk foods' need to be presented attractively. Candy needs to come in funny colours (M&Ms are mentioned in several microblogs) and flavours (one blogger mentions durian-flavoured chewing gum. Instant noodles are only interesting if they come with lots of separate ingredients to play with.
The conclusion one is tempted to draw is that the Chinese high-schoolers are not really interested in good food, exciting new flavours, and even less in healthy food. However, a more appropriate conclusion would be that they are over-exposed to a large variety of food almost from the day were born. They also can't compare the present with the past from their own experience, like the older generations.
Extrapolating these preferences of the 12 to 18 cohort into future developments in the Chinese food market leads to some possible conclusions. Regular readers of this column will recognise the preference for instant noodles with several separately added ingredients as a trend that I identified in an earlier column. The high-school generation could be a driving force behind this trend.
The preference for individually-packed bakery items and meat snacks seems part of a broader trend among younger Chinese consumers. They buy for themselves, not to share as is still tradition in China. Moreover, they will continue doing so during their college days and perhaps even their first jobs.
International companies could target this market segment by offering similar products, but of better quality: more natural ingredients, fewer additives, new flavours.
The marketing campaigns should also address the (grand)parents, inviting them to buy their (grand)children healthier alternatives of their favourite foods. These youngsters themselves, and even their cousins in university, may not be so interested in what is printed on the labels of their favourite foods but Chinese consumers in higher age brackets are becoming drawn to more natural foods, with fewer synthetic additives.
And there is the Confucian respect for one's elders as a virtue in China, even among the youngest consumers. Peer pressure can also be expected to have a distinct effect on their choices.