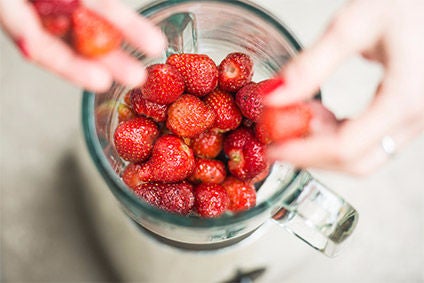 A number of fresh foods are feeling the benefit of rising consumer interest in the UK in home blending but there appears to be some pressure on beverage sales. Martin Wood, head of strategic insight for retail solutions and innovation at IRI, digs into the numbers.
The rising popularity of home blending and juicing is boosting sales of fresh foods in the UK.
Analysis of IRI supermarket sales data in the country shows a steep rise in the purchase of green vegetables, such as avocados and spinach, and soft fruits over the last year.
Sales of avocados rose by 31%, worth an extra GBP34m to UK supermarkets over the year before, while demand for spinach rose by 21% and greens by 12%. As the craze for blending and juicing continues to grip the country, soft fruit sales also increased by 12%, topping GBP1bn in sales last year.
Typically we expect these figures at the start of the year when people usually adopt healthier eating habits, so it is really encouraging that our data shows growth trends across the whole year.
A multitude of push and pull drivers are at play. More consumers are showing interest in more natural products as awareness of the health benefits of certain foods and ingredients rises.
There is also heightened awareness of the link between diet and obesity, which appears to be benefiting simpler foods and hurting more processed lines.
Support for healthier eating by retailers, under pressure to sponsor healthy eating trends but also see the margin potential of new trends, also plays a critical role. More retailers are stocking blenders and juicers, which acts as a signpost for shoppers in-store. In fact, sales of blenders and juicers increased by 49% over the past year to over GBP17m as the marketing buzz behind brands like NutriBullet and celebrities such as Ella Woodward gathered pace.
For manufacturers it is important to spot the trends at an early stage. The growth in sales of blenders creates opportunities for fruit and vegetable suppliers. Home preparation of smoothies had been hampered by the complicated preparation and cleaning of equipment. By making the process simpler, Nutribullet has facilitated a shift in behaviour and could be seen as a tipping point for a trend.
Anything that makes it easy and simple for people to feel a benefit can make the difference between a good idea in principle and a facilitator of real change in shopping and eating habits. There are other examples to be found in the packaging and delivery of the products that are also in growth. Small bags of ready-to-use spinach are much easier to use than bags of stalky unwashed spinach. Avocados that do not require destoning are far more attractive to the consumer looking for convenience and a health benefit.
However, while raw fresh food manufacturers are benefiting from the do-it-yourself juicing trend, pre-packaged juice and smoothies have suffered declines in both sales values and volumes. The value of sales of chilled juice and smoothies fell 3.8% to GBP954m last year, with volumes declining 2.8% to 674 million packs.
Deeper declines were seen in juice, which saw sales value slide 8.8% and volumes sink 8.7%. It seems as if consumers are becoming more distrustful of packaged foods that may have added sugar they do not want or need. This is also demonstrated by rising sales of bottled water, both standard and fortified. That said, some of the decline in sales value will also be down to sales moving to the discounters.
Sales of smoothies, arguably seen as a healthier option to juice, are flat at GBP135m. Smoothies have likely also taken some of the juice sales as shoppers switched to perceived healthier options but it is now a stagnant category – and the trend towards home blending could be having an impact.