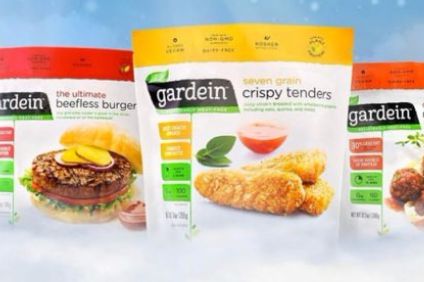 Now, 2017 was a very active year for M&A in the food industry, with our number crunchers showing the volume of deals up 17% worldwide on 2016.
And last year saw some notable transactions from McCormick & Co. buying Reckitt Benckiser's food division to the snacks-centric one-two in December of Campbell Soup Co. swooping for Snyder's-Lance and Hershey hoovering up Amplify Snack Brands.
However, US food-industry watchers believe there are still major deals that could take place in that market – and the odds on one of those possible transactions may have shortened a little in the last 24 hours.
US manufacturer Pinnacle Foods – home to brands from Birds Eye frozen food (in the US) to Duncan Hines baking mixes – has seen the appearance of activist investor Jana Partners on its shareholder roster.
Jana Partners, a fund that has regularly taken positions on consumer-good companies with a view to pushing through strategic change and extract value, has teamed up with three FMCG executives to acquire 9.5% of Pinnacle.
The fund said they would look to hold talks with Pinnacle's board on "value-creation measures", which they believe include "a sale or other consolidation opportunities potentially available to the [company] as a result of its scale position in the frozen foods sector".
The news has got US industry watchers mulling whether the move could put Pinnacle in play. Last summer, it was reported talks of a possible sale of Pinnacle to fellow US manufacturer Conagra Brands broke down after the companies failed to agree a price. Broadcaster CNBC claimed it had been told by sources Pinnacle's expectations far exceeded what Conagra might have been willing to pay.
Nevertheless, some equity analysts following the US packaged food majors still see a deal between Conagra and Pinnacle as one of the most likely big transactions in the industry.
"We continue to believe that a Conagra Brands acquisition of Pinnacle Foods remains – along with Kraft Heinz buying Mondelez – among the most likely potential large-scale M&A events in US food," RBC Capital Markets analyst David Palmer wrote in a note to clients earlier this month, as reported by Bloomberg. "We believe US frozen is ripe for consolidation."
In a note issued in March ahead of Conagra's third-quarter results, Sanford Bernstein analyst Alexia Howard wrote how "a large acquisition by Conagra has been widely anticipated and Pinnacle Foods appears to be the best strategic fit, although so far, any such deal has not been forthcoming, perhaps over price or deal terms".
In their most recent financial years, Pinnacle saw its net sales inch up 0.5%, while Conagra saw its top line decline by almost 10%, or by more than 5% excluding the impact of M&A. In the first nine months of Conagra's current financial year, its net sales crawled forward by 0.1%.
Both companies have sought to use M&A to buy smaller, faster-growing brands but, overall, remain two of the large food manufacturers in the US that are seeing their sales growth pressured by the structural change in consumer habits that is transforming the marketplace.
Thanks to NPD, they have been central to the recent growth in the US frozen-food market, with both companies having a sizeable presence in that part of the store but there are some question markets about the longer-term prospects of that category.
"Amidst a time of challenging packaged food performance in the US, the frozen category stands out as one of the few growing categories, having experienced 2-3% sales growth over the past year. The category growth has been largely led by new product innovation from Conagra and Pinnacle Foods. The question from here is whether growth in the frozen category can be sustained by demand growth if product innovation runs out of steam over time," Sanford Bernstein's Howard wrote last month. "We do not believe the frozen category can be supported by underlying demand growth over the long term."
No doubt Conagra, Pinnacle (and now Jana Partners) will be weighing up whether they think
Sanford Bernstein's thesis holds water. Could all parties concerned conclude bringing together their businesses will give it the scale to be a formidable competitor in a slow-growth category, while generating synergies to invest in the growth pockets in their combined portfolio?
just-food asked Pinnacle for a reaction to Jana Partners' appearance on its share roster and on whether the manufacturer would be open to a sale and/or a consolidation play. The company said: "We are aware that Jana Partners has made a 13D filing regarding its investment in Pinnacle Foods. Pinnacle's board of directors and management team welcome stockholder input and are committed to continuing to create value for all stockholders."
Jana Partners has a track-record of taking positions in consumer-goods companies. In August, the fund bought a stake in embattled US meal-kit supplier Blue Apron.
However, more notable has been investments in US grocer Whole Foods Market and the forerunner to Conagra, ConAgra Foods.
Last April, Jana Partners snapped up an 8% share of Whole Foods. Two months later, of course, came the announcement Amazon was buying the upmarket food retailer.
In 2015, Jana Partners acquired 7% of the then ConAgra Foods and said it would hold talks on "value creation".
Weeks later, ConAgra announced plans to sell its private-label business. Sean Connolly, who became ConAgra CEO earlier in 2015, said he had "intensely studied" the group's private-label business and concluded it was not worth investing the time and energy required to turn it around.
Connolly, incidentally, was CEO of Hillshire Brands when the US packaged meats firm struck a cash-and-shares deal to buy Pinnacle in 2014 – a transaction gazumped weeks later by meat giant Tyson Foods coming in buying Hillshire.
Could Connolly be a central player in Pinnacle's future? The general belief in the US is a deal between his current employer and Pinnacle would not be a huge surprise, although one analyst has today mentioned other possible suitors.
"The frozen space remains ripe for consolidation, in our view," Barclays analyst Andrew Lazar said. "We believe [Jana Partners' investment] could be a positive for a few potential suitors. Recall last year when Reuters indicated that Conagra had made an approach to acquire Pinnacle both Pinnacle and Conagra shares outperformed – which we believe reflected the potential EPS accretion, even at Pinnacle's then higher share price, and the related notion that frozen consolidation is an attractive synergy opportunity As such, we view yesterday's news as a likely positive for Conagra. However, we would also highlight other potential frozen and centre-store consolidators including Kraft Heinz, Nestle, Hormel and Tyson."
Pinnacle is due to report its first-quarter numbers on 3 May. Its management may not comment directly on Jana Partners, nor on Conagra, but it is likely it will be asked about the company's options.