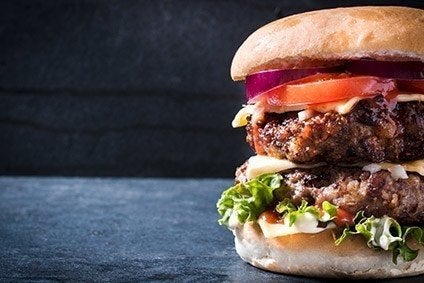 The decision announced by the US Departments of Health & Human Services (HHS) and Agriculture (USDA) that the 2015 Dietary Guidelines for Americans (DGAs) will not take account of environmental factors when they are published later this year was not a great surprise.
The process leading up to the publication of the 2015 DGAs has arguably been the most controversial in their 35-year history. Among the controversies, the suggestion by the Dietary Guidelines Advisory Committee (DGAC) environmental factors be included had triggered vigorous debate and strong political opposition.
By announcing the decision on the HHS and USDA blogs well before the finalised guidelines are published, justifying their move by suggesting the issue was "a matter of scope", Sylvia Mathews Burwell, HHS Secretary, and Tom Vilsack, USDA Secretary, may have been hoping to lay this issue to rest ahead of time.
The Secretaries said the DGAs are not "the appropriate vehicle" for consideration of environmental factors, and perhaps the recommendation to include them does appear – at least on first examination – to be a fairly radical departure and a significant extension of their remit. In that sense, the Secretaries' decision may be seen as government departments erring on the side of caution, focusing on their core priorities, even though campaigners point to political manoeuvring, the familiar story of lobbying on Capitol Hill and kowtowing to vested interests.
For whatever reason, last week's decision was predictable. However, the very fact the DGAC's recommendation seemed an innovative and progressive move highlights what a missed opportunity and failure of imagination the decision represents.
As was argued in this column in January, the DGAs are reviewed every five years precisely because they are expected to evolve in response to scientific progress. Recent years have seen fundamental changes in how the sustainability of the food supply and diet is viewed. Environmental criteria are now too important to be ignored.
Vilsack and Burwell concede "issues of the environment and sustainability are critically important" but their contention these issues "are addressed in a number of initiatives within the Administration", pointing to USDA investment in supporting sustainable production, is irrelevant and immaterial to the question of whether the guidelines should take account of environmental factors. On the other hand, their comments also state, almost as an aside, that "some of the things we eat require more resources to raise than others", which underlines exactly why their decision is misguided.
The DGAC was more specific, which is why the recommendation caused such uproar. It stated that there is "consistent evidence" that in general a diet higher in plant-based foods, which is the sort of diet the DGAs have been promoting since they were launched, is "more health-promoting and is associated with lesser environmental impact (GHG emissions and energy, land, and water use) than is the current average US diet".
The convergence of health and environmental factors is significant but in a sense the case for considering environmental criteria does not depend on them being mutually supportive. Environmental and human sustainability factors overlap, interconnect, at times converge and at times conflict. The logical consequence is dietary advice should – and increasingly will have to – take account of both human and environmental imperatives.
The policymakers are behind the curve on this. In today's market, major food manufacturers and retailers shape their businesses and adapt their product ranges according to a matrix of sustainability factors, including both human health and environmental criteria. The rhetoric of major food companies – even if not always fully reflected by action – suggests they understand the health of people and the planet have to be considered in tandem.
It could also be argued that growing numbers of consumers are ahead of the decision makers at USDA and HHS. The expanding markets for higher-welfare meat, organic produce and a host of other certified sustainable foods is testament to rising consumer interest in sustainability. Moreover, these foods often tick a number of boxes for consumers, relating perhaps to environmental impact, social factors in a supply chain or the pursuit of a healthier diet.
Organic is arguably the prime example and a particularly instructive case to point. The fact researchers have found it so difficult to nail down exactly why consumers are buying organic foods – whether it is for environmental or perceived health reasons – suggests in the minds of many consumers it comes down to a nuanced relationship between the two that is very hard to unpick. It varies from consumer to consumer, from product to product and, just as crucially, from moment to moment. All we can say really is that both motivations are there.
If food companies and increasing numbers of consumers are weighing up environmental and health factors to make decisions, it is reasonable official dietary advice should do the same. In turn, this should steer more consumers towards considering environmental factors when making purchasing decisions which can only be beneficial.
Moreover, the five-yearly review process is significant for another reason. The 2015 DGAs have to remain valid and relevant for another five years. Even if it could be argued that environmental factors should not influence dietary advice today, the HHS and USDA should perhaps have taken more account of which way the wind is blowing, or more accurately which way the global thermometer is moving.
The HHS and USDA announcement comes as politicians and government officials look ahead to the crucial UN climate change conference which takes place in Paris between 30 November and 11 December, where a new international agreement on climate change will hopefully be sealed.
While there is a certain air of optimism in the run-up to Paris that was certainly not in evidence at the Rio+20 conference in 2012 – due chiefly to the emissions reductions targets now made by many countries and the faster progress than expected on renewable energy – the battle both to mitigate climate change and adapt to that which is now irreversible remains a daunting one.
The relationship between climate and food security and nutrition is central to the adaptation challenge in particular. Promoting environmentally sustainable diets will become a critical responsibility for government agencies, as has been seen with other prominent climate change challenges such as cutting household waste, supporting the development of renewable energy or boosting recycling.
Being able to refer to new dietary guidelines informed by environmental sustainability considerations would likely have pleased President Obama, who has made climate change a legacy issue.
Nevertheless, in the broad context of what hopefully will be a globally momentous conference, the decision by HHS and USDA is unlikely to be a major talking point among delegates. However, while US government officials might not be upbraided in the corridors of the Paris-Le Bourget Conference Centre for the lack of conviction and foresight displayed in last week's decision, they may have been congratulated by some of their peers had their government taken a more progressive approach.