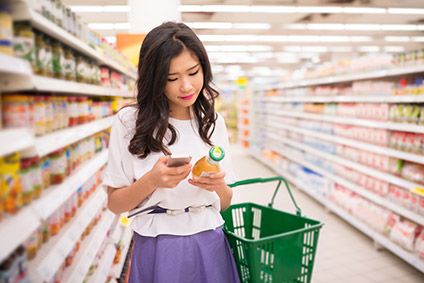 As Europeans' interest in health and well-being rises, the way nutritional values are communicated on-pack are growing in importance – and can help brand-owners gain an edge on their competitors. But with no consistent way of showing nutritional information, it has become very hard to compare products. IRI's Olly Abotorabi questions why more food manufacturers aren't grasping this opportunity.
Health and well-being is an issue to which a growing number of Europeans are paying attention.
IRI's European Shopper Survey showed 51% of EU shoppers said wellness was important to them, over a quarter were looking to lose weight while 15% were mindful of health problems.
Consumers understand the link between health, wellness and nutrition. An IRI consumer survey carried out in Italy and presented to the European Commission this year showed 92% of consumers recognise the importance of controlling fats, salt and sugar levels to maintain or enhance wellness.
But, navigating the myriad of nutritional claims made on packaging has never been more confusing. Many food manufacturers are missing a major opportunity to help their customers make the healthy choices they so clearly want and to foster a greater degree of trust.
While the European Commission has made back-of-pack nutritional labelling mandatory for pre-packed foods, front-of-pack nutritional labelling remains voluntary, and this is where there is a plethora of approaches. The Commission held a first meeting on this issue in April 2018 suggesting more consistent guidelines might be a possibility in the future.
Analysis across key European countries reveals the implementation of informal standards for nutritional labelling is extremely varied.
Sweden, Denmark and Norway deploy a keyhole system, which is voluntary and one of the longest-running across Europe. Labels are granted to packaged and restaurant foods that adhere to its standards on fat, sugar, salt and fibre. In Norway, there was a five-fold increase in the number of products using the system between 2009 and 2015, while in Sweden a 10% decrease in calorie intake was identified when consumers consistently chose foods with keyhole labels.
The UK brought in a voluntary front-of-pack ranking in 2013, known as the "traffic light system" which has coloured ratings across five macro-nutritional values. Implementation however in the UK is inconsistent and confusion reigns; according to a recent survey by the British Nutrition Foundation, 40% of consumers find it difficult to make informed healthy food choices.
In France the Nutri-Score system was introduced in 2017. It generates ratings from A to E based on the global nutritional value of products. Resistance has been felt by both international and local brand manufacturers, implying it is 'too dismissive'.
However, leading French retailer Leclerc revealed that, in a preliminary analysis of 300,000 Drive (click-and-collect) shoppers, the nutritional values of their basket rose by 10% on average when presented with the option of Nutri-Score products.
Beyond the confusion of a standard for labelling, there are added issues, such as how to measure nutritional value. Evolved Nutritional Labelling (ENL) is an adaptation of the UK traffic-light system and was proposed to the EU Commission in May 2018 by five multinational brand manufacturers. While this proposal offers to measure by portion, it also faced criticism for limiting ease of comparison and avoiding red light labels on the front of pack.
It's actually private-label brands in many cases that are making a much better job of clearly signalling nutritional values on the front of pack. In an environment where more shoppers are embracing private label already – nearly 40% of EU grocery value measured by IRI comes from private label – they are providing greater levels of transparency which surely strengthens their credentials, while many brand players continue to hide.
Meanwhile, if branded manufacturers and retailers don't take control of their communications around nutrition, they might find third-parties filling the gap for simple, helpful information. Shoppers already have more information than ever before at their disposal by way of smartphone apps to help them understand more about the food they eat. An example is Yuka, available in France which comes with guidance and recommendations on healthy products at the scan of a barcode, helping influence consumers' choices in store or on screen.
Nutritional labelling offers a real opportunity for manufacturers to help consumers make healthier choices but at the moment this is rarely being taken. Finding the right balance between full transparency and ensuring labels can be simply compared is essential. A consistent labelling template would allow European shoppers to more easily benchmark and identify the right products.
Looking forward, greater acceptance of front-of-pack nutritional labelling could prove influential in bringing healthier products to store and result in boosting brand equity with shoppers.
With the guideline daily amount (GDA) already a uniform label across EU, opportunity exists to agree a unified approach. For brands, the time to act on this issue is now – they need to own it, or risk losing control forever.