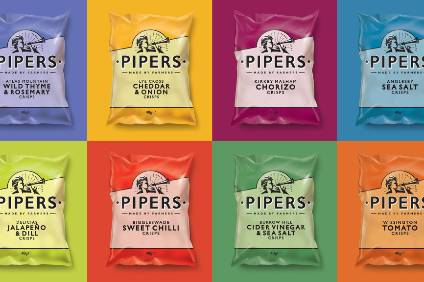 There is no question PepsiCo, compared to its closest peers in food, has been relatively less active on the M&A front in recent years, even if it may not have been for the want of trying.
In 2016, then CEO Indra Nooyi told investors the US giant was looking to acquire businesses but was finding it difficult to find the right companies to buy.
However, either side of Nooyi's departure in October, PepsiCo has announced three deals in six months – and two in the last fortnight.
Last week, PepsiCo unveiled the acquisition of US "superfood" snacks maker Health Warrior. And, this week, on the other side of the Atlantic, PepsiCo announced plans to buy UK firm Pipers Crisps. Those transactions followed the move in May for US "better-for-you" firm Bare Snacks.
After two bolt-on deals in health, the play for Pipers looks to have been made for other reasons.
PepsiCo, the giant behind brands like Walkers crisps and Doritos tortilla chips said Pipers, a business that touts the flavour of its products and its local sourcing, would complement its existing savoury snacks portfolio.
Pipers is a business that doesn't sell into UK supermarkets (in fact the company has in the past been quoted as actively not wanting to sell into the country's major grocers) and instead supplies farm shops and foodservice outlets such as pubs, cafés and restaurants.
The firm has a presence outside the UK, with its most recently-available accounts – covering the year to 31 January – stating it sells into more than 40 markets, presumably with limited presence in many given the accounts show annual turnover of GBP11.4m (US$14.9m).
Those accounts show Pipers made an operating profit of GBP508,637, versus GBP536,149 the previous year. The firm's profit was GBP372,185, against GBP431,398 a year earlier. Higher administrative expenses and a larger tax bill ate into earnings.
They also show that GBP11.4m in turnover was more than 16% higher than in the previous 12 months, some solid growth for the Lincolnshire-based business.
PepsiCo said it would seek to accelerate Pipers' growth in the UK and develop the business' export markets.
The UK crisp market is the largest in Europe but, given the cut-throat nature of the crisp aisle in UK supermarkets, it could be tough, even for a company the size of PepsiCo, to try to carve out a sustainable niche for Pipers in that channel. You cannot walk down a crisps aisle in a major UK grocery store without being hit by deep promotional activity, even at the 'premium' end of the category where PepsiCo could in theory now play with Pipers but where brands like Tyrrells and Kettle are well entrenched but still feel the need to discount.
PepsiCo may have the resources to discount but to what extent does that help build a brand in the long term, especially one built on attributes seen as more 'premium', like provenance and flavour?
Instead, it's more likely PepsiCo will use its muscle behind further growing Pipers' presence in the UK foodservice channel, as well as try to build on the firm's footing overseas.
"While the caveat always is what was paid, I believe this is an interesting and for PepsiCo potentially a reasonably low-risk move," Cyrille Filott, global strategist for consumer foods at The Netherlands-based financial services group Rabobank, says.
"PepsiCo is adding a 'premium' brand to the foodservice range. And a brand launched in foodservice tends to carry higher margins/prices in the long run. Think of what is sold a regular British pub: now PepsiCo can differentiate.
"I know the crisp market in the UK is highly competitive. PepsiCo should try and leverage its distribution power, so, yes, the brand may end up in international retail."
After a barren run, PepsiCo has struck three deals in snacks this year. Unlike the two signed in the US, the deal for Pipers is not centred on health and is more in PepsiCo's core snacking area of crisps (chips), with a focus on provenance and flavour.
However, it could be argued PepsiCo would be better placed trying to build on Pipers' existing core sales channels, of independents and foodservice in the UK, with an eye on tactically growing its new assets presence in selected international markets, too.