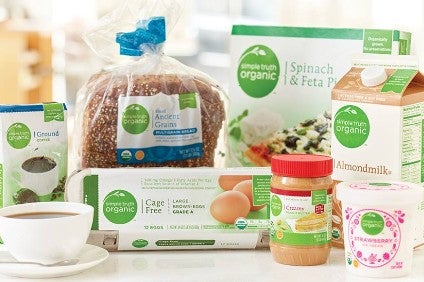 The major, branded CPG operators in the US are not only facing a challenge from growing demand for products from upstart, agile competitors tapping into evolving consumer trends. They are also, Victor Martino warns, seeing another front open up from private-label. In his latest column for just-food, Martino outlines which retailers are gaining ground and how brand owners can fight back.
The biggest threat to manufacturer CPG brands in the US today, particularly to the big guys who have everything to lose, is that retailer – or store-brand, private-brand, private-label, generic, proprietary, own-brand; pick your term – brands are simply becoming brands.
Historically in the US, private-label CPG brands (the oldest of the numerous terms) were merely low-priced knock-offs of the top-selling brands in various categories. Little effort went into product quality or packaging. No frills and low-price were all that mattered.
That's no longer the case today. Store-brand innovators like Trader Joe's, Kroger, Albertsons, Costco and Whole Foods – joined most recently by Walmart and German grocery chains Aldi and Lidl – have changed the store-brand paradigm from private-label brands to simply brands.
All these retailers are creating and offering multi-tier, private-brand portfolios, ranging from price-focused to premium, natural, organic and even free-from.
In my January column for just-food about how entreprenuerial challenger brands are challenging the big national CPG brands and how the majors are responding, I pointed out one increasingly popular strategy is to simply acquire the challengers. But you can't do that when it comes to retailer brands.
The threat to manufacturer brands from retailer-owned brands is, however, much bigger.
For example, Kroger's Simple Truth organic brand did US$2bn in sales in 2017, which dwarfs the annual sales of most national organic brands, including those owned by CPG giants like General Mills and Kellogg.
Kroger is leading the grocery retailer pack in terms of developing a CPG product branding programme that is taking the private label out of store-brands and simply developing brands.
Additionally, Albertsons' O Organics brand does $1-1.5bn annually. Albertsons said in February it hopes to double those sales in 12 months by putting the brand in all its corporate-owned chains, along with adding categories and rapidly adding SKUs.
In a way similar to what has been going on in Europe for over a decade, Trader Joe's, Costco, Aldi and Lidl offer their own brands almost exclusively in their respective stores, with virtually no complaints from shoppers. In fact, it is one of the key customer draws for all four of these retailers in the US.
In Europe, private brands account for around double the market share that they do in the US.
Therefore, US national brands have real cause to worry – and must take action.
In my analysis, the rise of store brands is one of the main reasons we're seeing the recent spate of poor earnings reports from many big publicly-held branded CPG companies. The squeeze is on.
Store brands currently have an approximate 17% market share in the US, according to the Private Label Manufacturers' Association.
However, according to Nielsen and others, private brands are growing at an annual rate of 10%. In contrast, manufacturers brands are growing by barely 3% a year.
Costco, which along with Walmart and Kroger comprise the 'Big Three' US grocery retailers, is a good example of the phenomenal growth in retailer brands.
According to Costco, its Kirkland Signature brand generates about a quarter of the retail club store chain's $118.7bn in annual sales. Company executives say publicly they expect to grow this percentage significantly over the next couple years. Half of Costco's wine sales come from its Kirkland Signature brand.
Daymon, the Connecticut-based global consumer retail and private brand agency, recently released its 2018 Private Brand Intellegence Report which analyses how well private brands compete with national brands. The report is based on survey data.
Among Daymon's findings, 81% of shoppers buy private brands on every, or almost every, shopping trip. I find this believable because it mirrors the growth retailers are seeing and reporting across the board.
Daymon also says its data shows shoppers are hungry for more private brands, including in fresh categories. In its surveys, 60% of consumers said they want to see more retailers expanding their private brands in fresh foods.
What we're seeing is a tipping point in the history of retailer brands. No longer "private label," private brands are on the way to becoming simply brands that happen to be produced by retailers.
In a recent interview with Forbes, I coined the term "austerity chic" to describe the private brand strategies of German grocers-come-to-America Aldi and Lidl.
Their premium and organic brands are in most cases of the same or comparable quality as manufacturers' brands but retail for 20-40% less. The packaging looks chic but the price is austere.
Costco falls into this camp as well with Kirkland Signature, while Walmart is moving in a similar "austerity chic" type of positioning with its recently-introduced 40-SKU-strong 'Italia' premium line and an upscale organic line under its Sam's Choice brand.
Walmart-owned jet.com and Amazon, along with online CPG startups Brandless and Movebutter have all launched private brands in the last 12 months under the "austerity chic" rubric. The brands feature attractive packaging at relatively affordable prices. It is a concept similar to what Target pioneered in categories like clothing and housewares.
Although manufacturer brands have cause to seriously worry about the new private-brand threat, the good news for these brand-makers is they still control an about 83% share of the branded CPG market.
But the gap between private and manufacturer brands is closing faster than ever before.
There are three areas manufacturer-brand companies can focus on, starting today.
One, fight for share-of-shelf. Retailers own the in-store real estate, which is why private brands get better placement than manufacturer brands.
For example, store brands are most-often placed to the right of the respective comparable manufacturer brand because decades of research suggests this placement offers a sales advantage.
In addition, certain store-brand SKUs often get more shelf space and product facings than sales velocity warrants.
It is often done to spur store-brand sales. In contrast, in order to earn comparable shelf space, a manufacturer brand has to earn it through sales performance and pay for it via slotting fees and promotional funds.
Manufacturers need to develop relevant sales data that demonstrates why their respective brands deserve a greater share-of-shelf and then have their sales force get in-front of retailer merchandising executives and category managers and hammer home the data.
Two, innovate like never before. Manufacturers remain the strongest innovative force when it comes to CPG brands.
However, they need to put this innovation into overdrive and not only create new products in existing categories, but also create new usage occasions (cereal bars are a good, successful example) for existing products, along with developing entirely new categories.
And, third, go direct. Retailers will remain the primary distribution channel for consumer packaged goods for a long time to come. But digital technology and a revolution in logistics offers the opportunity for manufacturers to experiment, as many are starting to do, with going direct to consumers.
We're in the era of channel proliferation – Uber and Lyft are considering having drivers sell drinks and snacks to riders right out of the car, for example – and there's no reason for brands to not explore direct-to-consumer marketing and selling.
Even if direct-to-consumer initiatives don't amount to significant dollar sales for brands over the next decade, direct-to-consumer can serve as an important countervailing force vis-a-vis the challenge on the store shelf and increasingly the digital shelf with retailer brands.
Also don't rule out manufacturer-retailer product brand partnerships, which is something nobody is talking about.
I can envision a major CPG company with strong branding expertise striking a deal with a Walmart, for example, in which the two partner together to create a brand to be sold exclusively at Walmart-owned chains and stores globally. That's a lot of stores. It could easily become a multi-billion dollar brand without ever having to be sold by any other retailer.
Big retailers may even in the not so distant future acquire smaller but popular niche brands and turn them into a proprietary brand. Premium and organic are most ripe for an out-the-box move like this.
In sum, the US is moving in the direction of Europe, where shoppers generally view private brands as simply brands, and where own-brand penetration is closing in on a 40% share of branded CPG sales.
Manufacturers, particularly the big brand CPG companies, need to redouble their current innovation initiatives because brand and product innovation remains – although we don't know for how much longer – the single most important competitive advantage they have over retailers and their private brand initiatives.
just-food columnist Victor Martino is a California-based strategic marketing and business development consultant, analyst, entrepreneur and writer, specialising in the food and grocery industry. He is available for consultation at: victormartino415@gmail.com and www.twitter.com/nsfoodsmemo.