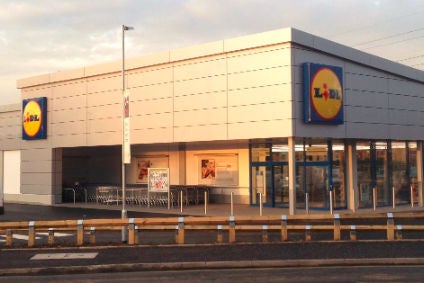 Discount retailers are a major force in grocery retailing in a number of European markets, forcing supermarkets to adapt and prompting suppliers to revise their strategies in a number of areas. However, in a guest column for just-food, José Carlos González-Hurtado, the former Carrefour chief commercial officer who is now president of international at IRI, outlines why there could be limits to the growth of the discounters.
The discount supermarkets, often referred to as hard discounters, have increased their footprint across Europe significantly in the last six years.
LIDL, for example, grew its number of stores by more than 18% and Aldi by 10%.
The growth has been particularly pronounced in the UK where market share has grown from 1-2% (1990-2000) to 10% today with growth rates as high as 15-20% per annum in the last five years, according to Kantar Worldpanel. Perhaps unsurprisingly, growth is slower elsewhere, in part due to the fact any comparisons are from a higher base. In Italy, it's at around 2.5% and in Germany, the home base of Aldi and Lidl, market share is actually starting to decline.
The discounter model of a limited range that makes shopping quick and easy for consumers combined with low prices for good quality products – or even premium quality in the case of some food items such as Aldi's lobster has enabled the retailers to carve out a rather impressive niche in the European grocery market.
A shopper survey conducted by the IGD between April and June revealed 27% of UK shoppers believe the quality of food sold in the discounters is comparable to "standard" own-label products from the country's supermarket chains. Twenty per cent said the discounters' products were both "similar to the best available products in a supermarket" and "similar to well-known brands" most national brands. Some 7% suggested the lines were "better than anything sold in a supermarket". The numbers are impressive for a retail model founded on offering products at the lowest price and in a no-frills format. For manufacturers, it's hard to compete with Lidl's whole frozen lobster at GBP5.99 (US$9.03) and many retailers may feel they do not stand a chance either.
However, the battle is nowhere near over and there are real challenges to discounter growth.
The impact of price competition
The mainstream supermarkets have fought back against the discounters with gusto, creating a price war that has sucked the life out of the discounters and helped supermarkets in Italy, Germany and France make a come-back. High promotion activity, mainly on national brands is a real challenge that hard discounters need to overcome. While the share of private label remains very high in the UK (51.1% according to IRI's data), it has slowed down in France, Spain and Italy, except for the premium categories. This could be why Lidl is looking at repositioning itself as a proximity supermarket.
Growing pains
As the discounters grow up, expanding product ranges and stores, they take on board a far more complex operation with just-in-time delivery schedules for perishables, a new focus on assortment optimisation to avoid out-of-stock items on shelves and ensure shoppers can fill their baskets with all their favourite things. They need to take a new look at store layout as the size of stores expands to host more SKUs. These are all things with which the supermarkets have spent years grappling. The discounters will likely be behind in their technological superiority and operational effectiveness to cope with this new level of complexity. Until now their streamlined but more simplistic structure has served them well but expansion brings complexity and will require investment in IT infrastructure and more analysis of big data. This will take time.
Customer experience is key
Price war is only a short-term strategy for the multiples; in the end it will be their ability to be focused on the customer shopping experience that will point the way for future success and mean the seemingly limitless growth of the discounters does actually have a ceiling. Most supermarkets have spent years gathering and analysing data so they can master customer satisfaction. They have also learnt from past mistakes; most superstore and hypermarket formats are being downgraded and there is renewed focus on smaller stores that provide the essential convenience for those shoppers who do not want to wander around a giant vending machine to pick up their top-up food items – that extra bag of salad or pint of milk for example.
The importance of brands
The future of FMCG retailing is likely to be a mixed bag; discounters co-existing with major supermarkets.
Other retailers have a lot to learn from the way the discounters have gained consumer trust. Mercadona, Spain's largest supermarket, addresses a middle-ground between retailer and discounter that could become more commonplace across the region. Mercadona is, in many ways, very similar to a discounter with as much as 70% of its products being private label. It is also highly-trusted by consumers. Yet by continuing to ensure shoppers can buy their favourite brands it sets itself apart from the discounters' fully unbranded offer. Getting the right mix of branded and unbranded products is a key differentiator in the sector. Across Europe, the average share of private label is 38.7% of value sales and nearly half of volume sales. The UK has the highest private label market share with 50.5% of total sales value, followed by Spain at 40%. Last year we saw the first slowdown of private label growth, indicating it's not just discounters that have a ceiling to growth.
Consumer trust is the goal of everyone in this sector. It's built by strong brands. People will always pay a premium for a brand that they trust, whether that's a retail or manufacturer brand is yet to be decided but it is likely that shoppers will point the way. Because of this, FMCG food manufacturers that are able to continuously maintain the trust of shoppers with good value pricing for quality produce will never be totally replaced by unbranded offers. Getting the balance right is as crucial and offering the right assortment according to what the shopper really needs is a strong strategy that helps retailers exit the downward spiral of a price war.