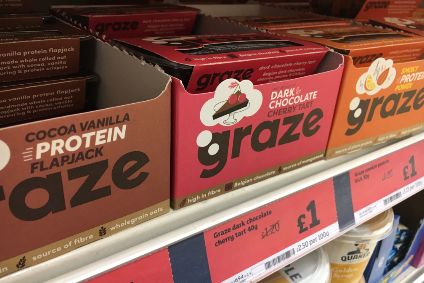 With the acquisition of Graze, Unilever steps up its interest in direct-to-consumer and could have an eye on mainstream channels in other countries, writes Dean Best.
Eighteen months after reports in the UK private-equity firm Carlyle was preparing to sell the business, this week a buyer emerged for London-based snacks supplier Graze.
On Tuesday, Unilever announced the acquisition of the holding company of Graze, a business launched in 2008 as a subscription-only service selling snack boxes directly to consumers but which has since branched out to mainstream supermarkets on both sides of the Atlantic.
The deal came just days after it was claimed Unilever was set to make a bid (with Kellogg and PepsiCo said to have expressed interest in recent months) and, although financial terms were not disclosed, it was reported on Tuesday the FMCG giant had secured Graze for GBP150m (US$194.1m) – half the GBP300m price tag that appeared on the pages of some national business newspapers in 2017.
This week's national business coverage made something out of the fact Graze was the first acquisition announced by Unilever since Alan Jope became chief executive at the start of the year. Whether or not Jope identified and steered the purchase is less important than analysing why Unilever has gobbled up Graze.
Unilever already signalled its belief in the direct-to-consumer model in 2016 when it snapped up subscription razor business Dollar Shave Club for a reported $1bn. In food, Unilever has since announced a tie-up the UK with delivery service Quiqup to work on its Hellmann's condiments brand and, in the US, invested in Sun Basket, the San-Francisco-based organic meal kit delivery service.
In short, Unilever has had a clear interest in the direct-to-consumer business models for a number of years, either through the major acquisition of Dollar Shave Club or through the smaller, more test-and-learn tie-ups with Quiqup and Sun Basket. The move for Graze is Unilever's first significant investment in a direct-to-consumer food company and is perhaps one of the first notable M&A moves in the fledgling channel by any business from a food perspective.
The jury is out on what exactly could be the long-term prospects for the direct-to-consumer business model in food. Coffee pods, pet food and razor blades appear, to some, to be products that fit better with subscription services than [human] food but Unilever has swooped for Graze, no doubt hoping it can learn more about D2C from a business that has managed to carve out a foothold in the channel, while, of course, there is potential for the consumer-goods behemoth to use its distribution muscle to take the brand into more conventional channels in other geographies.
"Adding a direct to consumer food brand is a natural expansion for Unilever. Unilever already owns Dollar Shave Club, a pioneer of subscription model products in toiletries markets. Its other direct-to-consumer efforts include beauty brands such as Skinsei and Nexxus. Last July, Unilever stated that direct-to-consumer accounted for 5% of their revenues, but that this could easily double," Ronan Stafford, research director at data and analytics firm GlobalData, says. "The acquisition of Graze is a big step in this direction: it brings not only a successful snacking brand but also the know-how of making a direct-to-consumer business work in food markets."
Cyrille Filott, global strategist on consumer foods at The Netherlands-based financial services group Rabobank, echoes Stafford's thoughts.
Before Christmas, in just-food's look at the factors or trends that could drive M&A in the industry in 2019, Filott quipped the 12 months ahead could be "The Year of Graze", not necessarily in reference to rumours a deal for the business could happen but more to illustrate he believed direct-to-consumer could be a growing area of interest for deal-makers in the sector.
Talking to just-food today, Filott expresses "surprise" Unilever emerged as the buyer for Graze but explains why he thinks the company moved for the business.
"Unilever loves understanding direct-to-consumer so this will bring them a lot of learnings. Number two, this is a good product, so they can do something with it internationally. Graze is available in the US already. It could go to other markets. So, leveraging the product in other markets, using Unilever's distribution, I think that can work really well."
Over and above the direct-to-consumer angle, Filott emphasises how the product portfolio of Graze, which says it offers consumers "healthier snacks", fits Unilever's strategy of looking to bolster its own range with products said to focus on health and wellness, something the Anglo-Dutch group was keen to underline when it announced the deal.
"Graze is the leading healthy snacking brand in the UK. A truly multichannel brand, Graze offers personalisation, convenience and great nutrition, brilliantly meeting the needs of millennial consumers. Accelerating our presence in healthy foods and out of home this is an excellent strategic fit for the Unilever food and refreshment business and a wonderful addition to our stable of purpose-driven brands," Nitin Paranjpe, the president of Unilever's food and refreshment arm, said.
Despite Graze's moves to broaden its presence by selling into mainstream bricks-and-mortar chains in the UK and the US, GlobalData's Stanford believes Unilever should look to develop its new asset in the online channels of other markets.
"While Graze is available in retail stores, further development of this brand should be focused on the direct-to-consumer model," Stafford argues. "Online shopping is on the rise, the online platform offers an exciting ability to offer a personalised experience to consumers driving customer loyalty, and the direct-to-consumer model offers Unilever greater control over margins at a time when discounters are in the ascendancy in retail markets."
It is likely Unilever will look to do both – develop Graze online and in bricks-and-mortar – depending on the territory into which it takes the product.
just-food deep-dive from 2018: Should food majors develop subscription services?