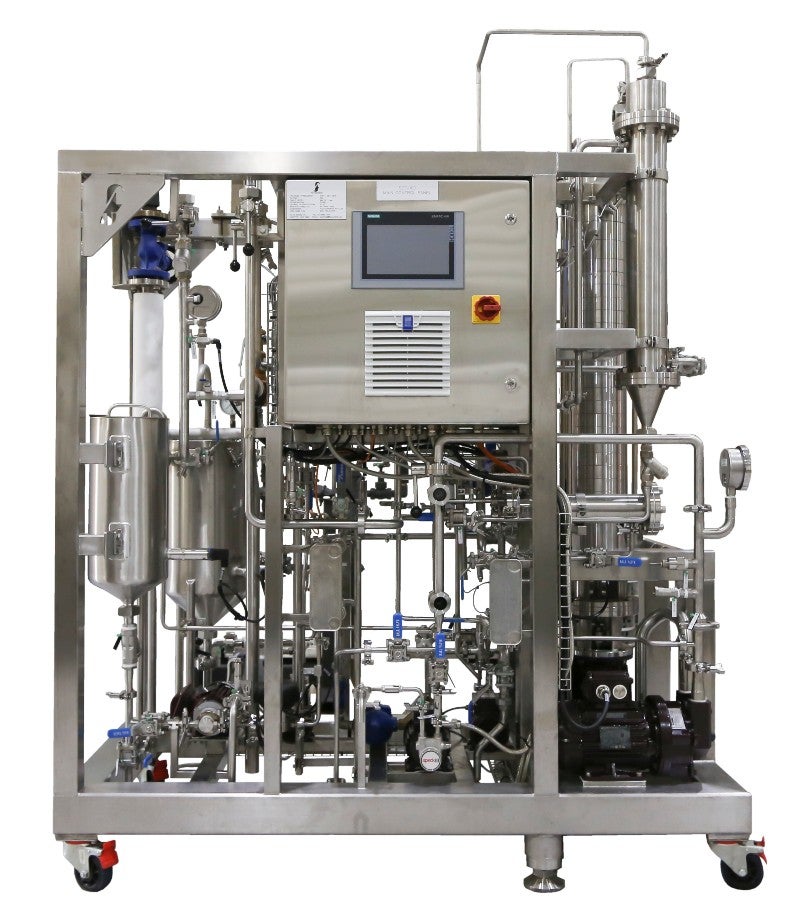 Ideal for use in the laboratory, pilot plant or small production runs, the new SCC100 is now able to dealcoholise wine.
Spinning Cone Column (SCC) technology was developed by Flavourtech almost 40 years ago for the wine industry and has since been the preferred choice for quality wine alcohol adjustment, as well as the production of low- and zero-alcohol wine products.
The SCC's unique thin-film design ensures that raw materials are only exposed to extremely short residence times and low operating temperatures. This results in lower thermal impact compared to other distillation technologies and produce higher quality products that today's discerning consumers prefer.
Until recently, the dealcoholisation application has been limited to high volume applications with two SCC models available, the SCC1,000-W and the SCC10,000-W. In response to customer demand, a smaller, compact model has now been developed, the SCC100-W. This exciting new development will assist existing SCC users with the optimisation of operating parameters for their larger, commercial units as well as facilitating the creation of new markets from smaller wine volumes.
The SCC100-W has a throughput of 25L/hr to 120L/hr and has been designed for use in the laboratory, pilot plant or for small production runs. It is manufactured on a compact skid with lockable castors and includes heat exchangers, control panel, condenser, pumps and meets hazardous area requirements. The system has been designed with an easy-to-use touch screen and is quickly assembled, operated and maintained by the user.
The SCC100-W can be used to collect aroma compounds and remove alcohol from wine quickly,
efficiently and cost-effectively for the production of:
Low-alcohol wines
No or zero-alcohol wines (in conjunction with Flavourtech's Resin Adsorption Column)
Alcohol adjustment to reach the 'sweet-spot' of alcohol concentrations
Finally, the SCC100-W is also capable of processing other liquid products, such as coffee, tea and botanical extracts, juices and dairy products for aroma recovery applications. Visit https://flavourtech.com/industries/alcoholic-beverages/ to learn more.