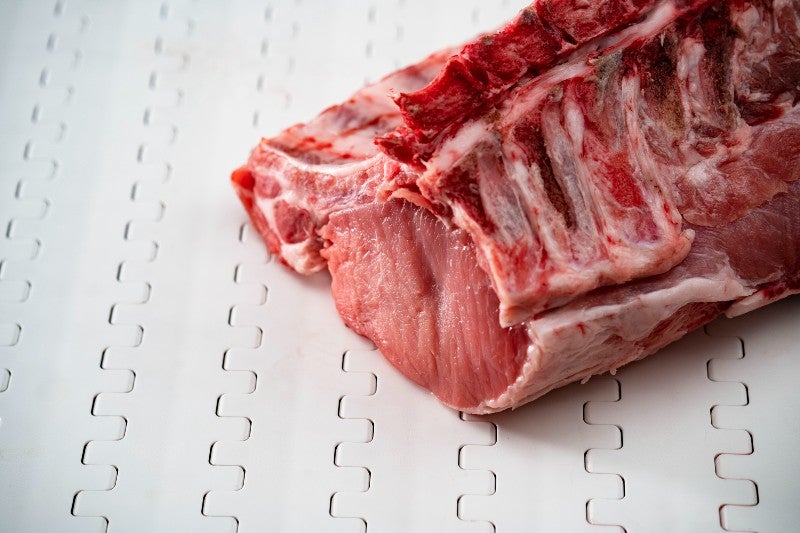 Ammeraal Beltech, a leader in belting solutions across a wide range of industries, has announced the launch of a new belt for the food industry's meat-processing segment: the uni DTB, a Food Grade modular belt made of polyketone, designed to last longer and reduce the risk of foreign body product contamination.
Safety, long service lifetimes and easy-to-clean properties are key requirements for the belts used in all meat-processing applications, but delivering these characteristics for deboning and trimming lines is particularly challenging. For its new modular uni DTB, Ammeraal Beltech has drawn on decades of experience in belting for the meat industry to create an advanced belting solution for deboning and trimming applications that meet these needs without compromising on hygiene and performance.
The uni DTB combines innovative new design (including reinforced belt edges) and durable material, increasing operational lifetime to reduce operational costs while boosting productivity. Outstanding cut-resistant properties and a design-led reduced knife-impact area work together to prolong the belt's working life. Its UltraClean One-part sprockets and extra ductile properties make cleaning quicker and less costly, too.
Sander Bakker, Ammeraal Beltech's Global Industry Segment manager of Meat, Poultry & Seafood, has high hopes for this new product: "The new belt is engineer-designed from the most suitable materials possible for the job and made specifically for easy cleaning and worry-free maintenance. The uni DTB is, I'm sure, destined to become the 'Best in class' belt for primary meat processing applications."