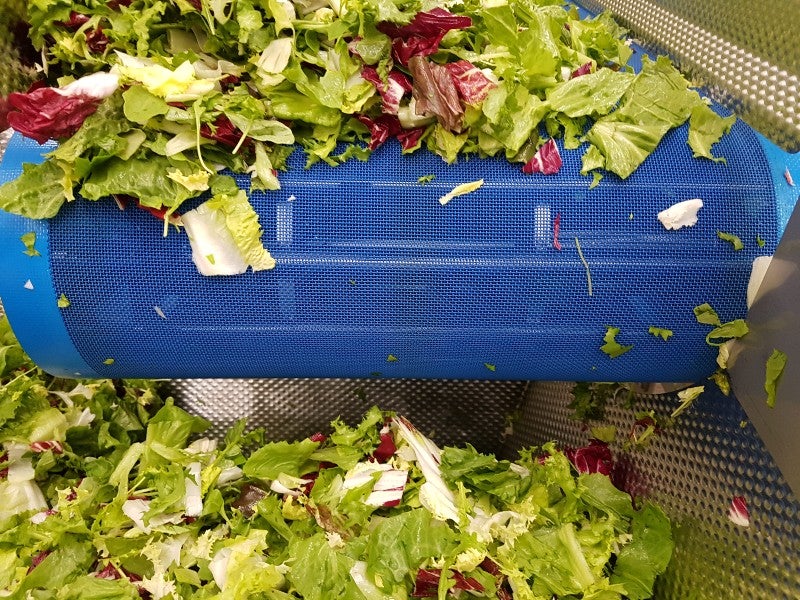 As a well-established Food Safety solutions leader, Ammeraal Beltech has developed yet another revolutionary product. Namely, the Ultrascreen PRO belts were carefully engineered to address the performance and quality requirements of dewatering and drying of foodstuffs without damaging delicate products (fresh-cut fruit, vegetables, salad leaves and even fish). The Food Grade novelty is applicable in a truly vast application scale while lowering the total cost of operations, putting it on the radar of the Food Industry giants.
Ultimate tracking and no tension
Unlike the traditional friction-driven mesh belts, Ultrascreen PRO does not require crowned or lagged drive pulleys with v-guides. The positive-driven Ultrascreen PRO belt uses the proven Soliflex PRO lug technology. This gives the belt ultimate tracking and almost tensionless running. The new mesh belt prevents the cracking of v-guides and tearing out of stainless-steel fasteners. OEMs and end users appreciate reduced energy required to run conveyors and no run-in time, just 'Plug & Play'. Thus, these features are present with the Ultrascreen Pro belts. All in all, Ultrascreen PRO mesh belts are more cost-efficient to build, guarantee exceptional tracking and shorten installation.
Food Grade authority
The Ultrascreen PRO belts uphold the highest standards of Food Safety and contamination prevention. The range is certified with ISO 22000, as well as it is approved by the FDA and complied with EU10/2011. To be more precise, polyester monofilaments are the proven solution for the processing of vegetables, fruit, and fish. The Ultrascreen mesh allows an open area of 30% to 62% making it easy to clean and sanitise.
Test the Ultrascreen Belt Range
Ammeraal Beltech encourages scheduling a meeting with a local representative to test the Ultrascreen Belt Range. For more information, please see the official website of Ammeraal Beltech.