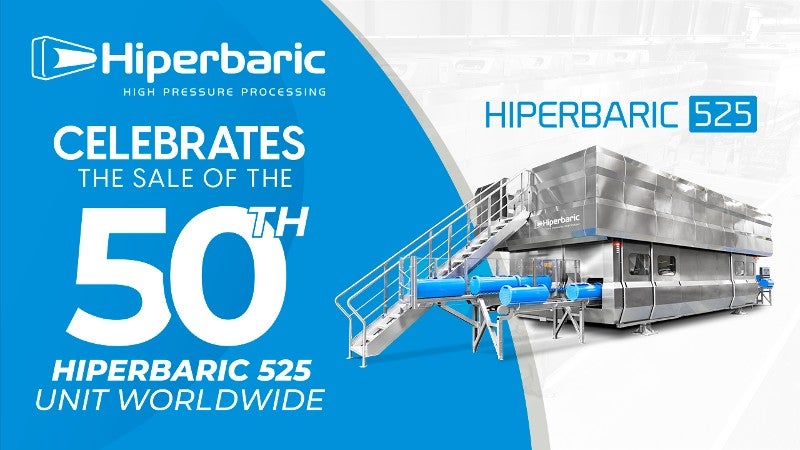 Hiperbaric, a world leader in high-pressure processing (HPP) equipment for the food and beverage industry, has announced the sale of its 50th Hiperbaric 525 HPP unit, marking the 50th unit sold in less than ten years and an annual growth rate of 20%.
High-pressure processing is a non-thermal food processing method in which food and beverages, in their final packaging, undergo cold water and high pressure to inactivate foodborne bacteria. The process maintains freshness and nutrients without the need for preservatives. HPP extends shelf life, allowing companies to expand product distribution and reduce food waste.
"We are excited to announce the sale of our 50th Hiperbaric 525 HPP unit," said Roberto Peregrina, director of Hiperbaric USA. "With increased consumer demand for fresh-tasting, preservative-free foods, HPP sales will continue to grow as the leading nonthermal food safety method for refrigerated foods."
The Hiperabaric 525 is the largest and most productive HPP system in the world, with a 525-litre (150-gallon) capacity and 380mm (15in) diameter. Its throughput is more than 7,000 pounds per hour, making it ideal for large manufacturers and third-party service providers, also known as tollers.
HPP applications include meat products, juices and beverages, baby food, guacamole and avocado, plant-based products, pet food, ready-to-eat meals, and dairy and seafood products.
The Hiperbaric 525 comes with Hiperbaric's 24/7 service and support program to keep businesses running smoothly. This includes diagnostic services, installation and commissioning, on-site repairs, spare parts and remote monitoring.
Launched in 2013, the first Hiperbaric 525 machine was installed at Good Foods of Pleasant Prairie, Wisc., a company that started its food production with HPP. Recent equipment improvements include a 14% productivity increase for a 6,000 bar – 87,000 psi, three-minute cycle by reducing total cycle time. Additionally, automation has improved speed and efficiency and reduce workplace injuries.
Currently, the machines are being used for tolling (36%); beverages (30%), meat (14%); fruit & vegetable products and dips (14%); and seafood (6%). Hiperbaric expects a more than 20 % AGR (annual growth rate) in 2022 overall HPP equipment sales, thanks to customer demand.
The 50th unit has been acquired by Suzanna's Kitchen of Duluth, Ga. Suzanna's uses the Hiperbaric 525 to produce ready-to-eat meats, plant-based foods and other meal-kit components. The company owns now three Hiperbaric 525 units located in its state-of-the-art facilities.
"HPP has improved operations for food safety and reliability of refrigerated foods," said John Fountain, director of Facilities and Engineering, Suzanna's Kitchen, one of the premier small food companies in the Southeast. "Due to extended shelf life, it has allowed us to expand our customer base."
Suzanna's processes 56,000 pounds of food per day with a two-shift operation. Before HPP, the company used anti-microbials to kill foodborne pathogens. Fountain said HPP has allowed his company to produce fully cooked food-safe products for the marketplace.