The future of the consumer goods industry will be shaped by a range of disruptive themes, with artificial intelligence (AI) being an important theme that will have a significant impact across the value chain. A detailed analysis of the theme, insights into the leading companies, and their thematic and valuation scorecards are included in GlobalData's thematic research report,Artificial Intelligence (AI) in Consumer Goods – Thematic Research. Buy the report here.
Artificial intelligence (AI) refers to software-based systems that use data inputs to make decisions on their own. Fast-moving consumer goods (FMCG) companies are slowly introducing AI initiatives. AI can be used across the consumer goods value chain. Machine learning and data science are strong tech investments in every area, and computer vision and context-aware computing represent investment opportunities for manufacturing.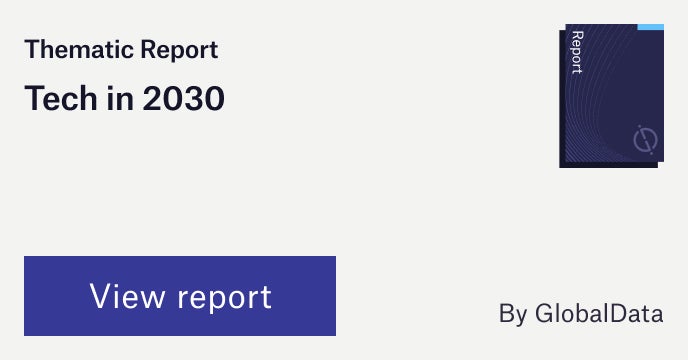 The consumer goods industry is undergoing digital transformation, accelerated by Covid-19 and changing consumer demands. Digitalisation is a priority for FMCG companies in all subsectors and will pave the way for future AI investment. In this sector, industry leaders have predominantly used AI to enhance customer experience and improve value chain efficiency.
However, not all companies are equal when it comes to their capabilities and investments in the key themes that matter most to their industry. Understanding how companies are positioned and ranked in the most important themes can be a key leading indicator of their future earnings potential and relative competitive position.
According to GlobalData's thematic research report, AI in Consumer Goods, leading adopters of AI include: Coca-Cola, PepsiCo, Unilever, P&G, L'Oreal, Estee Lauder and Johnson & Johnson.
Insights from top ranked companies
Unilever
Unilever has a very competitive market position within the AI theme. The company has a comprehensive omnichannel AI strategy with multiple streams and initiatives. AI is used to improve the sourcing of raw materials, considering harvest times. Robots enable a single manufacturing line, handling products and packaging of different shapes, sizes, and forms. At the end of 2019, 31 of its sites were streaming live data using a digital twin, which tracks physical conditions and uses machine learning to analyse data and optimise processes. Unilever has an omnichannel AI marketing strategy. In 2018, it trialled in-store facial recognition technology to measure customer engagement, gathering insights on shoppers' interaction with products. Facial recognition was also used in the TasteFace online marketing campaign for Marmite. A digital experience platform and app used computer vision to analyse consumers' emotions when they tasted the product.
Unilever's latest AI initiatives include building AI-based sensors for detecting the freshness of food. The company is working with Arm, PragmatIC, and the University of Manchester to design prototype sensor chips built on AI technology for detecting the freshness of fruits, vegetables, and packaged food. The sensor chips measure gaseous analytes that emanate odours associated with stale food.
Estée Lauder
Estée Lauder is an advocate of beauty tech and has piloted several initiatives involving AI. In 2019, the company piloted a voice recognition chatbot called Liv, in partnership with Google Home and technology agency Rehab. In 2020, this project developed further, and Liv was hosted on WhatsApp, a more accessible platform for users. The Liv chatbot helps customers build and follow a personalised beauty regime using machine learning. Estée Lauder is also utilising computer vision, natural language processing, and machine learning to create a chatbot, hosted on Facebook Messenger, that advises customers on personalised lipstick recommendations.
Coca-Cola
Coca-Cola is a market leader for AI adoption in the consumer goods sector. It predominantly uses AI for product innovation and market research. For instance, it created self-service drinks machines where customers could mix their own drinks, then used that data to develop the new Cherry Sprite flavour, as this proved most popular. The company also tracks their social media presence using computer vision to identify its drinks, or those of its competitors, in users' pictures. Targeted ads are developed based on this data. In another project, the company introduced a pilot of intelligent vending machines in Japan. Customers can download the Coke On app to access a loyalty scheme, collecting points when visiting a vending machine by connecting their phones. Vending machines are also being launched in the US, Australia, and New Zealand, where customers can pre-order drinks using their phones.
Global Director of Digital Innovation Greg Chambers stated that "AI is the foundation for everything we do." Coca-Cola has more than 500 brands in over 200 countries. This generates lots of data, and AI underpins many of its corporate strategies.
To further understand the key themes and technologies disrupting the consumer industry, access GlobalData's latest thematic research report on AI in Consumer Goods.
Premium Insights
From
The gold standard of business intelligence.
Blending expert knowledge with cutting-edge technology, GlobalData's unrivalled proprietary data will enable you to decode what's happening in your market. You can make better informed decisions and gain a future-proof advantage over your competitors.