Free White Paper
GlobalData Social Media Analytics dashboard tracks online conversations of Twitter Influencers selected by GlobalData and popular Reddit channels, which enable users to analyze in-depth all critical trends emerging on social platforms in real-time.
The "10 Most Mentioned Diet Trends on Reddit: H1 2022" report analyses the leading diet trends discussed among the Redditors tracked by GlobalData's Social Media Platform during the H1 2022 period.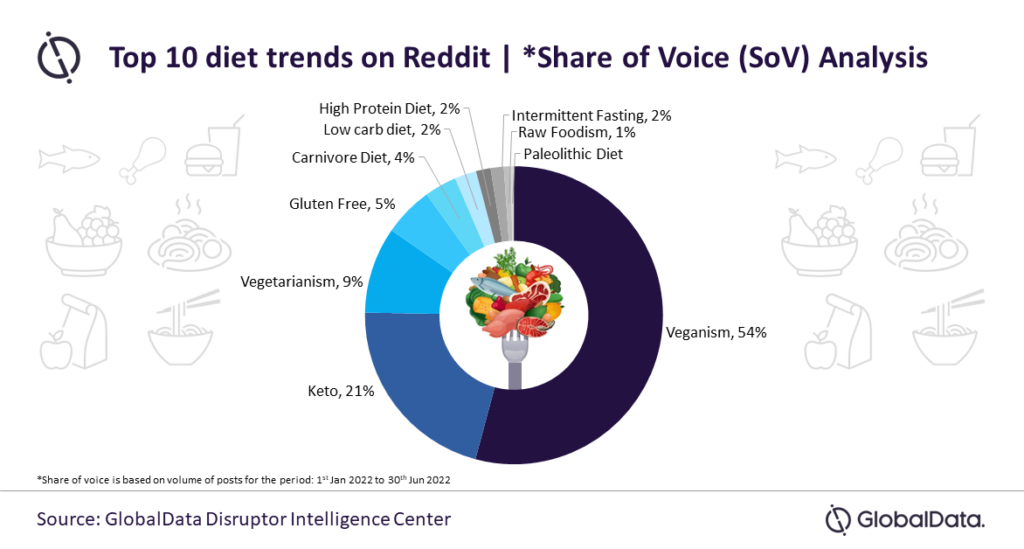 'Veganism' emerged as the most mentioned diet type with 54% share of discussions among top 10 diet types and with more than 198,000 reddit posts during H1 2022. The diet types, it is most co-mentioned with are Vegetarianism, Carnivore and Gluten-Free.
The other diet trends covered in the report are 'Keto Diet', 'Vegetarianism', 'Gluten-Free Diet', 'Carnivore Diet', 'Low Carb Diet', 'High-Protein Diet', 'Fasting', 'Raw Foodism', and 'Palaeolithic Diet'.
For more information on these diet types, download the report "10 Most Mentioned Diet Trends on Reddit: H1 2022".