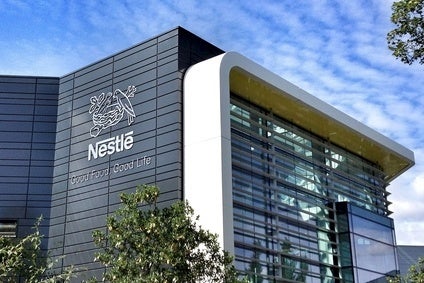 Nestle today (19 February) reported full-year results that were broadly in-line with expectations, along with a slight beat on margin. While the company is struggling to hit its medium-term organic growth target of 5-6%, the "Nestle Model", it is nevertheless seeing efficiency gains while investing in its advantaged brands and categories. Here are some key points from Nestle's full-year results.
1. Nestle drove expectation-beating margin growth in 2014
During 2014, Nestle expanded its trading operating profit margin by 10 basis points, or 30 basis points on a constant-currency basis. Consensus expectations anticipated flat full-year margins at the Swiss food giant. Nestle's margin growth quickened throughout the year and, after a weaker first half, the group improved its overall margin by 20 basis points in the back half of the fiscal. Notably, lower cost of goods sold enabled the group to step up investments in brand building.
2. It expects to continue to grow margins in 2015
Through the so-called "Nestle Business Excellence" programme, which sees the integration of global corporate support functions and business services, the group expects to leverage its scale and generate further efficiencies in years to come. The unit was established last September.
3. Nestle has increased its spending on R&D and consumer marketing
In order to support its brands and drive top-line growth, Nestle raised its investment in marketing by 10 basis points and R&D by 20 basis points during the year. The company is focusing its R&D muscle on advancing its health and wellness business. In marketing, management revealed it has now shifted 20% of its spend to digital platforms and the company believes that digital engagement is an effective tool to engage consumers, particularly in emerging markets.
4. Organic growth is outpacing many of Nestle's peers
Organic growth of 4.5% is outpacing many of Nestle's global packaged food sector peers. The firm's organic sales compare favourably to PepsiCo, where annual organic sales increased 4%; Unilever, where group organic sales were up 2.9% in 2014 with food sales down 0.6% on an organic basis; and Mondelez International, where organic sales were up 2.7%. While Nestle is at the top of the class in terms of its organic growth rate, some commentators have been disappointed by the group's failure to hit the target of 5-6% organic growth outlined under the 'Nestle Model'.
5. Nestle cautious on pricing in Europe
Nestle has taken a cautious approach to pricing in developed markets such as western Europe, where the macro-economic environment has resulted in a highly price conscious consumer. As a result, Nestle's organic sales growth has been evenly distributed between volume gains of 2.3% and price/mix gains of 2.2%. In categories such as chocolate in western Europe, Nestle refrained from passing the full impact of higher cocoa costs on to consumers. While this hit margins at the business, the group was nevertheless able to maintain volumes in an environment of "high price competition". Meanwhile, Mondelez, which did raise prices, saw chocolate sales come under pressure in the region.
6. More robust pricing action has been taken elsewhere
Nestle flagged it has been able to increase prices in the US frozen category, which had become highly promotional, as consumer confidence starts to lift in its largest market. The company has also raised prices in emerging markets to offset local currency inflation.
7. Nestle is upbeat on turning around US frozen sales
Nestle sounded a confident note on its ability to improve sales in the US frozen aisle. The company is re-engineering its frozen brands including Lean Cuisine and Stouffer's to tap into emerging consumer trends. It is focusing on using simple ingredients, moving from a "hard diet" to "balanced diet" platform and capitalising on growing demand for snacking, protein and gluten-free items. Changes will be communicated to consumers through a step-up in marketing efforts.
8. The Kit Kat maker saw growth in developed markets – albeit at a slow pace
In developed markets, which account for 56% of group sales, the company reported organic growth of 1.1%. Notably, in Europe organic sales were up 1.9% and real internal growth – stripping out factors like currency exchange – stood at 2.4%. Nestle said sales in Europe were driven by innovation and premiumisation, despite ongoing economic challenges. Growth in western Europe was supported by France, Switzerland, Austria, Netherlands, Spain and Portugal. The UK, Germany, Italy and Greece "remained challenging". In the Americas, organic sales were up 5% although North America "remained subdued". The company saw "good growth" in coffee creamers and super-premium ice cream in North America.
9. But Nestle is struggling in China
Turning around a disappointing performance in China is one of Nestle's biggest challenges for 2015. Destocking and a failure to foresee rapidly emerging consumer trends dampened the group's performance in its second-largest market, contributing to a 0.3% decline in its "real internal growth" from its combined Asia, Oceania and Africa division. Organic growth in the region stood at a disappointing 2.6%. To address these issues, Nestle is working to develop products that meet demands for health and wellness and premium products, while balancing the need to modernise "traditional" brands without losing their heritage. It also noted the rise of out-of-home and e-commerce platforms.
10. Nestle expects to maintain sales momentum at "around 5%"
Nestle expects it will be able to deliver organic sales growth of "around 5%" in 2015. The company anticipates another year macroeconomic headwinds and weak consumer sentiment globally. However, Nestle insisted it is taking action to drive consumer engagement and support sales growth. The "Nestle Model" of 5-6% growth remains the overarching medium-term target.