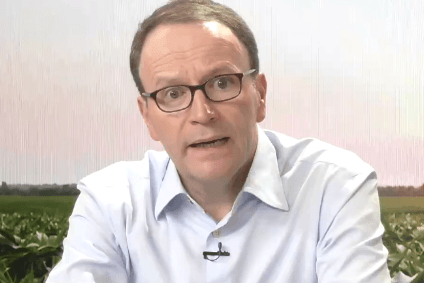 The world's largest food maker has caught the eye with the announcement of what amounts to be among the largest financial commitments – if not the largest – to go "net zero" by a major FMCG group so far. Dean Best canvasses reaction from campaign and investor circles.
"It's important that we take a leadership role, and we position Nestlé right in it."
A year after announcing a commitment to getting to a position of "zero net greenhouse gas emissions" by 2050, the world's largest food maker has set out what it's described as a "detailed, time-bound plan" to get there.
And CEO Mark Schneider has insisted the moves would be good for the planet – and good for the Swiss giant.
"It's about future proofing the company, it's about a moral obligation, a moral commitment here to make good on preserving the planet we all live on and, at the same time, it's about staying relevant to the consumer," Schneider told reporters last Thursday as the KitKat and Maggi owner laid out its plans.
Campaigners and equity analysts have, in the main, welcomed the publication of Nestlé's plans and, broadly, have indicated some support for the company's initiatives.
"Nestlé has created a roadmap towards achieving net-zero emissions, rather than just a goal – this speaks to the type of holistic evaluation of business operations that is needed to address the climate crisis," Dr Julie Nash, director of food and forests at US-based sustainability non-profit organisation Ceres, says. "More industry leaders will need to join Nestlé to create the sector-wide changes needed to fully decarbonise the food sector."
Jon Cox, an equity analyst at France-based broker Kepler Cheuvreux who covers Nestlé, adds: "What they're doing makes sense. If you're a company that doesn't do this and your brands aren't associated with this, then you'll probably find you'll lose market share in the next couple of years because I think these issues are only going to become more important in a post-Covid world."
Over the next five years, Nestlé plans to spend CHF3.2bn (US$3.59bn) on a series of measures, including efforts to "advance" regenerative agriculture among its suppliers and a move to 100% renewable electricity by 2025.
Schneider said Nestlé had taken its "ambition" and broken it down "into concrete actionable steps", with the company set to provide "full transparency on milestones".
He said: "We're proud to be one of the first ones now, among major companies, to have such a roadmap on how to get there."
Magdi Batato, executive vice president and head of operations at Nestlé, sitting alongside Schneider, was also keen to emphasise how the company had already been working on reducing its greenhouse gas emissions. "Since 2014, the reduction of greenhouse gases across our value chain is equivalent to taking 1.2 million cars off the road and, over the past ten years, we have cut by more than one third our greenhouse gas emissions for every kilo of Nestlé products produced in our sites," he said.
Scope 3, regenerative agriculture and deforestation
Nestlé's bid to get to net zero covers three main areas – regenerative agriculture, the company's own operations and its product portfolio.
By 2030, the Lean Cuisine ready-meals owner wants to source some 14m tons of its ingredients through regenerative agriculture. Within Nestlé's operations, the company is aiming for its 800 sites to move to only using renewable electricity within the next five years. Other moves include switching to lower-emission vehicles and cutting business travel.
The company's work product portfolio will see it continue to grow its range of plant-based products (with China today becoming the latest market for Nestlé's plant-based meat business), as well as more of its brands achieving "carbon neutrality".
Batato said: "We will plan our work in three main phases. Firstly, starting now until 2025, we will accelerate and expand what we already have undertaken. Our aim is to achieve 20% absolute reduction in emissions from our baseline of 2018. Secondly, from 2025, we will transform our operations by investing in technology and making fundamental changes to our portfolio and businesses.
"This work should be complete by 2030 and deliver 50% absolute reduction of emissions. And lastly, between 2030 and 2050, we will continue to eliminate emissions through high-quality and nature-based solutions. These solutions will benefit communities and ecosystems at large. Finally, we will offset any remaining emissions that were impossible to eliminate."
As with many, if not all programmes of a similar size, it will be Nestlé's Scope 3 emissions that are likely to prove the most challenging. The company was responsible for 92 million tons of greenhouse gas emissions in 2018, which will serve as the baseline for measuring progress. As is to be expected, the majority of Nestlé's emissions are so-called 'Scope 3' emissions.
Under the internationally-recognised Greenhouse Gas Protocol, an organisation's emissions are split into three 'scopes'. Scope 1 covers direct emissions from owned or controlled sources. A second, Scope 2, covers indirect emissions from the generation of electricity, steam, heating and cooling bought and consumed by a reporting organisation. Scope 3 includes all other indirect emissions that occur in a company's value chain.
Nestlé has had its emissions reduction targets approved by the Science Based Targets initiative (SBTi), consistent, the company said, "with levels required to meet the goals of the Paris Agreement". The Swiss giant revealed its Scope 3 emissions "make up 95% of our footprint" and the Maggi noodles maker is "addressing more than 80% of these".
Regenerative agriculture will "be a key component in our road to net zero", Batato asserted, and he said Nestlé is prepared to pay a "premium" for those commodities to try to build a market, similar to what the company is doing in the area of food-grade recycled packaging. "Of course, it comes with a premium at the beginning, but technologies are evolving with our size and scale, plus more to come, other partners to come to the party, of course we expect those things to go down and with time the price to go down. It's demand and supply."
Scope 3 emissions do, of course, take in emissions from deforestation and, across a number of ingredients, but this is an area where the packaged-food sector – and the wider FMCG industry – has struggled and attracted criticism.
Last Thursday, Nestlé insisted it will be "scaling up its reforestation programme", with plans to plant 20m trees every year for the next decade in the areas where the company sources ingredients. Nestlé said its "primary supply chains of key commodities, like palm oil and soy" will be deforestation-free by 2022.
"By the end of this year, we will scale up our existing reforestation programme. This will also boost carbon removal from the atmosphere, improve agricultural yields biodiversity and soil health at farm level," Batato said.
Gemma Tillack, forest policy director at environmental campaign group Rainforest Action Network (Ran), welcomes the publication of Nestlé's net-zero plan but she calls on the company to be "more ambitious" on deforestation and raises the issue of indigenous peoples.
"Nestlé's publication of its roadmap to zero net emissions is commendable as it discloses its greenhouse gas emissions and sets science-based targets to reduce emissions over the coming decade but falls short as it fails to set milestones to ensure respect for rights of indigenous peoples and local communities on the front-lines of agricultural expansion," Tillack says.
"Emissions from deforestation and poor agricultural practices must be halted immediately, not by 2022. Nestlé must adopt more ambitious deadlines for ending deforestation across all forest-risk supply chains, establish robust systems to deliver respect for the rights of indigenous peoples and communities to say no to agricultural development on their lands, and ensure communities play a central role in the conservation and restoration or their forests and lands."
"No excuse" for earnings misses
Another group of stakeholders will be scrutinising Nestlé's plans closely. A growing number of investors are pressuring companies to work on the wider impacts they have on society – but listed groups still face pressure to perform on shorter-term metrics, such as growth and cash generation.
Schneider conceded the CHF3.2bn of spending over the next five years was "the initial investment to get things going" and build momentum on the various programmes. "Afterwards, it is going to be harder to estimate exactly what the annual spend is going to be. There will be annual to scale things up and to deliver the rest of the plan but, again, we also expect technology and new solutions to make this more affordable and cheaper."
However, the Nestlé chief insisted the company "intends to make this [plan] completely earnings-neutral", adding: "We wanted to be sure that this is not seen as a transfer out of our investors pockets. We believe that we have sufficient operational and structural cost-savings initiatives underway that provide the oxygen and provide the room for those investments."
That said, when asked what impact there will be on Nestlé's profits next year, Schneider said: "We believe for '21, we have it covered. In the future, of course, we will have to give you specific guidance because, while we fully intend to make this completely earnings-neutral, the degree to which this is possible may vary from year to year."
Speaking to just-food, the Nestlé boss insisted the Maggi maker can manage the shorter- and longer-term expectations on the company from the investment community.
"I think we have done a lot of homework when it comes to our operational efficiency. Investors appreciate that. Hence, there's also confidence here that when we point to further savings to invest in these activities that those savings will materialise," Schneider said. "Many investors we have have owned the stock for a large number of years. Around 50% of our shareholders own the shares for four years or more. It's not only about the next quarter."
However, he added: "All of this should never be an excuse for a short-term miss. Hence, it's important to lay out the plans and investments, ahead of time. Obviously, no-one would have patience for having sustainability spend be the explanation for why last quarter or last year didn't meet expectations. So good communications and forward-looking communications is part of keeping that investor confidence."
At Kepler Cheuvreux, Cox concurs investment in these areas must not be used to justify companies under-performing. "You can't use these issues as an excuse to miss expectations. I was concerned a few years ago that this is what companies may start using as an excuse and you'd stop seeing any improvement in profitability. More or less, we haven't really seen that," he says.
Cox says the cost of the plan means investors shouldn't expect Nestlé to be able to grow annual margins at the rate seen in recent years but he adds that, broadly, there is a growing acceptance in the investment community of the longer-term benefits of such programmes.
"In some cases, Nestlé will pass [the cost] onto the consumer and, probably in the developed world, consumers are quite willing to pay for it. Maybe in other parts of the world, they're not willing to pay for that and are more sensitive to price and so companies need to find the savings from somewhere," Cox says. "As a result, if you're expecting cracker-jack margins over the next couple of years from FMCGs really involved in trying to cut down greenhouse gas emissions – and a variety of other environmental and social issues – then that won't be the case."
However, he adds: "You have a big pool of investors that want to see companies carry out these initiatives. If you're a good company and you deliver on your targets anyway then you will be rewarded with a better multiple. Investors would be willing to pay for these sorts of companies because they are seen somewhat de-risked because you don't have the risk there will be some sort of legal implications down the road."
And there are consumers. Also addressing the media last Thursday was Aude Gandon, Nestlé's global chief marketing officer, who said consumer interest in environmental issues was being seen across the board. "We see it absolutely across every single aspect of society, as well as across the world," she told just-food. "It is very clear that everybody around the world is becoming more and more aware of the importance of the conception and choosing the right brands and the right product to actually secure on the future of the planet. So this is definitely a driver for brand choice."
Schneider underlined how Nestlé believes there will be opportunities to increase prices on certain products in certain markets but he also emphasised the company knows not all consumers will be able to pay higher prices. "We do see premiumisation and price-increase opportunities at the premium end of the pricing scale but what was affordable will stay affordable," he said. "Extremely affordable products is one of our key work-streams that we have been patiently pursuing over many years now. This will not change."
And the Nestlé boss was just as adamant the company would not offload brands simply because of carbon emissions. "Obviously, over a period of time the portfolio will adjust but simply trading down on the high carbon emitters and trading up on the low carbon emitters will be avoiding the true gist of the problem," he said.
"Simply selling down on brands or categories that have a high carbon footprint is not solving anything. It may do the right window dressing for us but if those products continued to be produced somewhere else and if those new owners do not continue on their path towards zero, then frankly, nothing is gained for the planet."