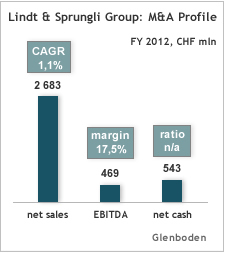 Lindt & Sprungli has often been touted as a potential takeover target for Nestle. However, Stefan Kirk of M&A advisors Glenboden argues the Swiss chocolate maker is an unlikely acquisition candidate for anyone – and suggests the company could dust off its chequebook to boost growth.
The Swiss luxury chocolate producer Lindt & Sprungli has been back in the news, after booking an 8.7% increase in sales in the first half of 2013. Where does the group sit in the global M&A landscape? And where might it look for its next milestone acquisition?
Little chance of Lindt being acquired …
It's perhaps surprising that historically-steeped Lindt is mostly a free-float company. At the end of 2012, only one shareholder of the Zurich-listed group held more than 5% of its voting rights – Lindt's own pension fund – with 21%.
At the same time, Lindt's EBITDA margin has consistently been above 15%. In the last 20 years, shareholders have enjoyed rising dividends (there has been a pay-out ratio of over 40% p.a. since 2008) and a share price that's grown twelve-fold.
In that context, and with Lindt being the world leader in luxury chocolate, it's very unlikely that Lindt could be a viable acquisition target for any strategic investor, or even private equity mega-fund.
… no acquisitions since 1998 and flat growth …
On the other side of the coin, Lindt surely needs to make a significant acquisition. In spite of carrying a major warchest for several years, it failed to acquire the last major luxury chocolate brand that came onto the market – Godiva in 2008.
In fact, the group has not made any milestone acquisitions for 15 years. Since acquiring a string of European and US brands in 1994 to 1998 (Hofbauer, Bulgheroni, Caffarel, Ghirardelli), Lindt has focused only on organic development.
But to no avail. The group's mid-term top-line has been flat and it's clear its sales weighting in developing markets are far too small – 85% of sales were in western Europe and north America in 2012.
… developing markets the focus at last
Since 2010, Lindt is finally focusing on developing markets, especially in Asia, with wholly-owned subsidiaries established first in Tokyo, then in Cape Town, Shanghai and Moscow.
Maybe the group could accelerate its sales in Asia, by making a strategic acquisition there? After all, Lindt's European purchases in the 1990s show the group is prepared to invest in local brands, not just in Lindt and Lindor.
One option is Japan's Royce, privately held since its founding in 1983. That group is not only a recognised luxury brand in its domestic market; it has also in recent years established a string of own shops in Mumbai, Shanghai, Seoul and other major Asian cities.
THIS LEAD'S VALUATION
Size (€ mln)
n/a
Sector
chocolate confectionary
Asset Quality
Japan luxury branded
Seller
private founders
Buyer
large plc
P/S
1,8
P/Ebitda
15,0
Type
value estimate
| Origination Status | proprietory origination, September 2013 |
| --- | --- |
| Asset | Royce Confect Co. Ltd. (Japan), leading Asian luxury chocolate producer |
| Buyer | Lindt & Sprungli Group (Switzerland), world's leading luxury chocolate producer |
| Seller | founders of Royce |
| Buyer Rationale | accelerated sales growth in Asia |
| Seller Rationale | attractive valuation |
| NBs | Asia only accounts for about 5% of Lindt's global sales |
NB. The multiples that we have used were taken from the Godiva luxury chocolate transaction in 2008 (see valuation). However there is no financial data on Royce in the public domain.
This piece originally appeared on Glenboden's website.
Glenboden is an independent M&A advisor of over 20 years standing, specialising in food and beverages. On a quarterly basis, the company produces actionable, forward-looking M&A leads and agenda–setting insights on major M&A stories in food & beverages, that can be found here.
Sign up to receive Glenboden's free quarterly newsletter here.