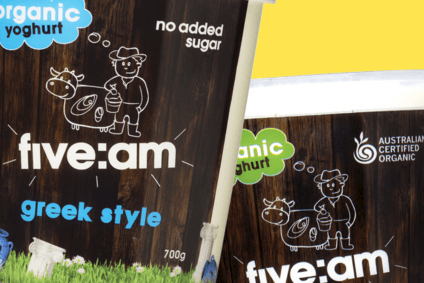 UK consumer goods group PZ Cussons does the bulk of its business in areas like personal care and beauty but it has food interests in Africa and Australia – and in recent days it has added to its food stable with the acquisition of Australian yoghurt business Five:Am. Dean Best looks at PZ's expansion in food and discusses how much of a priority the sector is for the CareX handwash and Charles Worthington shampoo maker.
Twleve months after PZ Cussons, the UK-based consumer goods group, raised eyebrows with the acquisition of Australian baby food business Rafferty's Garden, it has pounced again.
PZ Cussons has added Australian yoghurt maker Five:Am to a food and nutrition division that is a small part of the group's overall empire but one on which it has indicated it is looking to build, both organically and potentially through further M&A.
The group owns Greek food company Minerva, which sells olive oil, spreads and cheeses locally. Five:Am will be the third wholly-owned food subsidiary, joing Minerva and Rafferty's Garden. However, PZ Cussons has two ventures in west Africa – one with Wilmar International, which sells cooking oil products, and a second with Glanbia that offers dairy lines.
PZ Cussons total turnover for the year to the end of May was just over GBP882m. Measured by revenue, PZ Cussons' food and nutrition arm is overshadowed by other parts of the business. Its African ventures are accounted for under the equity method and generated sales of close to GBP260m in PZ Cussons' last financial year. Rafferty's Garden, which PZ Cussons acquired last summer, ran up sales of GBP19.6m.
However, PZ Cussons is eyeing food and nutrition closely, with plans to expand its existing business and remain ready to use the chequebook again to add to its presence in the sector, particularly in Asia. "On food, if we could buy a food business in Indonesia that makes Rafferty's a lot easier to distribute, for example," PZ Cussons CEO Alex Kanellis told analysts when the company announced its annual results on 29 July.
Just 72 hours later, PZ Cussons revealed it had acquired Australia-focused Five:Am, a business only set up in 2011 but one the UK described as "a market leader in the Australian organic food category". PZ Cussons agreed to pay GBP44.1m for Five:Am, with a further GBP7.7m to be paid if the Australian firm meets targets. Five:Am's revenue and EBITDA for the year ended 30 June were GBP19.6m and GBP3.4m respectively.
Joanne Bills, director of Australia-based food industry consultants Freshagenda, says Five:Am's previous owner had succeeded in creating an upmarket brand in a still-small but growing sector in the country.
"It has done pretty well in capturing the attention of consumers – and has positioned itself as a premium product. Yoghurt consumption is still growing, but this is still a pretty small segment in Australia," Bills tells just-food.
Bills says Australia's yoghurt sector is "relatively crowded" but tends to be "dominated" by multinationals. Greek yoghurt, she notes, is "starting to happen" but she sees further room for PZ Cussons to grow the Five:Am business in the market.
"There are limited local players with similar positioning to 5:am – which is appealing to foodies that want something indulgent as well as healthy," she says. "There are probably opportunities to increase its distribution, it tends to be in smaller independent supermarkets rather than the larger chains. I'm guessing this could be due to capacity constraints that could be overcome with some investment."
PZ Cussons were approached to comment but senior management wre not available at the time of writing.
However, City analysts that cover PZ Cussons' stock praised the company's latest expansionist move in food. Investec analyst Nicola Mallard said Five:Am "will sit comfortably alongside [PZ Cussons'] existing Australian presence" and argued synergy benefits were expected. In a note to clients last week, she added: "It is a value-added, branded proposition, which is the overriding requirement across all activities."
Darren Shirley, an analyst at Shore Capital, suggests the details of the deal between PZ Cussons and Five:Am's former owners hints at the prospect of "good underlying growth" for the yoghurt maker.
"If you look at the structure of the deal, they are paying GBP44m and there's a possibility of a further GBP7.7m consideration. There's some reasonably stretching targets that need to be hit to deliver that so [there is] good underlying growth I would suggest," Shirley says.
He also argues PZ Cussons could look to take the brand into Indonesia, a key market in Asia for its non-food business, and one where the group is considering launching Rafferty's Garden products in the future.
"I would suggest that, as they're going to be doing with Rafferty's, there's scope for them to buld this brand further in Australia and also to move into their other territories as well."
With PZ Cussons' analyst call for its annual results coming before the announcement of the Five:Am deal, management's comments about plans to expand and improve the performance of its food business centred on Rafferty's Garden and on the Africa ventures. As well as eyeing the possible introduction of Rafferty's Garden products into Indonesia, PZ Cussons did indicate plans to broaden its expand branded sales in Africa.
At present, for example, only 20% of the cooking oil sales generated by the PZ Wilmar venture are of branded products. Kanellis told analysts the majority of sales remain through "bulk and semi-bulk" lines. The venture partners are, however, eyeing an increase in branded sales – should disposable income trends in the region prove favourable. "We would like to get somewhere like 40-50% in brands in the next three-to-four years. The time will depend on the disposable income ppl have [but] once they move and have seen the quality of the oil, going back usually doesn't happen."
PZ Cussons insisted the Minerva operation in Greece remains a useful asset, although Kanellis admitted even if he wanted to sell the business now, the state of the country's economy would limit the price the company would achieve. Executives at Minerva, he pointed out, are working with its African food business on product development.
Are more acquisitions in food possible? Albeit before the Five:Am deal was announced, Kanellis did suggest a deal for a food company in Indonesia would help PZ Cussons' plans to take the Rafferty's Garden brand into the country. It is unclear at present what buying an Australian yoghurt brand does to that idea but it seems likely PZ Cussons would like to buy a food asset within Indonesia.
Numis Securities analyst Charles Pick suggests PZ Cussons is mulling plans to launch yoghurt products in Indonesia. "The Aussie yoghurt company is already achieving some sales in Hong Kong and Singapore and they might be able to sell some too in Jakarta," he said. If PZ Cussons does further build its food portfolio in Indonesia in the wake of the Five:Am deal, acquiring a local operator may become an even more atrractive prospect.
Pick suggests PZ Cussons may "have a bit of a pause" from acquisitions to bed down Five:Am. However, he suggests more acquisitions in food could be made, albeit "very specialist". He adds: "I don't think it's ever going to be a major area for them."
Shirley insists he wouldn't rule out further deals. "They've got a preference to do deals in Asia. I think they've got a preference to do deals in HPC but, when good brands become available with good margins and good top-line growth in food, they would look at that as well. If you look at the bal sheet, they're probably going to have about GBP50m of debt. They are very strong cash generative, so bolt-on deals are very much part of the PZ strategy. It wouldn't surprise me if they did more bolt-on deals in the next 12 months."