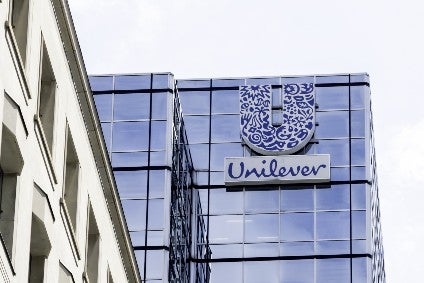 Unilever's first half did not prove as weak as the City feared, with at-home food contributing to better-than-expected sales, though, of course, Covid-19 will continue to provide uncertainty as the FMCG giant moves through 2020. Dean Best reports.
After Unilever's performance in the first three months of 2020, expectations going into today's (23 July) reporting of the company's half-year numbers were subdued.
But the consumer-goods major posted six-month sales and margins that beat City expectations, sending the Magnum maker's share price soaring, up more than 8% at the time of writing, even if the company has now formally removed a margin target set in 2017 by former CEO Paul Polman.
Unilever's first-half turnover was EUR25.7bn (US$29.73bn), down 1.6% on the year and translating into a 0.1% dip in underlying sales, healthier than the 2.3% fall that had been the consensus forecast among analysts following the business.
The Knorr and Hellmann's owner booked an underlying operating profit of EUR5.08bn (versus EUR5.05bn a year earlier), which shook out as a margin of 19.8% (up 50 basis points), versus analyst estimates of EUR4.72bn and 18.8%.
Across Unilever's divisions, the results came in better than had been expected, including, strikingly, at the company's Food and Refreshment division, despite the severe impact Covid-19 has had on the foodservice market.
As with many packaged-food manufacturers, Unilever got a boost from the rise in demand for food at home as the global lockdowns of April, May and into June reshaped consumption. "The hidden jewel in the portfolio has been our in-home, food and refreshment portfolio," Unilever CEO Alan Jope said this morning.
That's not to say Unilever does not face challenges. The recovery of the foodservice market is likely to be gradual and uneven, slowing the rate of any rebound for the company's Food Solutions arm. And, as Unilever CFO Graeme Pitkethly told analysts, it is "inevitable" there will be a global economic downturn, adding: "What we don't know is the depth and length of that and we don't know which countries are going to be hit hardest as yet." Navigating that uncertainty will present tests on pricing, positioning and innovation.
Unilever reacts to "radical shift" in food sales
No business wants to report sales declines but, against expectations, the 1.7% fall in underlying sales from Unilever's Food and Refreshment was seen as a credible result.
Covid-19 lockdowns curtailed Unilever's business in the foodservice sector and limited travel, which weighed on its out-of-home ice cream sales.
Combined, those two parts of Unilever's Food and Refreshment division reported a 42% slump in sales in the second quarter, Jope said. By contrast, Unilever's food sales for in-home consumption rose 17% during the April-to-June period. Sales of ice cream for consumption at home, for example, jumped 26%.
"We've tapped the opportunity in foods that's been presented by a radical shift to in-home consumption," Jope said.
The division did see its profitability dip slightly, with operating margin down 20 basis points, due, Unilever said to the changed mix of sales, volume "deleverage" from the foodservice closures and costs related to Covid-19.
Foodservice forecasts remain difficult
The Cornetto owner makes about EUR3bn each year from its out-of-home ice cream business. Its Unilever Food Solutions foodservice arm generates a further EUR2.5bn. Unilever's group turnover in 2019 was EUR52bn.
Unilever did see some impact on these divisions in the first quarter, as Covid-19 hit China, other parts of Asia and started, in mid- to late-March, started to make its presence felt in Europe and North America. Some 20% of the sales from Unilever Food Solutions each year are generated in China.
However, it was in the second quarter when the Unilever Food Solutions in Europe and North America really felt the squeeze and, even as lockdowns have been eased in some countries throughout June, local containment measures have been reimposed in countries including Australia, Spain, the UK and the US. Added to that is the reluctance of diners to eat out again amid fear of transmission and in the absence of a vaccine. Consequently, it will be proving very challenging for food manufacturers supplying foodservice to predict the speed at which the channel could recover.
Pitkethly said Unilever saw its sales declines in foodservice lessen as the company moved through the second quarter but acknowledged it was too early to decipher a long-lasting pattern. "There's been a very strong sequential improvement month on month, as the lockdowns have eased. We were down 70% in April in Unilever Food Solutions, 60% in May, but only 38% in June. I don't know whether you can extrapolate that trend or not but that at least gives you a sense of the exit momentum as we as we came out of the of the second quarter."
Jope reflected on the trends he saw in China a decade ago, at the time of the H1N1 swine flu epidemic, when he headed Unilever's business in the country. "We saw it took ages for the Chinese consumer to become comfortable going back to the level of restaurant eating that they exhibited prior to that wave – and I think we're kind of seeing that actually in the rest of the world," Jope said. "Bad news for our food solutions business, where we're planning on a slower recovery. Good news for our retail foods business."
Unilever's value "squads"
There appears little doubt the global health crisis is set to lead to one of a financial nature, presenting another set of challenges for consumer-goods companies.
With global operations and a product portfolio spanning a number of FMCG categories, Unilever's management are watching various macroeconomic indicators very closely.
"We believe that talk of a quick recovery is definitely at the optimistic end of the scale, deep global recession has already started and consumer habits are changing quite dramatically," Pitkethly reflected. "We're seeing a rapid rise in unemployment across markets and, even for those with jobs, we know some consumers will choose to save more in a recession. The role of price, value and affordability will be paramount in driving the penetration of our brands. We know that this is frankly an area of strength and deep experience for Unilever."
The company's management was asked on the analyst call if the dip in gross margins it had seen in the first half was a sign it had already seen some trading down by consumers.
Pitkethly said the fall in gross margin had been due to the changes in Unilever's sales mix in the first (for example, he explained, in-home ice cream has a lower margin than out-of-home ice cream). However, the Unilever finance chief insisted the company was prepared for more consumers looking for "value".
"We think we are good at reading and delivering affordability and value in Unilever. We don't tend to react by radical price slashing," he said.
"Our value portfolio in Unilever, which we sort of describe as less than 80 average price index is pretty well-positioned. We've got about 20% of the Unilever portfolio in aggregate in the value segment: about 45% is in the mid tiers, and about 35% is in premium.
"A lot of branded players don't play at all in value areas, so it's a pretty good start for us. But we're not done yet. We have set up a number of targeted squads around the business working to identify and plug gaps in the value portfolio market by market, particularly in low-unit price packs and lower-tier brands."
"Retooling" innovation for Covid-19
Another area in which Unilever faced questions on its strategy was on innovation, which the company has reviewed due to the pandemic.
"Now's not the time for a lot of complexity in our innovation programme," Jope told analysts. "During this crisis, we're focusing on the innovations that bring higher incremental turnover. We've already cut over 20% of the tail of innovations and we've reassessed all of our innovation plans in light of Covid."
Understandably, that prompted questions about whether Unilever, therefore, expected the contribution of innovation to its growth could fall – and whether the reassessment could hinder the company's ability to compete with local businesses in local markets.
"We believe focusing the portfolio of innovation will drive higher overall incremental turnover. It sounds ridiculous but, as we try and constantly strike this balance between global and local, I do think that we got carried away on too long a tail of small innovation, trying to address every opportunity locally," Jope said. "Concentrating our resources behind fewer, bigger, seems to have the impact of better growth."
The Unilever boss then used the company's food business to expand on his point. "In foods, we've been very focused on – let me describe it in three different ways. The first is affordable at-home eating solutions. We've got lots of interesting new products in that space. The second is the continuing macro trend towards plant-based, which is where we've focused disproportionately. And the third is solutions specifically designed for e-commerce delivery. It's not just chopping off the tail. That's the easy bit. It's actually retooling the innovation programme to be relevant for the times that we're in. That will definitely generate more incremental turnover, not less."
Emerging-market challenges
At 15:34 BST this afternoon, Unilever's share price stood at 4,702.05p, up 8.64% on the day. Broadly, analysts reacted positively to its recent performance. "Although the company refrained from giving guidance for 2020, the results are a clear beat and a positive surprise, in particular in Personal Care and Food and Refreshments," MainFirst's Alain Oberhuber said.
That Unilever's sales in developed markets grew was also eye-catching. However, on the other side of the coin, its sales from emerging economies came in lower and there is some concern among analysts about the outlook for demand, particularly in emerging markets, with Covid-19 still wreaking havoc in some countries, and with macroeconomic turbulence starting to make its impact felt.
The latest quarterly results from Hindustan Unilever, the listed entity in India in which the group owns a majority stake, included falling underlying sales, when they were published this week, but not to the extent market watchers had feared. Unilever, meanwhile, said its sales in Latin America rose during the opening six months of 2020.
However, both markets sparked questions from analysts, with India still using "containment zones" to try to beat back Covid-19 and with four of the ten countries with the most cases of the virus in Latin America.
India, where Unilever sealed a significant piece of M&A in April, "was on a downward trajectory from a market growth perspective even before Covid hit us", Pitkethly said, adding: "Any thinking around an Indian rebound, we don't know the answer because it will depend on the status of lockdown in India, state by state, locality by locality. Having said that, that will be what it will be. What I can say is that our business in India is extremely competitive. We have more than 80% of the business winning market share right now, and we're seeing share gains in the last three months."
In Latin America, Jope said he had been "surprised at the resilience" of Brazil and Argentina, countries that, combined, make up half the group's business in the region. "We believe we're gaining competitively," he said.
However, Pitkethly warned the "peak" of Covid-19 cases in the region may not be reached until "Q3 or even Q4" and, on Brazil, which accounts for 40% of Unilever's sales in Latin America, he added: "We have an unbelievably strong business in Brazil, which has actually become stronger through the economic crisis of the last three years. We've also taken a lot of activity through the economic crisis to position the portfolio with tier three, tier four brands, etc.
"It's value- and recession-ready, but it is going to be tough, particularly in Brazil, over the course of the second half and beyond, because they're not yet at the peak of the crisis."