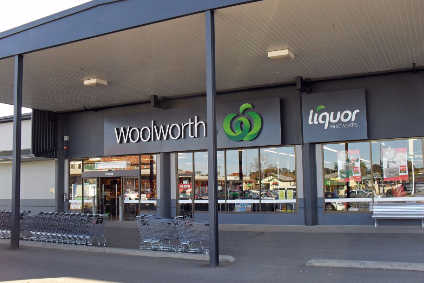 In July, Woolworths, Australia's largest retailer, saw its shares jump the most in a single day for 20 years after it announced more initiatives to improve its performance. The month also saw UK discount chain Poundland accept a takeover offer from South African retailer Steinhoff.
Woolworths claims "momentum" in turnaround, announces more measures
Australia's largest retailer saw its shares jump the most in a single day for two decades on 25 July after CEO Brad Banducci claimed the company's measures to improve its performance were starting to pay off – and announced more initiatives to get the business fully back on-track.
In February, Australia's largest retailer promoted Banducci, the head of its food arm, to the position of group CEO. Banducci joined Woolworths in 2011 when the company acquired wine retailer Cellarmasters and he was first appointed to head the retail giant's liquor retail business. In March 2015, Banducci was moved to lead Woolworths' food group, containing its core supermarket business. The appointment was part of moves by then Woolworths chief Grant O'Brien to give the company's flagship business a boost. O'Brien also announced plans to save AUD500m (US$383.1m) money that would be re-invested in Woolworths' supermarkets to try to drive sales. However, fast-forward four months to June 2015 and O'Brien had decided to leave Woolworths after sales came under further pressure.
By this February, Woolworths had announced it had turned to Banducci to lead the entire business, one seeing fierce competition from nearest rival Coles and the continued growth in Australia of hard discounter Aldi.
Banducci's appointment was announced on 26 February, the same day Woolworths announced a half-year loss of more than AUD970m on write-downs after investment in home improvement. However, significantly, the results also included a 0.8% fall in comparable sales from Woolworths' food and liquor arm, which the company said was a sign of the impact of its moves to invest AUD350m in its supermarket business over a year to lower prices. Banducci said the investment had led to more transactions on a comparable-store basis and more shoppers.
In May, when Woolworths reported third-quarter sales numbers that included a 0.9% fall in adjusted comparable sales from its food and liquor arm, Banducci said: "We are encouraged that customers are starting to notice the
improvements we are making. It will be a three- to five-year journey to rebuild Woolworths Supermarkets, but we are confident we are on the right track."
On 25 July, Banducci's latest reflections on Woolworths' performance sounded bolder, saying the measures introduced since he became chief executive had shown "real momentum". However, the Woolworths chief set out more initiatives to improve the company's results. These included the loss of 500 support office and supply chain jobs as Woolworths sought to "improve accountability" and "better support" stores and customers. Banducci said Woolworths had also slowed the pace at which it was opening new supermarkets and said the company would close "under-performing and non-strategic" outlets. The full package of measures led Woolworths to book a one-time charge of AUD959m but shares in the company jumped over 8%. "We've faced up to the reality of where we are and put the past behind us," Banducci told analysts. Woolworths full-year results will be published on 25 August.
UK discount chain Poundland gets new owner
On 13 July, Poundland, the UK-based general merchandise retailer selling items for a GBP1, agreed to a takeover offer worth GBP597m from South African retail group Steinhoff International.
Poundland had grown rapidly during the late noughties and early 2010s and expanded from its UK base with an entry into Ireland under the Dealz name in 2011. Poundland then took the Dealz chain into Spain in 2014.
In February that year, private-equity owner Warburg Pincus listed Poundland on the London Stock Exchange. Fast-forward just over a year and Poundland announced a move to buy cut-price rival 99p Stores for GBP55m, a deal regulators approved in September 2015.
However, this June, Poundland reported a slump in pre-tax profits, with then chief executive Jim McCarthy saying the move to convert the acquired 99p Stores outlets to the Poundland name while pursuing the company's own organic growth "naturally placed a strain on the core business".
Tellingly, through Poundland's reported sales were up almost 19%, its like-for-like sales were down almost 4%. Poundland pointed to a number of factors – "difficult" markets, falling high street footfall, "tough" first-half comparables, changing shopping behaviour in the third quarter of the year and disruption from the accelerated 99p Stores' conversion programme.
The results were published at a time when Steinhoff, the company behind chains including European home furnishings chain Conforama and UK furniture retailer Harveys, had said it could launch a bid for Poundland, which had seen its share price suffer as it tried to integrate 99p Stores. By the middle of last month, Poundland had agreed to a bid from Steinhoff that Darren Shapland, the UK firm's chairman, said gave "shareholders … an opportunity to realise their shareholding at a certain and attractive price, securing earlier delivery of the Poundland Group's medium-term value than could be expected from the ongoing turnaround process against a background of increasing economic uncertainty in the UK and a more challenging trading environment".
Shapland added: "The single-price sector has undergone significant modernisation and professionalisation in recent years and is now a mainstream feature of UK retail."
Industry watchers gave Steinhoff's move a mixed reaction. "Steinhoff's takeover of Poundland may be considered a bargain given the retailer's store footprint and a share price that has effectively halved over the last year or so," Jon Copestake, chief retail and consumer goods analyst at the Economist Intelligence Unit, said. "But there are pitfalls. Poundland has struggled since the acquisition of its 99p rival and it suffers from being trapped by its very proposition. Selling everything for a pound ties it to a high volume and low margin price point that prevents it from diversifying its stock to meet different consumer needs. As a result of it will be interesting to see what strategies its potential new owner can bring to reinvigorate the brand."
Elsewhere in July…
A potential blow for Edeka
The long-running saga over the German grocery chain Kaiser's took another twist last month.
The higher regional court in Dusseldorf blocked a decision by the German government decision to allow Edeka, the country's largest food retailer, to buy Kaiser's from retail group Tengelmann.
The ruling overturned a decision from German Economy Minister Sigmar Gabriel, who in March gave special permission for the deal provided that no jobs were lost. Gabriel's decision had effectively quashed last year's ruling from Germany's cartel office to stop the deal. Competition officials had concerns about the effect on competition and on prices.
The court in Duesseldorf insisted protecting workers was not the same as protecting the public interest and even posed questions about the minister's neutrality in the process.
Last week (4 August), Edeka said it would embark on its own legal action against the court in Dusseldorf. Edeka is looking to fight the court's decision not to allow an appeal. This one could run on further.
Sainsbury's, Netto end UK venture
At the start of July, Sainsbury's announced the end of a venture it set up two years ago with Dansk Supermarked Group to jointly run stores under the Danish group's Netto banner in the UK.
The formation of the venture back in the summer of 2014 was something of a surprise, with Netto have struggled on its previous visit to the UK. The Netto chain had disappeared from UK towns after Asda bought the local business from Dansk Supermarked in 2010 and rebranded the stores.
Sainsbury's was always clear the venture was a trial but Mike Coupe, then the retailer's commercial director and now CEO, said there could be a "new, long-term growth opportunity" if the venture proved a success.
Broadly speaking, the City welcomed the move, with one analyst calling the setting up of the venture "a masterstroke" and another "a smart move" as Sainsbury's sought to combat the continued growth of the discounters in the UK.
Nevertheless, on 4 July, Sainsbury's and Dansk Supermarked Group announced the end of the venture, which had set up 16 stores, all in northern England.
Coupe said the UK grocery market had "evolved significantly" since the two companies had "envisaged" the venture almost three years ago and added: "To be successful over the long-term, Netto would need to grow at pace and scale, requiring significant investment and the rapid expansion of the store estate in a challenging property market. Consequently, we have made the difficult decision not to pursue the opportunity further and instead focus on our core business and on the opportunities we will have following our proposed acquisition of Home Retail Group."
Per Bank, Dansk Supermarked Group's CEO, added: "Whilst we are pleased with the performance of the stores to date, it has become clear to both partners that the business requires greater scale over a short period of time to achieve long-term success. Reaching scale has been challenging due to appropriate site availability and therefore we decided together to end the joint venture and focus on other opportunities within our respective businesses."
HSBC analyst David Mccarthy claimed the bank had thought the venture would fail. "
There were several basic errors to the strategy, which included lack of scale, expansion capex needed [and] a confused offer," Mccarthy said. "Opening a Netto store in the same building as a Sainsbury was always going to highlight the differing price positions and we thought would confuse customers. To us, a free-standing Netto was not differentiated enough to succeed, particularly as Netto had pulled out the UK a few years earlier."