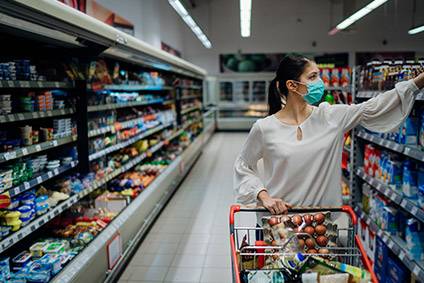 When it comes to the shape of the packaged food industry post-Covid-19, there seems to be only one sure area of agreement. Things will be different.
What that different, or, to use that now well-worn phrase, 'new normal', will actually look like is, of course, open to interpretation at this stage. There is no one answer.
But, clearly, we will be in a different place economically from when Covid-19 arrived. Measures taken to combat the virus will mean straitened times when the world starts moving again. Economists can't agree whether we will be in recession or depression – it may be too early to tell – but all are agreed it will be bad.
So what will this mean for the packaged food industry? Will price become the overriding factor for cash-strapped consumers making product choices? Will this mean a boom for private-label products at the expense of brands? Or will brand loyalty become ever more important for shoppers seeking comfort and reassurance in troubled times?
Will the habits we have formed during the lockdown – shopping online more often and, when we do go to physical stores, visit convenience outlets – also have an impact on what we buy in the future? Will challenger brands, sometimes squeezed out by grocers during the early weeks of the crisis as they sought to maximise shelf-space for 'essential' items, be able to muscle their way back in when this is all over? Or will consumers see them as a nice-to-have in good times rather than a must-have when times are tough?
The early signals
The key word in all this is value, the combination of both the literal value of goods in terms of their price-point but also the more ephemeral, often subjective, quality of value wrapped up in familiar brands and products.
Big food companies have been weighing up these questions in recent days, as they report their first-quarter results, and their informed opinions, based on consumer behaviour patterns seen during the crisis, provide us with clues to what we might see when Covid-19 is beaten.
Alan Jope, CEO of Anglo-Dutch consumer good giant Unilever, which counts Marmite and Ben & Jerry's ice cream amongst its brands, told analysts in a post-results call last month: "At these times, consumers do seek the reassurance of big, familiar, trusted brands and high-quality products.
"We always see this in a crisis but in this case, in the aftermath, we do anticipate some trading down to more value-priced brands because we are facing an inevitable economic downturn."
"I think there's absolutely no doubt that there's going to be lasting changes on the importance of value"
He added: "From a consumer perspective, I think there's absolutely no doubt that there's going to be lasting changes on the importance of value. I think we are going to go into tough economic times for an extended period."
Nestlé, the world's largest food group, with brands such as KitKat chocolate and Garden Gourmet vegetarian foods, believes there are lessons that can be learned from China, where Covid-19 originated and which is now easing restrictions.
When reporting Nestlé's Q1s, CEO Mark Schneider said: "I think some of the initial reactions we saw in China also apply here for the rest of the world now. There's an increased interest in value-for-money, and that's not surprising because this health care crisis also goes hand-in-hand with an economic crisis.
"And I think it's safe to say that we're middle of a global recession right now, and hence, people are very value-conscious and there's a strong interest in that."
"There is no one consumer"
Independent analysts and market watchers have their own interpretation on what is likely to happen post-Covid-19.
Susie Fogelson, a New York-based food marketing strategist who runs her own consultancy, F&Co., starts from the perspective that "there is no one consumer" but she believes certain behavioural traits seen during the lockdown will prevail afterwards.
"People will continue to be safe and vigilant. When people are scared, they return to their favourites. Kraft Mac & Cheese and Spam have flown off the shelves," she says.
"People have grabbed packaged food because it is quick and easy and convenient but there has also been a record number of searches for sour dough starters. Everybody is cooking."
In terms of what this means for premium brands and their ability to fight off lower-priced alternatives during a recession, she says: "It will be a really interesting challenge for brands on the other side of this. The key will be to communicate with consumers even more. The real challenge is whether companies have the insight to understand how their brands will play out post-Covid and to have that strong connection with the consumer."
Fogelson suggests price-point will matter to people. "It will become very important and [US] store brands are no longer white bottles with blue labels saying ketchup. A lot is high-end now which is competing big time and their prices are better," she says. "People have brand loyalty but have tried other stuff and may stick with that."
John Stapleton, a food business entrepreneur who built up and sold UK brands New Covent Garden Soup Co. and Little Dish, has some sympathy with that view. "I would say it is all about value while consumers are concerned about their futures or savings," he says.
But he takes a broad view of what value means and suggests it is not just about price-point. "Premium food brands are premium for a reason. If they are still around, they have proven to consumers that they are of value," he says.
"There has to be a sustainable competitive advantage. I don't think premium brands should look at a strategy of reducing prices. In a recession, consumers trade up and trade down at the same time. People are going to be eating at home more often so they buy more premium products as they get fed up.
"In the early 1990s recession at New Covent Garden Soup Co., we were concerned about what was going to happen. But people were at home more so they bought more soup. I've lived and worked through two recessions and been surprised both times."
Nor is Fogelson ready to write premium brands off. "People will be looking for speciality items, such as wellness drinks which are good for them. I'm not sure people will give up on the desire to have that."
Andy Searle, managing director in the London office of US-based consultancy firm Alix Partners, agrees with the comments from Schneider at Nestlé that we can get an idea of what is likely to happen in western countries from the experience of China, which is emerging from lockdown.
"China has re-opened factories but the demand isn't there. The middle class realise we are entering a recession"
"It [the crisis] has re-set priorities and this will be reflected to some extend in spending habits," he says. "China has re-opened factories but the demand isn't there. The middle class realise we are entering a recession and that's putting a dampener on domestic demand. It has had its first month of negative growth for more than a decade."
Searle is also basing his views on research AlixPartners has carried out in the US.
"A survey we did across 1,000 households in the US across 15 categories shows people are switching brands. There has been a focus on availability rather than brand loyalty. People have switched," he says.
"And people are moving into private label because of cost. Fifteen per cent are moving between brands but a lot are going with private label.
"If we ask people about sticking with alternative brands, about 40% say they will. There's an apparent bit of stickability there."
Searle believes there will be a split when it comes to people's purchasing choices, echoing comments about how some consumers trade up and others trade down.
"At the highest level of income, we can talk about organic, health and wellness choices etc. But, at the other end, a lot will go for discounters and private label," he says. "Pack size changes and reformulation will play a part in it. People with less cash will buy smaller, more frequent purchases or buy in bulk to keep costs down."
He suggests this polarisation could have implications for food brands which are neither premium or low-cost. "In the middle I can see a filtering out of mainstream brands."
Cyrille Filott, a global strategist for consumer goods at Dutch investor Rabobank, says the industry will, during the upcoming recession, "see the usual in that the high end and the low end do well". The "unknown", he says, "is consumer behaviour over the longer term".
He suggests there is uncertainty over the prospects of smaller, innovative, challenger brands.
"I'm not saying small companies need to pivot but they need to figure out what consumer trends will be after Covid-19. They will definitely be different," he says. "Big Food is in a much better position. I expect consumers to move to well-known brands because of comfort levels."
What next for challenger brands?
Filott's point about challenger brands being in a worse position than Big Food is another area of debate.
Danone chairman and CEO Emmanuel Faber said last month big brands might be able to prosper as consumers adjust after the Covid-19 pandemic. "The simplification of SKU assortments and ranges in the trade is very significant," Faber said. "This is a time for big brands if we act properly. "[Retailers] need reliable partners. They need partners that can act at scale. This is where large brands, large companies can operate at an advantage and maybe, for the first time, the food revolution that propelled all these small, nice brands on the shelf may be put on hold for some time or may transform actually in the coming periods. We see assortment reduction all over the place."
A number of challenger brands have disappeared off supermarket shelves during the crisis as retailers seek to make space for essential products but some analysts believe that is only temporary, despite the fact these products tend to be at the premium end of the market.
Fogelson says: "I feel that a lot of them [challenger brands] were very well established going into this. People were excited to try them and I think coming out of this these brands will come back.
"I don't believe people will throw in the towel and go back to bacon and burgers."
Stapleton agrees. "There will be space on shelves because some companies will go bust," he says.
"There was a justifiable reason why certain categories were on-trend before"
"There was a justifiable reason why certain categories were on-trend before. I think the plant-based industry, for example, will pick up where it left off."
Chris Green, co-founder of London-based Young Foodies, a network and consultancy for challenger brands, is also optimistic that they will still be a force to be reckoned with after the crisis is over.
"One thing we still fundamentally believe is that consumers buy into brands. Nothing there has fundamentally shifted," he says.
"Behaviour has changed temporarily, driven by economic pressures, but consumers will still want to buy into something new."
Green thinks emerging food brands could flourish in a recessionary climate.
"Consumers are spending a lot more of their money on groceries and that's put a new value on food and drink," he says.
Green also points out the challenger brands have been attractive to retailers because they are premium products offering higher margins.
"By their nature, many of our brands could be at the premium end. That has driven access to opportunities with retailers," he says.
"I don't think challenger brands should necessarily reduce their prices. I don't think they can dilute the margins. The economics don't stack up.
"There could be even more opportunities for challenger brands depending on consumer behaviour."