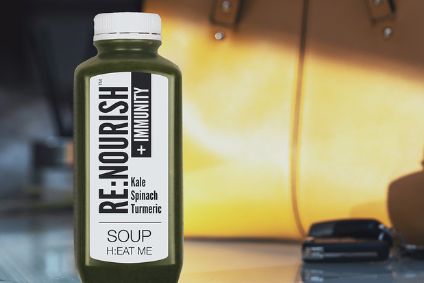 Covid-19 has pushed immunity claims up the NPD agenda. Andy Coyne asks whether the claims stack up and whether this is a trend here to stay once the dust settles on the virus.
In the same way some pre-Covid-19 food manufacturers were rushing to add the work protein to their products to meet interest in the ingredient from health-conscious consumers, immunity appears set to be a key trend in new product development as we, hopefully, emerge from the worse ravages of the pandemic.
So the theory goes, as we come out from under the grip of the virus, people will have an increased awareness of their health and will be looking for prevention as much as cure.
Products said to contain properties that help the immune system to operate effectively are set to capitalise.
But questions remain. How broadly – in terms of in product category – will these immunity claims be spread? Are such products likely to be with us for the long term? And, frankly, do all claims pass muster?
There is evidence of growing interest in products linked to immunity.
Recent research by Unilever revealed a rise in consumers' interest in and consumption of foods that support the immune system, as well as vitamins and supplements, particularly vitamins C and D.
Such demand has translated into product launches. Traditionally, NPD has focused on gut health and the release into the system of probiotics, or good bacteria, usually in the form of dairy products or functional food supplements and meal replacements.
Now, manufacturers are bigging up the immunity properties of ingredients such as turmeric, ginger and fibre.
Last month in the UK, bakery business Hovis, under its namesake brand (one of the largest bread brands in the country) launched a loaf containing a range of vitamins and minerals.
Hovis said the launch of Hovis Glorious Grains, which has vitamin B1, copper, magnesium and phosphorus and is baked with seven different types of sprouted wholegrains, came "with health very much at the front of the nation's mind". Nina Shanahan, head of marketing for the brand, suggested the loaf "helps to support the immune system".
Similarly, in the US, Nestlé has launched Outshine Creamy Coconut Bars, which the company says contain antioxidants and are said to be a source of vitamins C and E.
Dairy companies continue to be active. A notable recent bit of product development came from Chobani, the US business that started out producing Greek-style yogurts, which has launched a fruit-based probiotic beverage fermented with a blend of "billions" of probiotic cultures and herbal extracts.
And even in what might appear a relatively staid category like soup, there are brands purporting to be targeting consumers' heightened interest in health. In the UK, Re-Nourish has a range of better-for-you products – launched before the virus hit the country, it's important to note – which includes the kale, spinach and turmeric-based Immunity Soup.
However, the well-established makers of good gut health products such as kefir and kombucha, which unleash billions of probiotics into the digestive system, can be a bit sniffy about the relatively new immunity claims of products based on 'super food' ingredients or the addition of vitamin powders.
Julie Smolyansky, CEO of Lifeway Foods, the US supplier of cultured dairy items like kefir, argues its products are the real deal when it comes to immunity and is suspicious of the claims of manufacturers in other food product areas.
"I believe probiotics are in a class of their own and shouldn't be put in with carrots and apples," she says. "Bread, bars, cereal: there is no live bacteria in them and pills are a waste of money. Kefir's time has finally come. It contributes to a stronger immunity response and better mental health."
Broadly, Smolyansky says she sees immunity-supporting products continuing to resonate with health-concerned consumers.
"People who have suffered the most from Covid were suffering from preventable diseases linked to lifestyle. The rate of deaths should not be as they are. It is often people with no access to foods with functional ingredients," she says. "This is a portal for making a change"
Lars Bredmose, senior director for dairy health at Denmark-based ingredients firm Chr. Hansen, is well-placed to judge whether there has been a marked shift in demand for probiotics, which his company supplies to major dairy and supplements businesses.
"Our customers in the dairy and supplements industry say consumers are concerned about health and are looking at products promoting the immune system. There is a shift in consumer demand," he says. "It was coming before [Covid]. There has been an interest in probiotics for the last two years but the Covid crisis has just kicked in the doors."
But Bredmose is keen to stress Chr. Hansen does not promote probiotics as being effective against Covid-19. "There is no miracle cure. We tell our customers not link it [probiotics] with Covid-19."
However, not everyone would suggest probiotics is the only game in town when it comes to immunity-boosting products.
Nikki Clark, the founder of UK soup maker Re-Nourish, points out its soups are nutrient-dense.
A former critical care nurse, Clark insists "health is at the core of my DNA" and points to a "disconnect" between us having "these incredible bodies and what we feed them with".
She adds: "The immune system is our central hub and if it's not working properly everything snowballs.
"Everyone is jumping on the bandwagon but my Immunity Soup happened over five years ago. The message has to be a genuine one. Our Immunity Soup has always been our biggest seller in [UK grocer] Waitrose. Post-Covid it has taken on a life of its own. Sales have jumped 30% in the Covid period."
But, like businesses promoting probiotics, Clark is keen the bona fides of products promoting immunity claims are laid bare.
"Some of the juice companies talk about an immunity boost but all they have done is added powdered vitamins and they contain sugar, which doesn't help the immune systems at all," she argues.
Clark fears we may see a gold rush of immunity product launches. "Post-Covid, we will get an acceleration of branding around immunity. We will probably get immunity coffee," she says. "It needs some policing. Companies need to be held to account including about whether something is from a natural or unnatural source."
Angelika de Bree, nutrition R&D director at Unilever, who was involved in the company's recent research, agrees. "We are super-careful not to over-promise," she says. "Others may not take as stringent an approach.
"People have talked about boosting the immune system. That's not really possible but you can support the immune system's response"
"People have talked about boosting the immune system and that's not really possible but you can support the immune system's response. "While I understand that boosting the immune system appeals to consumers, from a purely scientific point of view it is hard to defend. In general we should be very conscious of that.
"This [exaggerated claims] is one of my biggest worries. At Unilever, we are well equipped to make sure we don't enter those territories. Every claim we make is backed up."
De Bree suggests Unilever is "uniquely placed" to take advantage of the consumer trend towards healthier food because of its broad portfolio of products across a number of categories.
"At the moment, 60% of our portfolio is in line with our higher nutritional standards," she says.
But she admits that the health benefits are not always highlighted on the products. "Many of our Knorr soups are full of vitamins and made with things like pumpkin and carrot. We need to start communicating that more to consumers," she says.
Industry watchers have not been slow to recognise the trend for more product owners to be more interested in immunity claims and, while they can understand why it has happened, they too have some concerns about the claims made.
John Stapleton, a food business entrepreneur who built up and sold UK brands New Covent Garden Soup Co. and Little Dish, says: "Immunity has gone up the rankings but consumers can see when their leg is being pulled, whether it is about vitamins or natural ingredients such as turmeric and ginger.
"There is an opportunity here if you get the marketing right and there are justifiable claims that don't go too far. But if brands jump on the bandwagon consumers are smart enough to see through that. Consumers have had enough of false claims."
Hamish Renton, managing director at UK food and drink consultancy HRA Global, takes a similar line.
"The science has advanced so we understand now about the immune system and what builds it up and what knocks it down," he says. "That's opened up claims but it is a slippery one, the immune system. It is variable across people."
He adds: "Everyone is paranoid about getting it [Covid-19] so manufacturers just evidenced and dialled up anything that is good for the immune system.
"The products remain fundamentally unchanged. It has been limited to re-positioning what exists. I would encourage manufacturers too be a bit more transparent. People can spot what brands are doing. Shoppers aren't stupid."
Susie Fogelson, a New York-based food marketing strategist who runs her own consultancy, F&Co., believes some of the more scientific terms could leave consumers baffled and argues product manufacturers need to build education into their marketing and branding.
"People being focused on getting functional benefits through food is at an all-time high. People want a defence against Covid and see food as a path to health," she says.
"I still think gut health is a relatively sophisticated term – prebiotic or probiotic. I think this is an area that needs to be demystified for consumers. I'm not sure what probiotics means to the average Joe.
"People need an education about why gut health is so important. It's a bit technical, a bit clinical. It's much more straightforward to say I'm upping my vitamin intake."
Easy to understand or not, the word immunity has wide consumer appeal in the current climate. But does it have legs? Is it a fad or is it here to stay?
At Chr. Hansen, Bredmose sees no obvious reason why products with immunity-supporting claims will fade away.
"I think this is going to stick. The world has had a scare and Covid isn't going away anytime soon. And we never know when the next pandemic will hit," he says.
But de Bree at Unilever is not so sure. I would personally think that immunity will be important for two or three years and then people may get bored. You shouldn't put all your eggs into one basket," she suggests.
"General health is super-important. That will stay with us for longer than immunity. The whole Covid situation, although it is horrible, has opened up the susceptibility of consumers towards health messages. This will stay for a long time. People will realise how important it is to be in optimal shape."