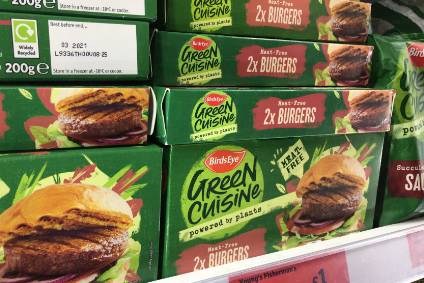 Frozen foods, like many consumables, have enjoyed a bounce in the UK during the pandemic, with significant gains in the weeks leading up to the coronavirus lockdown in late March, led by staples such as fish fingers, chicken nuggets, burgers and pizza through the retail channel.
However, that bumper sales growth slowed over the next month, arguably a reflection of the long-life nature of such products, or the subsidence of panic-buying.
And not every part of the frozen aisle has seen sales heat up in the UK. The frozen ready-meals category was hit hard as the country moved into the first full month of lockdown in April as consumers became accustomed to staying in with a home-cooked meal. Purchases fell 15% in the four weeks to 19 April, compared to growth of 23% in the month through to 22 March, industry data shows, while growth for the overall frozen segment slowed to 8.8% from 28%.
Such swings make it difficult for manufacturers operating in the UK to predict whether the trends seen over the past few months will be long-lasting or temporary, and whether the sector can retain at least some of its new followers as the lockdown is gradually eased and, slowly, the number of eating options available to the country's consumers grows again.
One suspects demand would have picked up again in May as consumers replenished their freezers following the earlier buying spree, at least for the category as a whole, even if some segments, like ready meals, remain challenged. The problem with the data is it comes with a lag, and the demand dynamics are skewed somewhat as industry trackers are tending to measure performance over a four-week period from the date we went into lockdown, rather than a full calendar month.
Nomad Foods envisages "stellar" year
Steve Challouma, managing director for Nomad Foods' Birds Eye business in the UK, says Nielsen data shows the collective UK frozen-foods market was worth around GBP3.9bn (US$4.8bn) as of May. Nomad registered growth of 32% in the three months to 16 May, above the overall category's 28%, he says.
"The frozen-food market has seen a sustained level of growth over the last three months," Challouma tells just-food. "March was an extraordinary level – frozen was one of the top-performing macro-categories in the supermarket. This period has supercharged the relevance of the category and we expect a stellar year, and for the Nomad brands."
Kids being off school is an obvious reason for the uptick in demand as parents looked to the convenience of frozen foods to dish up a lunchtime meal. The increase in the number of meals being consumed at home has also been fuelled by more adults working at home, giving frozen foods an opportunity to take the place of some lunchtime meal occasions.
However, many scenarios could play out that might influence consumers' purchasing behaviour going forward. On the positive side for frozen foods, schools, colleges and universities could be off for a protracted period beyond the almost four months lost so far, and working from home could become a more permanent feature, as well as the inevitable recession, if it's not already upon us.
On the flip side, as the UK lockdown continues to gradually ease, and fast-food outlets start to reopen – with restaurants expected to follow at some point – some of the elevated demand for frozen foods at the retail level could be eaten into by a slow increase in out-of-home eating occasions.
By category, Kantar data shows frozen vegetables were the biggest beneficiary in the weeks leading up to the lockdown, with sales up 40% in the month to 22 March, followed by meat and poultry (38%), pizza (33%), and both fish and potato products (32%).
However, growth eased off in the April period across all of those categories, for example, frozen veg sales eased to 16.6% and fish products to 3.9%.
In the plant-based arena, Quorn Foods, one of the largest meat-alternative suppliers in the UK, said its frozen-food sales surged 60% at the peak during the first four weeks of the lockdown, with 'nuggets' up 33%. "We're now starting to see this level out as the restrictions are eased, but there's a sustained increase in meat-free shopping," Quorn says in a statement. "We're still seeing an extraordinary move towards meat reduction and sustainable nutrition and don't expect this to slow down," the company says.
"If you really want fresh fish, buy it frozen"
Richard Harrow, the chief executive of trade body The British Frozen Food Federation (BFFF), says the Kantar data doesn't accurately reflect the true nature of the increased demand.
"We think that data undercooks frozen because when I'm talking to retail members most of them are telling me that they are running anywhere between 20-30% up year-on-year. And that's fairly consistent across the big boys," he tells just-food. "They are all seeing stronger sales than Kantar would indicate."
Meanwhile, Samuel Dennigan, the CEO of Dublin-based frozen-food firm Strong Roots, a business set up in 2015, is confident demand will hold up as there's been a "huge focus on frozen" during the crisis and lockdown.
"People have discovered there is variation and innovation in the frozen aisle"
"I think that period of returning to normalcy is going to be much more elongated than any of us think, and one thing I am sure of, all of this time that people have spent in their homes they've been making new habits," he says. "People have discovered there is variation and innovation in the frozen aisle where it was just snubbed by many beforehand.
"And I think there's a definite unlearning and relearning of what frozen is that is to everyone's surprise and delight, and I don't think that's going to go away. I think it's only going to benefit the category for the long term."
As Dennigan alludes to, frozen food in the UK has undergone a bit of an image change over the last decade, led by innovative new products and improved quality, underpinned by convenience. And people have come to realise that frozen is fresher than fresh when it comes to fruit and vegetables because they are picked, packed and frozen on-site. Then there's the sustainability factor around food waste, which is easier to control when you have product on ice in the freezer rather than a bag of carrots deteriorating in quality in the fridge.
"If you really want fresh produce you either have an allotment or you buy frozen,"the BFFF's Harrow says. "And if you really want fresh fish, buy it frozen."
He says BFFF members have seen a "real different shape of sales" during Covid-19 from what they would traditionally expect, pointing to the demise of the ready-meal where buyers are normally stereotyped as being "cash-rich and time-poor". But that has all changed for the time being.
There's been a switch into frozen foods destined for home cooking such as bags of chicken fillets, prepared vegetables and staples like fish fingers, chips and peas, Harrow adds.
"I think we are in a very good position. We've got a lot of very good quality products. That all helps around the consumer perception of frozen food," he says. "We are starting to see the narrative around food wastage move away from how much money it costs you to the environmental impact. I think if we change the narrative away from the fact it saves you money, I think then, especially the millennials, will really resonate to that."
"Consumption driven, not stockpiling"
And it's the younger generation that's buying many of the frozen-food products, says Jason Manley, the marketing director at Young's Seafood, now part of Eight Fifty Food Group.
"What coronavirus has done for the category is bring in a whole new range of consumers … with the fastest-growing shopper demographic for the brand being more upscale, younger, pre-families," he says. "Health, quality and convenience remain key drivers."
Nomad's Challouma says there are solid foundations for future growth because it's been "consumption-driven and not just about stockpiling".
"Covid-19 has provided a real opportunity for people to reassess their relationship with the category"
"We think it [Covid-19] has provided a real opportunity for people to reassess their relationship with the category and reinforce the benefits, and if we look at the core time in March, we drove a massive amount of new penetration. Normally, 11 million households would buy our brand, and that's now 13 million.
"Inevitably, you will get some repeat from that. We have estimated that even if we kept 20-25% of those consumers, that in itself would bump up the long-term growth in the frozen category by a couple of percent, which is quite significant."
And it's a view echoed by Harrow at the BFFF. "I don't think we are going to lose all of this growth. I think we've seen a cohort of people starting to purchase more frozen," he tells just-food.
Young's Manley says innovation will be key to keep people engaged.
"It will be interesting to see how many new habits have been formed and how many will become the new norm," he says. "We believe the resurgence of frozen food, and fish in particular, will continue as people have been able to see the many benefits."
Recessionary "tailwind"
A recession, too, could help shore up demand as the frozen-food category has tended to perform well during a downturn, mainly because of price. But a lot will depend on how quickly or slowly the economy recovers and the rate of unemployment once the UK government's furlough schemes come to an end.
Nomad's Challouma says a recessionary period will be "another tailwind" for the sector, while Strong Roots' Dennigan notes how many consumers will be struggling, so value becomes an important proposition.
"People don't look at frozen the way they did," Dennigan says. "So we have to make sure we continue to deliver really good product as opposed to reverting to what the frozen-food industry had done up until five or ten years ago, which was to put a poor quality product in there. We've changed that as an industry, so we have to make sure that we keep it on that trajectory."
BFFF's Harrow says people tend to "drift a bit more into frozen" as they cut back on spending during hard times. "I do think some of the changes we've seen over the last few weeks may well drive some deeper purchasing habits," he adds.
The rise in e-commerce during the pandemic has also taken in the frozen-food channel, drawing in consumers who wouldn't normally shop online or in the freezer aisle. And some of those new habits are expected to stick.
Nomad has seen online orders accelerate to 20% of the business during the crisis from 12% pre-Covid, while for Strong Roots it's increased to 30% in one UK retailer from around 5-10%. "So there's been a shift in where they [consumers] are buying it and how they are buying it as well," Dennigan says.
Challouma adds: "A lot of the elements are going to return to normal but we do think there are certain behaviour changes that will be more enduring post this era. Obviously it remains to be seen how extensive they are, but clearly people have stopped eating out. Our view is people may eat out less, they are cooking more for each other, there's more family meal time, a bit more batch cooking and meal planning, and people working more from home. We are going to work hard to try and keep those additional shoppers in the category."
And retailers have been supportive too, says Challouma, particularly as consumers embrace the "macro-trends" around health and nutrition, sustainability and food waste. He says Nomad could have its "best growth year for many years".
"Retailers have invested more in the category and there's been a lot of modernisation – a lot of the emerging-food trends around flexitarianism and veganism, around vegetables, a broader range, eating more fish – and also replicating that takeaway experience," he says.
With so many pull-and-push factors bearing on the frozen-food segment, and many unknowns, it's difficult to predict the immediate future for the category. Price, convenience and value are likely to remain important, as will quality and a flow of new products and innovation.
One can reasonably assume demand will remain elevated when compared to recent norms, at least until the foodservice sector fully recovers, and workers and students get back to some sort or normality – but who's to say when that will be? Moreover, the economic storm clouds on the horizon could favour frozen food, although it is difficult to estimate the length and depth of any recession that could hit the UK.
For now, it is a good time to be in the UK frozen-food market and manufacturers will be hoping the country's lockdown will have created long-lasting habits that work in their favour.