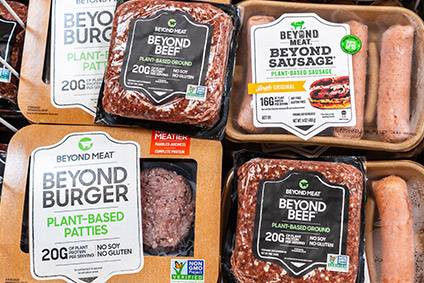 First-quarter sales and profits were stronger than expected at Beyond Meat and the US meat-alternatives supplier is also embarking on growth initiatives involving new sales channels and new geographies. There could, however, be some near-term pressure on revenues due to the impact of Covid-19. Simon Harvey reports.
Bumper Q1 as Covid-19 emerged in March
First-quarter net revenues at Beyond Meat hit US$97m, a more than doubling of the level achieved a year ago, even as the business started to feel the impact of the novel coronavirus towards the end of the period.
In the US retail channel, Beyond Meat's sales almost trebled, with the company helped by stockpiling, although the company insisted it had outperformed the rest of the plant-based category in the four weeks to 22 March as consumers started to load pantries.
Interestingly, Beyond Meat's sales to foodservice also doubled year-on-year on the back of more outlets now carrying the company's products. That said, sales started to be affected in March as the foodservice channel felt the impact of Covid-19.
Beyond Meat's first-quarter sales and profits were stronger than Wall Street expected. According to Alliance Bernstein's Alexia Howard, sales were 10% above consensus estimates, while Beyond Meat's gross margin of 38.8% was more than 800 basis points above analyst forecasts.
Howard, an analyst at Alliance Bernstein, wrote in a research note: "Pricing held in fairly strongly. Going forward, management now seems to be more keen to support volume growth in grocery channels in the US through a shift to lower priced packs and direct price discounting. Some of this may be a defensive move to ensure price competitiveness."
Beyond Meat eyes new growth avenues
Despite the robust growth, the company is not resting on its laurels. Management told analysts on Tuesday it is planning to establish a production base in Asia following its entry into the Chinese market.
And the Nasdaq-listed owner of the Beyond Burger and Beyond Mince is also launching into the direct-to-consumer (D2C) e-commerce segment this quarter as it seeks to reach more customers.
Regarding ambitions in Asia, Beyond Meat entered China in April through a partnership with coffee chain Starbucks, which will feature its plant-based mince on the menu. The timing of the launch was a risk given China was the source of the coronavirus outbreak late in December.
"We're really fortuitous in our timing there. We didn't see much disruption at all based on the pandemic," Beyond Meat CEO Ethan Brown said on a conference call with analysts to discuss the company's first-quarter numbers. "We're getting some great results on social regarding the consumer acceptance of the product and are looking forward to doing a lot more in mainland China."
Brown alluded to the opportunities in Asia for the plant-based food category on the back of infectious diseases found in animals, particularly African swine fever, which also broke out in China, and now Covid-19, which is believed to have originated from a non-human source.
Brown said: "We remain committed to our goal of establishing a production footprint in Asia before the end of 2020 having had further developments with the Covid-19 pandemic.
"The magnitude of the opportunity in Asia merits significant investment, and, reflecting such recent disruptions in the region's protein supply due to African Swine flu, we are proceeding with a sense of urgency appropriate for the challenge and opportunity alike."
In addition to Starbucks, Brown said the company has also finalised an agreement in China with local distributor Sinodis to "unlock a network of distribution opportunities across retail and foodservice". And Beyond Meat has also set up a Chinese language website to "engage with the Chinese consumer and support the brand's introduction in this important market".
Still in e-commerce, which has seen a surge in consumers using digital platforms during the crisis, Beyond Meat's products are now available on Amazon Fresh, and that will be supported by its entry into the D2C market.
"Overall, we're trying to change with the consumer. We're going to again try to reroute every way that we can to make sure that we're getting our product to consumers who want it," Brown said. "And online is obviously one big part of that."
Brace for near-term clouds on horizon
Still, Beyond Meat said the up-tick in demand through the retail channel, as a result of consumer stockpiling, was not enough to offset the downturn in the out-of-home segment, despite some impressive gains in both areas.
And revenue in this current, second, quarter are set to be hit by declines in Beyond Meat's foodservice business, which according to Bernstein's Howard accounts for half the firm's sales. Alongside announcing its first-quarter results, Beyond Meat, like many others in the packaged-food sector, pulled its financial guidance amid the uncertainty caused by Covid-19.
Brown said: "I want to be as clear as possible with respect to our view on the impact of the current pandemic on our business. It is having and will continue to have a negative impact in the short term. This impact was largely due to the disruption of normal business operations within the foodservice sector. We can neither predict when or in what form normalcy will resume for our customers in this segment, nor when we'll see resumption of any expansion plans for our product lines for those QSR customers who are in trial or test phase."
In February, Beyond Meat's 2020 outlook included net sales growth of 64-71% to a range of $490-510m, and a gross profit margin of 33-35%.
For the first quarter of its new financial year, the company reported sales of $97.1m, an increase of 141%, while net income bounced into positive territory, coming in at $1.8m versus a $6.6m loss a year earlier. Adjusted EBITDA also turned to a profit of $12.7m, compared to a $2.1m loss. The profit margin was above guidance at 38.8%.
However, CFO Nelson said margins are expected to come under pressure in the second quarter, mainly due to the partial conversion of its foodservice operations into retail.
Nelson explained: "While we are extremely pleased with our strong gross margin performance in Q1 2020 we do expect near-term headwinds at the gross profit level associated with volume deleveraging and repackaging costs as we repurpose a certain portion of our existing foodservice inventory into retail SKUs.
"In light of these factors, we expect our gross margin to be sequentially lower in Q2 2020 compared to our strong margin performance in Q1."
Pressure on foodservice
And that seems to be the case for foodservice too as Nelson said the impact on that sector from Covid-19 will likely be more pronounced in the second quarter through June.
He continued: "As we go into the second quarter, we're definitely going to have more of an impact on the foodservice channel specifically versus the first quarter. We started to see this impact in the month of March, and as we go into the second quarter, we're going to see more of this impact."
Beyond Meat's US retail sales rose a whopping 190% to $49.9m in the first quarter, while internationally they were up in the thousands, in percentage terms, at $5.9m.
On the foodservice side, US sales increased 156% to $22.6m, and climbed 57% to $18.6m internationally.
John Baumgartner, a senior analyst at Wells Fargo, suggested the weighting of Beyond Meat's US foodservice operations could present a risk going forward, no doubt if the coronavirus crisis, already beyond its second month in most of the western world, is prolonged.
"Particularly concerning is that Beyond Meat's US foodservice portfolio tilts in favour of regional/mom & pop outlets (67% of sales), which may be more vulnerable to permanent store closures," Baumgartner wrote in a research note to clients. "Retail distribution will accelerate but, as we expected, won't likely offset foodservice declines.
"Retail pivot looks sensible but financially-strapped consumers may prioritise absolute prices over price gaps – or turn to pasta night."
And while Beyond Meat has so far been relatively insulated from Covid-19 in terms of the supply chain – having built up counter inventories of raw materials – "we are still subject to heightened risk of disruption", Brown said.
He continued: "We began the year with strong momentum across our enterprise, followed by a meaningful slowdown in our foodservice business during the latter half of March as various regions around the world implemented stay-at-home orders.
[However], "we believe our dual-pronged approach of aggressively expanding availability of Beyond Meat products in both retail and foodservice outlets served us well and helped to mitigate even more significant Covid-19 related disruptions to our revenues."
Adapting on product, price and cost
In the meantime, Beyond Meat is adapting. It has switched production where possible from foodservice to retail while, Brown says, "keeping them [production lines] nimble enough to be able to switch back as the situation improves".
At the same time, Beyond Meat is "offering aggressive pricing with a strategic opportunity to encourage consumer trials during this period of disruption in the animal protein market", Brown said. "We are putting more and more resources into retail. We're doing so at a pricing and cost structure that will allow us to get closer to the animal-protein equivalent pricing given the very significant surge in beef prices that's just occurred," he added.
In the same regard, finance chief Mark Nelson said the company is making cost savings that it hopes to pass on to the consumer.
Nelson explained: "Over the long term, we continue to believe that gross margin improvements will be delivered primarily through improved volume leverage, increases in throughput, greater internalisation of our manufacturing footprint, materials and packaging input-cost reductions, tolling fee efficiencies, and improved supply-chain logistics and distribution costs.
"We remain committed to passing a portion of these cost savings on to the consumer as we pursue our goal to achieve price parity with animal protein in at least one of our product categories by 2024."
Beyond Meat is also planning to expand its product offerings through research and development in pork and poultry alternatives. But Brown admitted the recent launch of the Beyond Sausage into retail is likely to see subdued demand because of Covid-19, although he's "excited about the prospects".