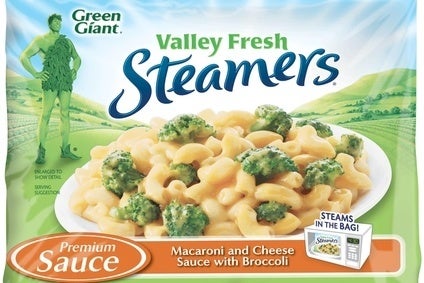 The speculation over Green Giant was this week confirmed with US group B&G Foods announcing it had struck a deal to buy the the canned and frozen vegetables business from General Mills. Green Giant's sales are under pressure but B&G believes it can reinvigorate the business. Hannah Abdulla reports.
B&G Foods has set out ways it believes it can revitalise Green Giant after buying the struggling business from General Mills.
The US group yesterday (3 September) announced a US$765m deal to buy the canned and frozen vegetables maker, which sells products under the Green Giant and Le Sueur brands.
The acquisition marks B&G's debut into the frozen foods category in the US and Canada, a sector where sales are in the doldrums.
And Green Giant's sales have been lacklustre. According to analysts at Sanford Bernstein, sales of Green Giant frozen vegetables have fallen 11% in the last 52 weeks. The problems at the business were highlighted by General Mills this summer when, announcing its annual results for the year to the end of May, the company booked a $260m impairment charge in "restructuring, impairment, and other exit costs" related to the division.
Tom Vierhile, innovation insights director at Canadean, says frozen and canned vegetables "are some of the slowest growing categories in the supermarket".
"According to Canadean, frozen vegetable sales in the US actually declined by 0.27% in 2014. Canned vegetables fared a little better, growing at a 1.6% rate. Frozen vegetable-based ready meals are growing faster than frozen vegetables with 1.4% growth in 2014. None of these numbers are going to set the world on fire and the growth prospects going forward are not great," Vierhile tells just-food.
"Canadean expects frozen vegetable sales in the US to actually decline at a 2.1% compound annual growth rate for the five year period from 2013 to 2017. Canned vegetables are projected to grow at a CAGR of 1.2% over this same period while vegetable-based ready meals are projected to expand at a 1.4% rate. Based on these numbers, it is easy to see why General Mills decided to get out of an area that has relatively bleak growth prospects."
However, speaking about the deal to analysts yesterday, B&G president and CEO Robert Cantwell was upbeat about the prospects for the company's new asset.
"The Green Giant acquisition provides us with a great opportunity for growth in a large segment," Cantwell said. "Though Green Giant has struggled recently, we have demonstrated for almost two decades that integrating and repositioning acquired brands, halting sales declines and innovating for growth is a core competency for B&G Foods."
The company expects the transaction to deliver annualised net sales of US$550m, an adjusted EBITDA of $95-100m and earnings per share of $0.60 following a six- to 12-month transition period.
And B&G said it plans to put "significant resources" into the Green Giant business to "stabilise and revitalise" the top line and regain market share. It plans to double marketing spend and "leverage" consumer trends in order to develop a long-term innovation pipeline "within and outside the frozen and canned vegetable categories with nutritious, better for you products that meet the needs of today's consumer", said Cantwell.
"We want to refresh this brand, potentially refresh packaging and be more innovative on product and be more innovative to today's consumer. It's back to letting customers know B&G owns this brand and make sure we've got the proper distribution first and start a pipeline of fresh, new products so we can compete with other players in the category. In General Mills it was an important brand, an iconic brand but General Mills had a different direction. They were all over the brand in a lot of ways but it wasn't the total direction of who they were and that's why they put it up for sale. It makes more sense under B&G's ownership and we are going to pay it a lot more attention."
Much of Green Giant's canned vegetable business is produced by co-packers. Cantwell explained B&G would retain current co-packer arrangements. He described B&G as a "dominant player" in the shelf-stable sector but admitted vegetables is unfamiliar territory.
"We look at the shelf-stable piece of the business as easy to get our hands on… we love the ability to add a $200m shelf stable business in the B&G portfolio. We don't plan on changing…we like working with co-packers and partners, we won't be bringing that in house. We are not a vegetable manufacturer or a canner of that size and we don't want to do that."
Much of the marketing spend will be concentrated on the frozen part of the business, Cantwell confirmed, which "has a lot more potential on the upside".
It is, however, by no means certain that investment in either category will pay off. "It is possible that General Mills' Green Giant and Le Sueur could respond to increased marketing spending. Green Giant, at least, is a well-known and beloved brand in the US, albeit one that may have been under-marketed in recent years. The problem is that these brands are competing in categories that tend to face stiff competition from private labels," Vierhile says. "Purchase decisions are often based on price. In addition, consumers tend to be less inclined to experiment with new products in canned and frozen vegetables than in other categories."
Vierhile points to a 2014 survey from Canadean that showed a little over 15% of US consumers said they often experiment with buying new product when it comes to vegetables."This contrasts with more dynamic product categories like snacks [where] 20.8% often experiment with buying new products, desserts – 24.3% – and pre-packed sandwiches [at] 27.7%. This is the headwind that B&G faces as they try to revitalise the General Mills brands it purchased."