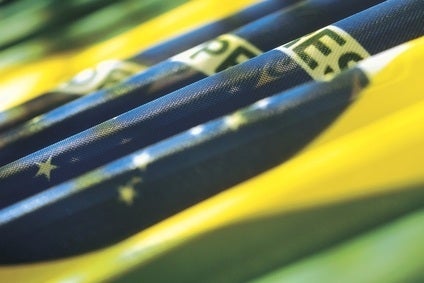 With its vast population and a growing middle class, Brazil offers huge opportunities for food manufacturers. But legislation requiring every food product sold in the country to be labelled to signal its gluten content poses significant difficulties for gluten-free firms. Is there a future for gluten-free specialists in Brazil? Hannah Abdulla explores.
With a population of 300m people, the opportunity for any food manufacturer looking to supply Brazil is huge. And with the country's middle class quickly growing, and with locals becoming increasingly concerned with adopting healthier lifestyles, there is also significant opportunity for specialist manufacturers such as gluten-free firms to establish themselves in the market.
So why are the likes of Dr Schar and Genius not yet present in the country?
One of the biggest obstacles has been the country's labelling legislation. Rather than a lack of it, we're talking about a generous helping of gluten-free labelling requirements.
In 2003, Brazil imposed a law which made it compulsory for all food and drink firms to label explicitly whether their products contained gluten or not. While it makes it easier for the shopper, who can clearly identify a product containing gluten, for gluten-free manufacturers marketing has become very challenging.
In 2013, 64% of all food and drink launches in Brazil carried a gluten-free claim making it difficult to track specific gluten-free manufacturers.
"Everything is classed as gluten-free, even if a category itself is largely gluten-free such as chocolate or water," asserts David Turner global food and drink analyst at Mintel.
The "special" aspect of a gluten-free range he adds is "almost hidden by the noise" in the country. "If everything says gluten-free, how do you make your product stand out?" he asks.
Then of course, you've got the more large-scale obstacles: cost and culture.
It's no secret gluten free and other specialist free-from ranges are pricier than your mainstream products and in Brazil this can prove difficult. It's true the country has a burgeoning middle-class, but Turner says you can be middle-class in Brazil "and still only have a salary of US$300 a month".
For the middle-class and below he adds, "finances are pretty tough".
It is for that reason dedicated "health shops" in the country do well in serving the 2m registered coeliacs". Mundo Verde, a retail health chain – the equivalent of the UK's Holland and Barrett – has a gluten-free section, as do some other upmarket retailers.
This serves the upper class and higher-earners fine – those with "more disposable incomes that can put a bit more discretion on the foods that they buy and they will want to be buying premium and the best," says Turner.
But at present, it appears that the gluten-free sector is not necessarily taking off as quickly as it has in developed markets such as the US and Europe.
According to Euromonitor International, the sector is growing at a gradual pace of between US$6-8m per year.
"[Gluten-free] products are still very expensive and there are only few options available, normally restricted to bakery, noodles and pasta products, only distributed within specific channels such as Mundo Verde," explains Euromonitor research analyst Renata Benites Martin.
However the global players are not entirely non-existent.
Without a specific gluten-free category – when everything is defined by its gluten content – it is a challenge to see who the leading gluten-free manufacturers in the market are. Taking category by category, however, it is possible to establish some patterns.
Turner and Martin both conclude when it comes to baby food, Nestle is the leading supplier that carries a gluten-free claim, followed by Danone and Heinz. But this "is reflective of their market share," says Turner.
In bakery and cereal, the story is quite different, with many local manufacturers surfacing as leaders.
In bakery, Candeo has a 2% share of bakery products with a gluten free claim and a lot of the bread products generally are produced by locals that make the bread at home. In cereal, a company called Sabor has had a 9% share of cereal launches since 2011 with gluten-free claims says Turner.
And then a further obstacle for any gluten-free specialist looking to break into the Brazilian market is the country's diet.
Staples in the citizens' diets include gluten-free carbohydrates like quinoa and cassava.
"That's a challenge," says Turner. "I'm a gluten free brand and have this range of quinoa – people are saying 'well I eat quinoa anyway' – how you make your message special is the challenge".
The question is whether gluten-free specialist manufacturers would ever therefore make it in a market like Brazil?
Martin remains unconvinced: "Not in the short-term because there is a need to improve distribution to other channels and increases product variety."
But Turner believes the opportunity exists.
"In terms of the market size of 300m, you've got the opportunity to have significant scale in the market," he says, adding that the opportunity will grow as "Brazilians become more sophisticated on whats important to them".
"If you look at all of the free-from categories, they are all increasing steadily in Brazil over time, so I'd certainly expect overall [gluten-free] would do very well. You look at Mexico where the market is doing pretty strongly, so I'd say there is potential all over Latin America."