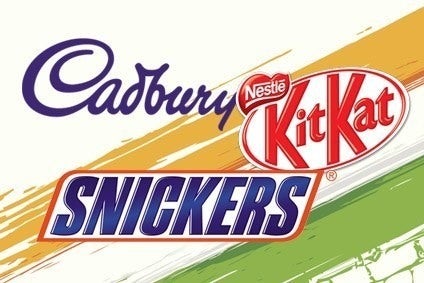 Mars Inc plans to step up investment in the Indian chocolate sector by investing in local production. The Indian chocolate market is dominated by Mondelez International-owned Cadbury, with Nestle becoming a somewhat distant second. With strong growth in demand and a growing tendency for consumers to trade up to higher-margin products, could Mars' push in India challenge the established players in the market?
Mars Inc has revealed that it will invest US$160m to establish a production plant for its Snickers brand in Pune, Maharashtra. Announcing the move, the company said it is setting up local production to cater for growing demand in the Indian confectionery sector.
Mars India general manager MV Natarajan stressed the magnitude of the opportunity. "Chocolate industry in India is growing at nearly 20% every year and we see this as a huge opportunity to expand our chocolate portfolio in the country in the coming years," he said.
The Indian confectionery market is growing at a decent clip and – in a global context – it is one of the markets that has fuelled sector-wide revenue expansion. Research from KPMG stresses India is one of the eight global markets that accounted for 70% of sales growth in the category in the five years to 2013. "Per-capita consumption in India is low – 0.7kg – yet the market is booming, with sales expected to reach US$2.3bn by 2017," the researchers note.
Demand growth is underpinned by changing consumption patterns. Premium and dark chocolate varieties have found favour with adult consumers – who increasingly view it as an indulgence purchase – while chocolate is also expanding in the gift-giving segment, taking over from traditional Indian confectionery items.
Euromonitor analyst Ina Dawer observes: "Over the last few years, premium chocolates have become an indulgence for adults. Adult consumers, especially the ones who have travelled abroad or the ones who visit modern retailers, frequently are aware of the international brands and better quality chocolate brands like Mars. These adults are willing to spend more on better quality chocolates and dark chocolates. As a result, premium chocolate brands such as Lindt have gained further popularity. Such preferences have also attracted many international manufacturers, such as Japan's chocolate manufacturer, Royce to open retail stores in India."
While there is growth at the premium end of the market, pricing remains an issue in the Indian chocolate sector. Given around 30% of the population still live on less that US$1 per day, KPMG notes demand can be "very price sensitive" and Mars' Galaxy tablet retails at "about 25%" of its UK price, for instance.
Indeed, speaking last month after the company reported its fourth-quarter numbers, Mondelez International CEO Irene Rosenfeld noted price increases had dampened demand in the market during the period. "Industry-wide price increases in chocolate tempered category growth in the fourth quarter. In the near-term we expect this trend to continue until consumers adapt to the new pricing levels," she noted.
Mondelez is the largest chocolate manufacturer operating in India. According to Euromonitor, the company's Cadbury brand generated around 55% of category sales in 2014. Nestle, the second-largest player in the market, accounted for 17% the market, while Ferrero, the third-largest manufacturer, racked up just 5% of category sales.
According to Rosenfeld, Mondelez's Indian business generated "double-digit" growth during 2014. Expansion at has been underpinned by product development. The company recently launched Cadbury Glow, a new premium gifting chocolate brand in India. Rosenfeld noted: "Initial results have been strong, already reaching 13% of the Indian chocolate gifting segment last quarter."
Likewise, Nestle is using innovation to launch confectionery products that appeal to the premium end of the spectrum. Over the past year, Nestle has extended existing brands with premium-leaning offerings, such as KitKat Senses and Nestle Éclairs and Milkybar.
Prabhudas Lilladher equities analyst Amnish Aggarwal notes: "Nestle has sustained its drive to launch premium products in existing brands. Chocolates have seen the launch of KitKat Senses, Nestle Extra Smooth, Éclairs and Milkybar…. We believe the strategy to re-focus on existing large brands and launch premium extensions is positive for driving volumes rather than looking at new product lines or brands."
Nestle does not break out numbers for its confectionery sales in India, but total sales in the market were up 11.3% in the fourth quarter of 2014.
Cadbury and Nestle have the benefit of diverse product portfolios, spanning economy to premium items. Innovation and marketing in India has kept consumer interest in the products offered by the market leaders high. But perhaps its greatest advantage is the power and heritage of the Cadbury and Nestle brands, Tejaswee Shrestha, a senior research analyst with ValueNotes, tells just-food.
"Products of companies like Mars are in a higher price range making it unaffordable to all strata of society. Also, Indian consumers generally associate chocolates with brands like Mondelez (Cadbury). As a result, it will take a while for players like Mars to compete with long established players in the industry, like Mondelez or Nestle… the current players are likely to continue to dominate the industry for the next few years," Shrestha says.
Nevertheless, Euromonitor data does suggest the likes of Mars and Ferrero are making small gains and stealing a percentage point or two of market share from the dominant players. "While Nestle has been losing share consistently for the last two years, Mars and Ferrero have been gaining small percentage points in terms of value share. According to Euromonitor data, Ferrero India recorded an increase in value share from 4% in 2012 to 5% in 2014," Dawer notes. Mondelez's market share dipped 0.8 points from 2013 to 2014.
While Mars' investment in Indian production is not likely to result in a big-bang change to the competitive landscape in the sector, it could continue to support the gradual erosion of Cadbury and Nestle's dominance. Well-placed and targeted innovation and branding alongside a focus on the premium and dark chocolate segments are also likely to pay-off.