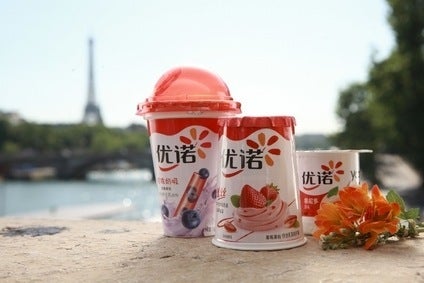 The move from General Mills and Sodiaal to expand Yoplait International into China is a significant step for the yoghurt brand. The potential of the Chinese yoghurt market and its growth profile makes it a tempting prize for any yoghurt manufacturer. But, Katy Askew asks, have General Mills and Sodiaal taken the best route to expansion in the market?
When General Mills acquired a controlling stake in Yoplait in 2011, the US firm, together with its French partner Sodiaal, indicated they intended to drive the international expansion of the yoghurt brand.
The groups were keen to stress the potential to grow Yoplait in global markets and this ambition was placed front-and-centre. "We see tremendous opportunities to work together to become a major competitive force in the development of global yoghurt markets," the companies said in a joint statement.
It would seem, however, relatively little progress has been made over the last four years to expand the brand in emerging markets where yoghurt consumption is rising rapidly. Euromonitor International analyst Raphael Moreau observes: "Yoplait is mostly present in developed markets, with North America and western Europe together accounting for over 80% of the brand's sales in 2014, while Asia Pacific generated a paltry 3%."
This week's news that Yoplait is being launched in China is a pivotal moment for the business and signals that the company is, at last, ready to put its international strategy into action.
"Our entry into China with Yoplait is a major milestone in General Mills' history," Ken Powell, General Mills' chairman and CEO, said. "We're excited about the prospects for growth across our global yoghurt business… We like our positions in key developed markets, and we see plenty of room for future growth as category consumption continues to develop in emerging yoghurt markets."
It is easy to see why China is high on Yoplait's priority list. General Mills placed the Chinese yoghurt category at a value of US$10bn – making it the world's largest yoghurt market – and stressed from this high base sales are growing at a "double-digit pace".
Rising demand for yoghurt products in China is underpinned by the sector's ability to meet developing consumer preferences around the key trends of health and snacking, Mintel analyst Laurel Gu says. "Chinese consumers are in the process of switching to healthier diets, pushing up consumption of healthy food such as yoghurt which is known for its high nutritional value. Meanwhile the tasty nature of yoghurt has also allowed it to fit into consumers' growing snacking needs," Gu says.
This is driving higher volume sales but, Gu adds, value sales are rising at an even faster pace because consumers are "trading up for advanced health benefits and more indulgent tastes".
The size and growth profile of the Chinese yoghurt sector means the market is hard to ignore. However, it is also highly competitive and dominated by the significant presence of local players.
According to Euromonitor data for 2014, Mengniu and Bright Food benefit from a clear lead in market share in Chinese yoghurt, each with sales north of $2.1bn, followed by Wahaha Group and Yili, both of which had yoghurt sales at around the $1.2bn mark. The largest international players in China are Yakult Honsha, which generated sales of just over $600m in 2014, and Danone, which has sales of just over $150m.
Moreau notes the top five players in the country accounted for 73% of category sales. He says the likes of Mengniu and Bright have achieved this by securing nationwide distribution through a focus on ambient yoghurt.
"It is challenging for global new entrants to build a major presence by covering a wide proportion of the Chinese population… As local manufacturers are rapidly improving their quality reputation against foreign-owned brands and focus on innovations, differentiation strategies are also more difficult to achieve for foreign brands."
Moreau says in this competitive and consolidated environment Yoplait should consider a tie-up to leverage the production and distribution strengths of existing players in the market. "Yoplait could benefit from opting for a co-branding strategy. In Japan the brand has developed such an agreement with Meiji under the Gurt brand, available in squeezable pouches for on-the-go consumption targeting children. A similar strategy could also be explored at a later stage by Yoplait in China. Such a move could allow Yoplait to leverage a large domestic company's production and distribution capacity to bring wide exposure to its brand, while emphasising its positioning as a foreign brand using clearly identifiable differentiation elements," he suggests.
For the time being, Yoplait plans to expand in China through a city-by-city approach, starting in Shanghai. The company said it will roll out products in hypermarkets, supermarkets and convenience chains in the city.
This strategy might mean it takes the Yoplait brand some time to build up steam in China. Torsten Stocker, partner at AT Kearney, suggests Yoplait could have opted to go it alone due to the complexity of finding a local partner. "Could they partner with somebody? With another dairy player that would be difficult because the conflicts are already there," he tells just-food.
To Stocker, the logic of a city-by-city approach remains compelling although he concedes "it is slower" than forming a tie-up with an established dairy group. "Companies are more and more thinking about China as a series of mega city markets, especially for the cold chain. Shanghai is a fairly considerable market. It is also a fairly contained market: you can buy social media, for example, that is just for Shanghai."
Yoplait is launching three products in China: Perle de lait – a "thick and creamy French-style yoghurt" – Panier de fruits – the first "fruit on the bottom yoghurt in the category" – and O'Fruit, a drinkable yoghurt with big fruit pieces that requires an extra-large straw to drink.
Stocker believes the new entry into the sector and the brand's attempt to stress its French credentials will help drive overall excitement in the space, which, he says, "lacks a little variety". In this context, Yoplait could contribute to growth in a sector where demand is already booming.