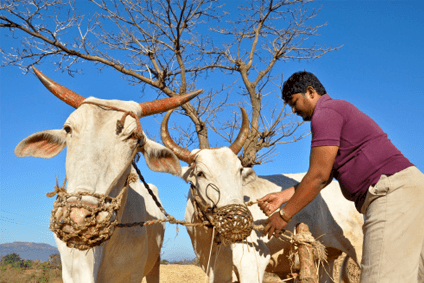 Dairy and energy sector experts are optimistic about effective cold chain solutions they say are being developed for India's dairy sector. Speakers at a two-day seminar on New Technologies for Milk Processing, staged in Mumbai at the India International Dairy Expo last week, were upbeat on the technological advances being made in the field. However, some experts argue that India's dairy needs would be better met through an increased focus on less perishable, long-life products such as UHT. Mini Pant Zachariah reports.
India produces 138m tonnes of milk accounting for world's 16% milk production, according to the country's National Dairy Development Board. India is also the world's largest consumer of dairy products. Despite this, parts of India have milk shortages and per capita milk availability in India's remote north-eastern states (such as Assam) is 35 to 80 grammes per day compared to the national norm of 290 grammes per day, said the board.
Moreover, only 30% of India-produced milk is converted into value-added products. Demand for dairy products of all kinds is expected to reach 180m tonnes by 2021-22, claims the Indian Dairy Association. More than 70m rural households are involved in dairy farming but less than 18% directly interact with the branded organisations within the industry.
But this may change with the advancement of technological solutions help establish a cold chain distribution infrastructure in India. "There is tremendous scope for innovative solutions in cold chain management in the Indian dairy sector," Professor Milind Rane, of the Indian Institute of Technology Bombay (IITB), and an energy technology consultant, told just-food on the sidelines of the expo.
"We would like to see waste–heat recovery from moving [delivery] trucks and using that to produce cooling on board. That will reduce power consumption from stationery units. You could also have your own fuel-fired dedicated system which have engine on board and compressor or you could a have powerful enough main engine and tap off power from the alternator directly," he said.
Sorption technology for land-based systems is bulky but the Heat Pump Laboratory at IIT Bombay has developed compact heat changing systems that are the size of a muffler. "Our heat changers are compact. That is why we are very bullish on using waste heat," said Professor Rane.
Rising fuel costs and erratic power supplies in rural areas are prompting companies such as Pune-based Thermax Ltd to explore biomass as an energy source for the dairy industry. The company claims it is six months away from developing a prototype of small chilling units based on biomass as energy input. This would help store milk at under 4C – it is currently collected at 30C to 35C from farmers at collection centres in rural areas.
A senior technology manager at the company told just-food: "Cogeneration is the future in the dairy sector as it reduces the rising fuel costs."
Professor Rane said the use of renewable energy based systems to boost milk storage is not only viable technologically, but sustainable and economical: "I envisage that refrigeration in the dairy industry will be totally different. It would be a compressed air-based economy."
Another initiative is being demonstrated in northern Indian state Haryana, where South African company SurePure is using patented UV photo purification technology to increase the shelf life of raw milk by 15 days. Avinash Maid, the India representative of SurePure, told the Mumbai seminar: "Trials conducted in Haryana have revealed that milk passed through SurePure machine attacks the DNA of the microbes in milk and kills these while retaining the enzymes and the flavour of milk."
The process uses much less energy compared to pasteurisation, he said, and complies with Food Safety Standards Association of India (FSSAI) health regulations for pouched milk. "I have achieved 30% increase in shelf life of milk at 4 degree celsius. In addition, the flavour and Vitamin D content of milk was retained through this method."
Such potential quality improvements are of critical importance in India. A study conducted by the FSSAI in 2012 revealed that 70% of the milk in India was adulterated with additional diluted water, skimmed milk powder and detergents.
And bacteria are a serious problem. Dr Rajendra Kokane, vice chairman (west zone) of Indian Dairy Association told just-food at the expo: "Unreliability of the cold storage chain in India results in temperature shock that gives rise to psychrotrophicbacteria."
But not all experts agree that improvements to the cold chain will sustain India's dairy needs. As milk processing technologies improve, it is possible that India's dairy sector might forgo cold chain improvements in favour of less perishable lines, such as UHT milk.
Indian dairy giants such as Amul (Gujarat Cooperative Milk Marketing Federation Ltd) favour aseptic packaging for their products to prevent damage to their products along the supply chain of distributors and retailers. Dr K Rathnam, managing director of Amul told the seminar: "India will move from fresh milk to UHT and long life milk if milk producers have to comply with stringent FSSAI norms."
Subin Jose, area sales manager (Asia, Middle East and Africa) for New Zealand based Xenos Aseptic Bottling Systems, told just-food that he thinks PET bottles have a sustainable future because discarded bottles can be recycled for the textile industry.
"The cold chain is going to die in the dairy sector. Urban habits of buying are changing. There will be a clear shift towards long life milk in next five years," predicted Jose. Flavoured milk sales by Amul increased 40% when it shifted from glass bottles to PET bottles, he noted.
The switch to long life products represents an immediate solution to India's dilemma of how to get dairy products to consumers. But will consumers accept long life variants?
President of Rajasthan milk producer Ajmer Zila Dugdh Utpadak Sahakari Sangh Ltd, Ramchandra Chaudhary, does not share Jose's enthusiasm for long life milk: "Indians prefer fresh raw milk. Long shelf life milk will sell only in metros [major cities]," he insists.