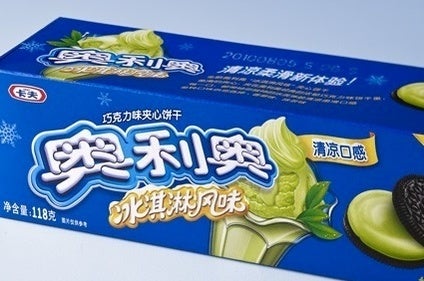 China's biscuit market has seen rapid growth in recent years. However, as the category matures the pace of expansion is slowing. With category leader Mondelez International struggling, is there still room for growth in the sector? Katy Askew reports.
According to analysts at IBISWorld, total biscuit sales in China have increased rapidly over the past five years. Between 2009 and 2014, industry revenue rose from US$12.2bn to an estimated $25.2bn, representing an annualised growth rate of 15.7%.
"Industry growth was stimulated by greater domestic demand, increasing private investment, the entry of foreign capital into China's manufacturing sector, and greater production that increased total industry output," the analysts observe.
However, the outlook for the biscuit sector is perhaps looking somewhat less rosy. Euromonitor International predicts "growing maturity" will cause the sector's growth to slow to 5% value CAGR over the next five years.
Mondelez International is the category leader, with a market share of around 16% in 2013. However, the Oreo maker would seem to be finding the going tough in China's biscuit sector this year.
According to its first-quarter update, filed in May, the firm witnessed a 2.7% drop in revenue from its Asia Pacific region. Mondelez attributed the decline to the performance of its biscuit business in China, which faced "difficult prior year comparisons". Troubles at its biscuits unit "more than offset" a "strong performance" in gum, the company revealed.
Speaking during a conference call with analysts CFO Dave Brearton added: "China was weak with organic revenue down mid-teens primarily due to biscuits. We expect… China to drag in Q1 and through the first half as we lag last year's inventory build in support from our AMC investment and the launch of Golden Oreo."
Brearton said Mondelez expects the China biscuit category to be "soft" for the remainder of the year and "likely growing in the low single-digits".
So, with the might of Mondelez's Oreo brand – which Euromonitor says generates more than 60% of the company's value-sales in the market – under the cosh, does this mean opportunity is drying up for biscuit makers in China?
Investment firm Actis thinks not and, earlier this year, the private-equity group took a "significant minority stake" in Chinese biscuit maker Jiashili Food Group.
"Food and beverage is a focus for us in China," Andreas von Paleske, Actis's head of consumer team, tells just-food.
In particular, Actis has identified the opportunity presented by lower-tier cities that are still urbanising and therefore boast a higher growth rate than established metropolises such as Beijing and Singapore.
"When you look at the overall market in China there are a lot of headlines around consumer spending and consumer growth. What we are seeing is that there is an incremental growth in some of the lower-tier cities, which are urbanising faster than what has already happened in cities like Beijing and Shanghai and seeing greater growth in consumer spend when you compare to some of the established cities," von Paleske says. "Jiashili has leading positions in many of the regions that we are targeting."
Actis is now working with Jiashili to expand the group's distribution further into regions it has yet to exploit. The firm will also look to NPD to extend its branded portfolio into complementary categories, von Paleske adds.
"The business has a strength in some lower tier cities, but that strength isn't equal across the country – some regions are much stronger than others," he says. "But the distribution model that the company employs we think is particularly well suited to that market and can be extended to other regions. The second thing is, the product portfolio. The business has some core products that have a long heritage, strong brand positioning. We think a broadening of their product range in existing areas where the business has distribution equally will be an important area of growth."
The Chinese biscuit sector is highly competitive, fragmented and regionalised. Sizeable domestic firms include Dongguan City Golden Fuji Food Co., Fujian Dali Group and Want Want Holdings. South Korean and Japanese companies, including Orion Group and Lotte Confectionery, also hold strong positions. On top of that, there is a proliferation of smaller local or regional players.
The situation is ripe for consolidation. As Actis' investment thesis highlights, buying into a local player provides greater reach into regions where foreign firms are still struggling to establish a foothold.
A significant challenge for multinationals operating in China has been to move out of the larger cities and modern trade. A lot of emphasis – now and for the foreseeable future – is likely to be on those companies finding ways to target consumers in lower tier cities, either through organic growth or M&A.
Torsten Stocker, a partner at consulting firm AT Kearney, believes the fragmented nature of the market offers manufacturers scope to offset the overall slowdown in growth by migrating sales to a branded, packaged footing.
"While category growth is slowing, this is from a larger base. It is still an attractive category," Stocker suggests. "The branded stage is indeed very competitive [but] you have a lot of small local or regional players within packaged biscuits. You also have a lot of unpackaged stuff that gets sold in large tins, almost like a pick and mix. Not really packaged in the way we are used to. That is part of the market you can take share from."
Brand strength is becoming increasingly important in this regard. Responding largely to food safety concerns, Chinese consumers are increasingly opting to buy formal packaged products. These are viewed as more reliable in terms of both safety and the delivery of consistent quality.
While overall growth of the Chinese biscuit sector is set to slow somewhat, by leveraging their strengths and expanding into sweet spots in the market, such as lower-tier cities, branded food manufacturers should be able to steal share and to continue to grow apace.