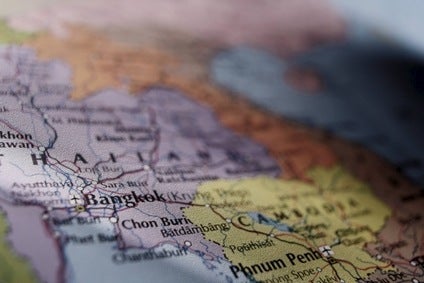 Japanese food manufacturers are targeting countries in south-east Asia as key export markets. As they extend their presence in the region, Japan's food exporters hope to benefit from the perceived sophisticated, fashionable and healthy image of Japanese food products. Julian Ryall reports.
Growth may hard to come by at home but Japanese food manufacturers believe they are find rewards further south, with consumers in south-east Asia acquiring similar habits to the domestic market.
Otsuka Pharmaceutical Co., a food-to-healthcare group that manufacturers soy food products, believes rising wealth in markets in the region has led to shoppers considering a whole range of factors when buying food.
"Incomes in south-east Asia are steadily increasing and consumers there are more frequently making purchase decisions using the same or similar criteria as consumers in more mature markets such as Japan," a spokesman for the nutraceuticals division of Otsuka Pharmaceutical Co. tells just-food. "They are now factoring taste and other quality criteria – including healthy eating choices, time availability, environmental impacts and so on – into their decisions."
Working with local partners in Indonesia, Thailand, Singapore, Vietnam and the Philippines, Otsuka is marketing its baked soybean health snack, Soyjoy, in the region. "Our Indonesian business is enjoying dynamic growth and we are making considerable efforts to build a long-term presence in the other countries," the spokesman says.
Otsuka is carrying out market research in other countries in the region at present and plans to enter "two or three" new south-east Asia markets in the next two years. "The south-east Asian markets are booming and we believe that now is an excellent time to expand," he adds.
It is a similar story for many other Japanese companies, which are looking for alternative sources of revenue as Japan's population and consumption contracts.
In April, Nissin Food Holdings announced it is planning a 70% increase in the number of its instant noodle production lines by 2025, mostly in Japan but also in China with a potential plant in North Africa. The expansion is to serve overseas markets, including south-east Asia.
The company already sells 13.5bn noodle products a year worldwide and hopes the JPY50bn (US$488.84m) investment will help it increase its the proportion of overseas sales in its turnover to 50% from the 14% recorded in the financial year to 31 March 2013.
Likewise, seasonings giant Ajinomoto continues to invest in growing production in the region, where it has had a footprint for around fourty years.
In Indomesia, the company controls around 60% of the granulated, flavoured seasonings market and last year announced plans to open a JPY900m factory dedicated to its liquid seasonings brand Saori.
Announcing the move, the firm stressed: "Indonesian operations play a core role in Asia, which is a crucial region for the Ajinomoto Group."
Meanwhile, Calbee, Japan's largest snack maker, has forged a 50-50 joint venture with Universal Robina Corporation of the Philippines, to bring the company's products to south-east Asia. It has set an annual sales target of PHP2bn (US$45.69m) by 2020.
"With limited options due to a shrinking domestic market, Japanese food and beverage manufacturers have been expanding their businesses outside Japan," Mariko Takemura, senior research analyst with Euromonitor, tells just-food.
"This has increased prominently in the last few years and south-east Asian countries in particular have seen a rise in activity," she adds.
Part of the reason why Japanese firms are looking to south-east Asia as an export destination can be attributed to the increased number of diplomatic spats over Japan's maritime border with China, Takemura suggests. "While Japanese manufacturers used to see China as their main focus in the Asia-Pacific area, the sensitive political relationship now means they are expanding into south-east Asia."
The rising export focus – and growing efforts to expand in south-east Asia – can be seen in significant year-on-year sales growth overseas.
According to government statistics, food exports dipped following the March 2011 Great East Japan Earthquake when the disaster's crippling of the Fukushima Dai-Ichi nuclear plant sparked widespread import bans on Japanese food. However, food exports have since rebounded.
"Export values only decreased by 12% in 2011, despite the Fukushima disaster, but Japanese food exports climbed to their highest levels ever in 2013," Yuki Hokari, an analyst with the industry research division of Mizuho Bank, reveals.
Japanese food exports to all of Asia fell to around JPY250bn in 2011 but have soared to JPY310bn in 2013, say Japan ministry of agriculture, forestry and fisheries statistics. Exports to Association of Southeast Asian Nation (Asean) states accounted for approximately JPY75bn of that 2013 total.
The Japan External Trade Organisation (JETRO) believes Japan's reputation for quality, health and taste are helping to boost international sales.
In December the industry body conducted a survey that found consumers in six cities, including Jakarta, Bangkok and Ho Chi Minh City, ranked Japanese food styles as most popular. This conclusion was supported by 38.4% of respondents, well ahead of Italian cuisine, with 15.6%, and Chinese, at 14%. The top reason was taste but Japanese food's reputation for healthiness helped.
"Japanese food products are considered expensive and high-quality in terms of colour, shape, taste, safety and packaging," the report noted.
The spokesperson for Otsuka concurs. "Japanese food and beverage brands are perceived as high quality, to such an extent that some local companies and companies from third countries promote their products as Japanese brands by putting Japanese characters on their labels. But we find that once they understand the quality of the product, they make the effort to obtain genuine brands and tend to become very loyal buyers."
More than 18% of respondents did say Japanese food is "expensive". But it would seem that price is becoming less of a barrier, with Japanese companies offering aspirational products for increasingly well off consumers.
"The attractiveness of the market has increased because the population of south-east Asia is growing but economic development is also helping consumers' purchasing power," says Sayaka Kagose, of JETRO's agriculture, forestry, fisheries and food research division.
A plan has been drafted by JETRO, working with Japan's agriculture ministry, to "put emphasis on killer content" when marketing food exports, including seafood, fruit and vegetables, high-quality rice, processed foods and meat.