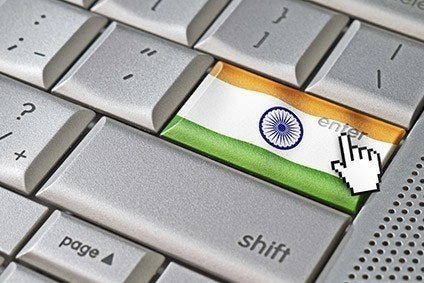 Complex infrastructure and limited access to the internet are just two of the challenges in growing the online grocery channel in India. But manufacturers in every category and online retailers are eyeing the opportunity as the country's economy grows and incomes rise. Hannah Abdulla looks at how the FMCG industry can win online.
India's e-commerce market is growing quickly. In 2013 it was valued at US$13bn and by 2020 it is predicted to be worth US$70bn, according to local online retailer Flipkart.
However, online grocery is in its very early days in India. According to Euromonitor, packaged food sales made through the Internet were worth just US$2.8m in 2014. By contrast, the data shows China saw Internet packaged food sales reach $7.26bn last year.
On reflection, the data for India is not a surprise. Among bricks-and-mortar stores, mom-and-pop outlets still dominate the country's physical retail sector, with modern, organised chains only accounting for roughly 2% of the market.
Manufacturers weighing up the potential of online food retail in India should remember development is likely to be slower than that seen in China due to two major factors – Internet penetration and infrastructure.
Though on the rise, much of India, particularly tier-two and tier-three towns, is still not online. According to a report from UK-based consultancy firm Digital Strategy Consulting, in 2012 there were 121m online users – that's out of a population of 1.2bn.
And for those with access comes the question of whether online delivery is a feasible option in a country where road infrastructure remains poor. Forty-three per cent of roads in India are unsurfaced and not suitable for vehicles. In addition, multiple check posts, toll tax and duty collection points slow down traffic, causing further delivery issues.
Nevertheless, with incomes rising and Internet connections spreading across India's urban centres, an online food retail channel is developing, with a mix of bricks-and-mortar retailers setting up e-commerce sites and offering home delivery and with pure-play online grocers emerging.
It is in India's major urban conurbations where the channel is gaining traction. Pure-play online food retailers, including Bangalore-based BigBasket and two Mumbai-based retailers LocalBanya and EkStop have been in the vanguard of the early development of the online grocery channel in India.
BigBasket was launched in 2011, with LocalBanya and EkStop following a year later. The major physical chains have watched these start-ups with interest and slowly moved into the channel. Reliance Retail, for example, launched Reliance Fresh Direct last autumn offering customers in and around Mumbai the ability to have their shopping delivered to their home and office.
And moving into view in India is Amazon, which started operations in the country in 2013. The US e-commerce giant is starting to move into online grocery delivery but so far its efforts have been limited to the US, where Amazon Fresh operates in a handful of cities.
There is no such service outside Amazon's domestic market. However, a year after entering India, the retailer has started selling food and beverage products on its site, offering a potentially major channel of brands interested in tapping into rising interest in online shopping in the country.
Last month, local food manufacturer Britannia Industries launched an online exclusive of its Good Day Chunkies cookies via Amazon, 15 days prior to the product hitting the shelves of traditional stores. There was a buzz around the launch – the first of its kind, according to Britannia – but while it was applauded for grabbing customer attention, some industry watchers questioned whether it was simply a marketing ploy and whether sales through the channel were actually sustainable on a long-term basis.
At the time of launch, the product offered free home delivery. However, some industry watchers argue a danger presented is that of raising consumer expectations beyond the point you can meet them. Kaushik Madhavan, partner at management consultants AT Kearney, believes the use of offers and promotions are unsustainable long term. "Delivering single packs of food is a very unprofitable proposition on a sustained basis. When you consider a single food item at US$1.50, the cost of delivery is already higher," he says.
Promotions and deals are a common tactic by manufacturers looking to build an online presence in India, a tactic to build interest in a brand or a new product but one that analysts argue should only be used occasionally.
"Online retailing in India is primarily associated with getting discounts in comparison to what is available via traditional stores and modern retail outlets. These categories are getting built only on the basis of sales promotions," Amnish Aggarwal, senior VP for research at stockbroker Prabhudas Lilladher, cautions.
Aggarwal says consumers actually buying online in India tend to be from "the more upper section of society" and the use of heavy discounts could affect a brand's image among shoppers with high disposable income.
"If your premium consumers are going in for your online retailing where you are offering discounts, then it is detrimental for your brand value," he asserts.
Aggarwal contends brand-owners interested in building a solid presence online should consider using the channel to push "niche" offerings consumers would not find in physical stores.
"These might be products which are not available everywhere, or perhaps some imports that are only available in a limited number of stores," Aggarwal says. "There has to be some USP offered in the online retailing of food," he says.
India's online food retail sector is nascent, with retailers only serving selected cities and food manufacturers experimenting in the channel. However, brands could gain the advantage of the early adopter, building a reputation online. Investors seem to believe in the channel's potential with LocalBanya and Ekstop last year securing investment for expansion from real estate group Karmvir Avant Group and local private-equity firm Unilazer Ventures respectively.
In October, LocalBanya co-founder Amit Bhartiya told The Hindustan Times the online retailer was expanding to more surburban parts of Mumbai and had plans to expand its service to up to ten cities over the next three years.
Infrastructure will remain an impediment to the channel's growth but the likes of LocalBanya have already adapted their services to cope. LocalBanya, for example, allows the customer to enter three delivery addresses; while EkStop offers six, two-hour delivery timeslots. BigBasket's delivery routes are tech-assisted and deliveries are managed using GPS-enabled devices and transport. Other retailers engage in the cost-effective bicycle delivery option, particularly for inner-city areas.
There is an obvious detrimental impact on a brand's image from India's under-developed infrastructure. "The biggest challenge lies in providing the right kind of stuff in a good condition to consumers. When you buy online, there is quite a bit of gap between what you see online and what is available offline or even what you receive from the companies," Aggarwal says.
However, Himanshu Bajaj, principal at AT Kearney's consumer industries and retail practice in India, believes "major investments" can be expected over the next few years".
"We can expect multiple business model innovations to overcome some of the infrastructure challenges especially in terms of leveraging the existing fragmented and unorganised capacities. We expect innovative fulfilment solutions to emerge in next few years."