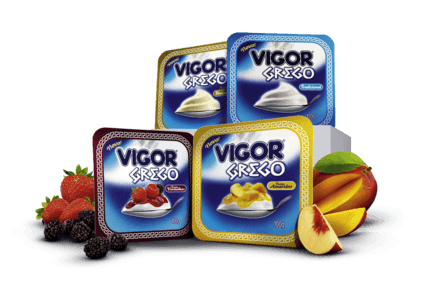 Rising incomes in Latin America have led to a burgeoning yoghurt sector in a number of markets, attracting the likes of Danone, Fonterra and Nestle. However, with competition intensifying, with the macro-economic landscape mixed and with consumers showing an interest in moving to "better for you" options and different ways of consuming yoghurt, innovation will be key to help manufacturers stay ahead. Hannah Abdulla explores.
When it comes to yoghurt in Latin America, the size of the prize is growing, with rising incomes fuelling demand.
Dairy per capita consumption remains below developed markets such as the US and Europe but as it becomes increasingly commonplace, added-value categories are in growth. Yoghurt is one of the beneficiaries. According to Euromonitor, sales of yoghurt in the region between 2009 and 2014 near doubled from US$6.3bn to US$12.4bn. It doesn't come as a huge surprise the highest sales growth in yoghurt was seen in its most populous country, Brazil, where the consumption of yoghurt is growing three times the population growth rate. Sales of yoghurt in Brazil grew from US$3.5bn in 2009 to US$6.1bn in 2014.
Mexico, the second-largest market for yoghurt consumption, continued to grow but at a slower pace. Sales of yoghurt in 2014 were up at US$1.8bn compared to US$1.3bn in 2009. And in Argentina, sales grew to US$951m from US$312.6m over the five-year period.
For the larger countries, these growth figures are not surprising, explains Preben Mikkelsen, analyst at PM Food & Dairy Consulting. They have the luxury of a better developed dairy sector in comparison to smaller markets like Paraguay, Peru, Bolivia and Ecuador.
"For those countries it [dairy sector] is really backward and only a small percentage of milk is delivered to dairies for processing so you have quite a different picture here."
Growth in yoghurt in the larger countries has no doubt been helped by the presence of a number of experienced international players. Danone is the largest player in Latin America overall with a 31% share of the market. The company has plants in Brazil and Mexico. The French giant sells its Activia brand in both markets and in 2012, launched Danio in Brazil. Nestle too has a respectable presence, with 13% market share. In Brazil, Nestle operates as part of a joint venture with Fonterra called Dairy Partners of America. Nestle claims it was one of the first to launch Greek yoghurt in Brazil in 2012. It also has a presence in Chile and manufactures products out of locally-based plants.
A spokesperson for Nestle agreed yoghurt continues to prove popular among consumers in the region. "The category is growing, mostly due to its nutritional credentials and the consumers' interest in better for you products," he said.
The trends driving dairy consumption globally – population growth, higher incomes and increasing consumer interest in health – have similarly impacted the Latin America dairy sector, agrees Fernando Montemurro, technical assistant at Fonterra's Latin American arm. "Diets lower in fat, sugar and sodium and high in protein are trending across the region," he says, driving an increase in yoghurt consumption.
Montemurro says higher consumer awareness of yoghurt is also being driven by a growth in income among the lower classes, an increase in out-of-home eating habits and the growing use of social media.
Beyond the major international names, local players also have a strong following. Brazilian dairy Vigor is one for example, another is Mexico's Grupo Lala. Earlier this month, Vigor posted its first-quarter results, which included a 14% increase in net revenues, driven mainly, it said, by yoghurt, chocolate milk and juices. Reaffirming how important yoghurt is to its growth, the company said on a conference call to investors it was expanding its product portfolio and launching a Greek yoghurt in Brazil. It is also expecting its yoghurt plant in Rio De Janeiro to come online in the third or fourth quarter this year and the capacity increase is no doubt expected to support continued sales growth.
There are of course smaller local players – Venezuela's Empresas Polar, plus Chile's Los Andes, Colun and Watt's – but the larger companies are still likely to dominate, says Mikkelsen. "The international players are performing so strongly in the yoghurt market. It's very difficult for the local players to keep up. Competition is fierce and the yoghurt market is increasingly being penetrated by foreign players."
One concern that comes with the increased competition is competitive pricing, not least in markets in the region where macro-economic conditions have worsened in recent years.
The Brazilian economy has recently experienced a sharp slowdown and is forecast to fall into recession this year. While liquid milk is seen by consumers as a necessity, yoghurt risks taking a hit from any cutbacks in consumer spending. Eduardo Eisler, cluster leader for marketing and product management at Tetra Pak's operations in North, Central and South America, says: "No-one will stop giving milk to the kids because of the [economic] crisis. I never saw that one of the crises affected the growth of the category because it's so basic and important for the nutrition for families. Maybe the premium products, yes. If you talk about omega milk and the specialities like yoghurt – yes, this will suffer."
Montemurro acknowledges macro-economic conditions in Brazil are "very weak" with consumption generally declining and interest rates high, with inflation above government targets. However, he says it is "hard" to say whether Fonterra and Nestle will look to reduce prices on yoghurt amid pressure on consumer demand as the company is working to manage its profitability.
"We are committing to a high results generation for our shareholders which may potentially generate pricing fluctuations throughout 2015 in order for us to achieve specific targets on either volume – therefore prices go down – or CEBIT and prices go up. We expect to maintain our prices for the remainder of 2015, but as I said, it will depend on several market and internal variables."
Nevertheless, with consumer confidence under pressure and shoppers likely considering reducing their expenditure on relatively more expensive dairy categories like yoghurt, it will be important for manufacturers to try to add value to their ranges. Greek yoghurt, for example, with its health connotations, is one of the segments that is likely to be an area of focus for manufacturers.
"Greek yoghurt is everywhere – Danone, Nestle, all those multinational companies are deploying this Greek concept everywhere. They are inventing and very creative on that," Eisle says.
Fonterra has launched Greek yoghurt in Brazil through its partnership with Nestle and Montemurro says "the market has accepted the category really well". He adds: "The global trend towards healthy, fortified and functional products came to the region. The yoghurt was already perceived as a healthy food, and the launch in recent years of a tremendous amount of fortified and functional products raised its profile."
While Greek yoghurt is associated with high protein content, other health trends are interesting Latin American consumers. Brazilian food group BRF launched Yogoflan under the Batavo brand in Brazil. (Batavo has since been acquired by Lactalis-owned Italian dairy group Parmalat in following a deal in September 2014). Yogoflan is a dessert in the form of yoghurt with a flan texture and "uses natural dyes and replaces sucrose with fructose" and indicates there is demand for yoghurt and yoghurt-style products made with ingredients perceived by consumers as better for them.
There has also been a noticeable shift in the way yoghurt is consumed. According to Euromonitor, drinking yoghurt in Latin America grew from US$3.7m to US$6.2m in sales between 2009-2014. Spoonable yoghurt grew from US$3.6m to US$5.9m during the same period.
"[The] accelerated pace of life in the Latin America region is driving the demand for more convenient products "on-the-go" for consumers who have less time to prepare food at home," explains Montemurro. In this sense, yoghurt, and drinkable yoghurt especially, is considered a good solution because of its portability, acceptability for any time of day, and high nutritional value."
Yoghurt is expected to continue to grow in the near term. According to Euromonitor, sales of yoghurt are expected to reach US$15.3bn by 2019 in Latin America. But with the predicted economic challenges in key markets such as Brazil, it is clear yoghurt makers will need to innovate to stay ahead. In order to spend on an item viewed as less of a necessity than other dairy products, Latin American consumers will need to be convinced products meet their active lifestyles and deliver on health benefits – something that continues to be a key factor in their purchasing decisions.