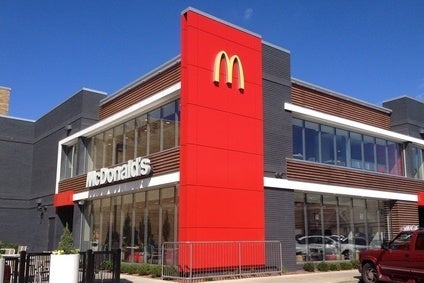 Profound adjustments in how consumers view health have been at the heart of a significant shift in consumption patterns in the US. Packaged and highly processed foods have fallen out of vogue. The country's largest food manufacturers have been left scrambling to catch up on trends like natural, gluten-free and protein-dense. Clean labelling has become a watchword and consumers are seeking out options free from artificial additives and GMOs. In the next instalment of the just-food briefing, we examine how this is playing out in the foodservice arena.
With US foodservice sales topping the US$700bn mark annually and out-of-home consumption continuing to rise, the sector could represent a growth opportunity that has, to date, remained largely untapped by many the country's largest food makers.
One reason why large branded packaged food manufacturers may be hesitant to expand significantly in foodservice is the difficulty of translating the margin structure of branded retail products to the channel. Successfully negotiating an appropriate price for your products in foodservice relies on the same building blocks as in retail. As elsewhere in the food sector, delivering products that offer value and help drive incremental growth is key. When looking at the foodservice opportunity, innovation should be placed front-and-centre.
With their extensive consumer insight and innovation capabilities, packaged food majors are well-placed to deliver. But are the mega-trends around perceptions of health currently shaping the retail food arena playing out differently in the foodservice sector?
The evolution of attitudes to health and diet has been brought to the fore in food retail of late. Branded packaged food makers such as General Mills, Kraft Foods Group and Kellogg have been caught on the back foot as today's consumers increasingly view health and wellness in an entirely different way than in previous ways. The emphasis has shifted to dietary balance. Consumers want foods that are simple, natural and free from artificial additives. Products that have witnessed dramatic demand growth include gluten-free, protein-rich and natural.
There are some reasons why these trends might not translate in the same way to the foodservice channel. Firstly, the ingredients that go into a menu item are not communicated in as much detail. Secondly, consumers are more likely to view eating out as an indulgence and therefore more likely to indulge. As such, foodservice might be somewhat insulated from the pressures that have ripped through retail and hit the earnings at some of the US's largest food groups.
Certainly, growing US sales at the likes of Yum Brands – the owner Taco Bell, KFC and Pizza Hut – would suggest health is not the be-all and end-all for all consumers. Taco Bell's same-store fourth-quarter sales increased 7%, the company revealed yesterday (5 March). Sales growth has been propelled by Taco Bell's expansion into breakfast and this week's announcement the business is testing out Cap'n Crunch-coated doughnuts in breakfast – an extension of its ongoing branded tie-ups with PepsiCo – is testament to how health is not the only route to growth.
Nevertheless, the evidence does suggest health is becoming more important to mainstream consumers in foodservice. According to research from the National Restaurant Association, eight out of ten of consumers say restaurants offer healthier menu options now compared to two years ago – and 76% say they are more likely to visit a restaurant that does. In addition, 67% of consumers say they also order healthier options in restaurants than they did two years ago.
"There has been a growing trend of restaurants offering a variety of healthful options," NRA senior director of nutrition Joy Dubost observes. "Dining out can be part of healthy lifestyle. We believe that all foods can fit within a healthful diet if consumed in moderation and combined with physical activity."
In order to provide for the growing requirement for healthy options, it is first necessary to understand what consumer mean when they say they want "healthy" menu items. The consumer preference for health is playing out in two ways in foodservice. It can be seen in where people eat and what food options they expect.
US consumers are voting with their feet when it comes to foodservice. The country has witnessed the dynamic growth in fast-casual dining, with the likes of Chipotle, Cafe Rio and Panera Bread proving key beneficiaries.
The expansion of fast-casual results from the congruence of key consumer needs. It is a fast convenient way of dining. But it is perceived as of a higher quality than fast food and – significantly – the open kitchen that is so common in this format perpetuates the idea fast-casual dining establishments offer "fresh" food. This in turn translates to an improved perception of the health credentials of fast-casual menus.
"The impressive growth of the fast casual segment demonstrates consumers, who are still focused on price, are willing to pay more for foods they consider to be of better quality or healthier," Mintel category manager Julia Gallo-Torres observes.
Full-service restaurants have been quick to adopt some of the elements of the fast-casual dining experience, Gallo-Torres notes. "Not to be left behind, full-service concepts are mimicking the winning ways of fast-casual restaurants. For example, several full-service brands are testing or have launched concepts that utilise the speedier fast-casual service model. This is important especially during the lunch rush, when consumers don't have the time to wait. Other tactics include launching healthier, more flavourful menu items and employing technology to speed up the dining experience."
With fast-casual on the up, this has left pure-play purveyors of fast food facing something of a dilemma. Fast-food behemoth McDonald's, which has faced a well-documented slowdown in the US, gave an indication of the direction of its response earlier this weeek. Incoming CEO Steve Easterbrook unveiled plans to use chickens "raised without antibiotics important to human medicine" in the US within two years. Later this year, it will also switch to using milk from cows that are not treated with the artificial growth hormone rbST.
The move is a significant strategic shift for the company – and one that plays into another way that consumers have come to understand health in the US. People have become increasingly concerned about what goes into the foods that they eat, placing much more emphasis on the integrity and quality of the food they eat.
The lacklustre performance of the likes of McDonald's also points to the increased emphasis consumers are placing on healthy kids options. A few apple slices in a Happy Meal is no longer enough to keep consumers happy, it would seem. Increasingly, families with kids have come to expect better-for-you options on the kids menu, including oven-baked not fried, fruit and vegetable sides and healthy appetisers on the kids menu.
Steven Johnson of consultancy firm Foodservice Solutions says the growing demand for healthier options and "clean labels" has been accelerated by social media. "The halo of better-for-you foods has been around for 30 years. The difference now is it is becoming more transparent. People are becoming more aware of what goes into food… The discussion has largely been opened by social media," he observes.
Improved supply chain transparency has also seen questions around the sourcing of products come to the fore. Consumers are particularly interested in local produce and meat options, researchers at IBISWorld suggest. "More customers are demanding healthier options, while others are looking for vendors that provide locally sourced or organic foods. As a result, operators have expanded menu offerings to include healthier options and gourmet options."
If food manufacturers want to tap into foodservice sales, an awareness of health and wellness and an understanding of what this means to today's consumers in a foodservice context could serve them well.
For just-food's pick of top menu trends – the majority of which can be linked to perceptions of health – click here.