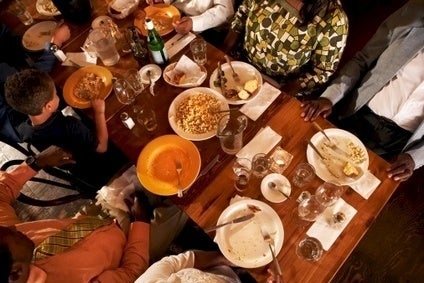 A swathe of mainstream US packaged food manufacturers are searching for growth as grocery retail stagnates amid significant changes to consumer habits. In just-food's latest management briefing, we look at whether the foodservice channel could present opportunities for growth.
The US grocery retail market is going through a turbulent period, with changes in consumer demand and habits causing a number of mainstream packaged food companies to re-assess they way they do business.
Grocery retail, per se, is not in secular decline. Parts of the channel – natural/organic, convenience, club and online – are in growth in the US. Within that broad spectrum of retail outlets, manufacturers are adapting their offer to try to find pockets of growth, either organically or via M&A.
However, the fragmentation of the way consumers shop has only intensified competition in US grocery retail. The barriers to entry that in many ways protected a traditional, mainstream brand are falling down, with smaller, nimbler companies enjoying rapid growth and grabbing market share in a short space of time. US snack maker Kind LLC is a notable example.
Could the foodservice channel be another way for the larger, packaged food companies to boost their growth? According to provisional data from foodservice analysts Technomic, the sector is forecast to grow by 3.9% in the US in 2015 to almost US$702bn.
Foodservice is a mature market and, like in retail, growth is not uniform across the sector. There are significant questions about producing for, distributing to and selling brands in foodservice. However, when one compares that 4% overall growth to the slower rate of growth in grocery retail, it would be remiss of executives not to be at least asking the question.
Of course, some major food manufacturers, including General Mills, Hormel Foods and PepsiCo, already do business in foodservice. However, Jonathan Feeney, who covers US food manufacturing stocks as principal at Athlos Research, said some of the major names in the industry are weighing up doing more in the channel. "The companies like ConAgra Foods, General Mills, Campbell Soup Co. that already have meaningful foodservice are looking at expanding as much as ever I think," Feeney tells just-food.
And Feeney points to forecast consumption trends that he says suggest the foodservice channel is set to account for more of the total food market in the US. "There's been a slow steady migration of dollars to foodservice to the point its reaching 50% of food spending and food companies need growth. This will continue for demographic reasons like smaller households."
Some companies have been and are reticent about building a business in the foodservice channel, principally due to the difficulty in ensuring your brand is visible in a restaurant outlet – and the consequent impact this could have on margins.
"There's a bit of a dilemma," Sanford Bernstein analyst Alexia Howard says. "If you are somebody like Heinz, foodservice made a boat load of sense because your products are branded and you can make just as high margin in those businesses as you can in your regular retail outlets – sometimes even more so depended on the distribution structure. But, for most of the companies, when you are selling stuff that is not branded, it's a little bit like doing private label – most of the companies don't do it because it doesn't make sense for them to fill up their capacity doing it. That's really the key question."
It is a conundrum that could be holding some manufacturers back. However, the sheer variety of foodservice outlets in the US means there are opportunities for brands to benefit from exposure. Obvious examples are the work PepsiCo has done with its potato snacks in Subway outlets and Mondelez International's McFlurry with Oreo tie-up with McDonald's.
That said, there are ways for smaller brands to use foodservice to their advantage, especially in categories that are enjoying growth in retail. In January, Boulder Brands announced a deal with Pizza Hut that will see the pizza chain sell two varieties of co-branded pizza at its outlets.
"If you've ordered that pizza, the box is an Udi's box with the Pizza Hut logo," Boulder Brands chairman and CEO Stephen Hughes says. "If you go back in the day when Newman's Own went into McDonald's, it kind of put that brand in a whole different orbit, and we hope that that over time can happen with Pizza Hut and other related big national food service operators."
Moreover, brands do not necessarily have to be at the forefront of a push into foodservice. Unbranded opportunities could arise in coffee shops and college campuses and even lay at the door of grocery retailers building a foodservice offering within their own stores – with 7-Eleven an example of a retailer building fresh food-to-go ranges in its outlets.
Foodservice may not have been a priority for a typical, major packaged food manufacturer in the US. However, as Feeney says, suppliers are operating in "an all-options-are-on-the-table environment".
The US foodservice channel is not without its challenges. Technomic vice president David Henkes says the sector has not seen the rate of growth in a recovering US economy that one may have expected. He also points to the choppy performance of parts of the channel, with quick-service restaurants struggling for growth (although some manufacturers, like Tyson Foods, have recently pointed to improvement) and the fast-casual segment in good health.
Some analysts also question the extent to which the channel can kick-start a food major's top line. Howard pointed to work she said Campbell had made in supplying fresh soups to foodservice operators. "Campbell has been at the chilled soups thing for ten years or more and they've got over $100m in sales – it's not like a game-changing thing," she says. "It's not going to be the silver bullet that offset the decline in some of the very profitable big brands."
However, perhaps a smaller brand's presence in foodservice could form a more significant part of any M&A deliberations among the mainstream packaged food companies. Intensifying consumer interest in health and in natural and organic products has led to the rapid growth in certain categories in grocery retail. Foodservice operators are seeing that consumer interest move across to their outlets and demand for, say, free-from products is on the rise. Could, then, a packaged food major buy its way to a more lucrative foodservice presence?
Watchers of the grocery retail industry and of US food manufacturers may differ in the importance they place on foodservice as a means to bolster the growth of traditional supplier. However, there is broad consensus that industry boardrooms should be spending more time looking at the opportunities the channel can offer.
This week, just-food will be publishing a series of articles looking at some of those opportunities, featuring exclusive comment from US manufacturers, investment analysts and foodservice specialists.