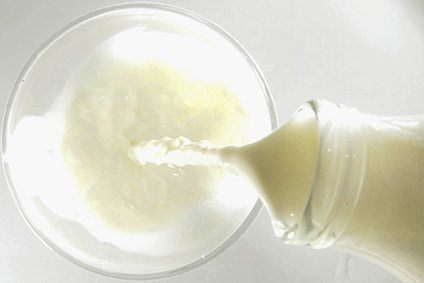 Liquid milk is not a category that benefits from significant added value. While milk is on the shopping list, generally speaking, it is not an area where consumers are engaged and brands are valued.
This is a situation that many operating in the dairy space would like to see change. And the wheels are being put in motion to try and build value in liquid milk.
In the US, the Coca-Cola Co. was an early mover in this push when it launched Fairlife Ultra Filtered milk last year. At the time, the company said the category was one that could "rain money" through successful premiumisation. Meanwhile, this week Dean Foods launched DairyPure in the country – a brand focusing on a "purity" message.
Other markets have also seen branded success to varying degrees. In the UK, Arla Foods has built a relatively large brand in Cravendale – but retailer branded milk sold for as little as GBP1 (US$1.55) for four pints still dominates the sector. In Australia, A2 Milk Co. has rapidly picked up significant market share through a premium product aimed at people who "don't get on with milk". In Ireland, Glanbia's Avonmore is the number one milk brand and – according to the company – it is also the number one purchased brand in the country with a household penetration of 92%.
A key theme at the Canadean Dairy Innovation Summit, held in Ireland last month, was how milk brands can successfully deliver value in a category that has become commoditised. Bringing together different views from the event, here is just-food's four-point plan on how to add value to milk.
1. Strong branding
With some notable exceptions, brands are thin on the ground in the diary sector. This potentially offers dairies who are willing to put in the time and investment necessary to build brands some white space to move into. Muller Wiseman Dairies category and marketing controller Rebecca Oliver-Mooney argues to deliver consumer value – and get people to pay more for the milk they buy – dairies should focus on brand building. To challenge the dominance of low-cost brands and private-label products in the category requires strong, differentiated and defensible branding. "To make people pick up a brand you have to give them a reason to pick up that brand," she says. In a sector lacking established brands, dairies must build their brands from the ground up. "There is no quick win… It is about being in it for the long-term," Oliver-Mooney says. Muller Wiseman is examining how it can build a milk brand in the UK. She adds: "I firmly believe the way to move the category forward is through innovation led by brands."
2. Marketing
For the most part, the liquid milk category has not benefited from a strong marketing message and dairies have not invested in building awareness. To deliver value growth, Zoe Kavanagh, CEO of Ireland's National Dairy Council, insists the situation needs to change. "Not enough money is being invested in this category. If this category is to step change from being a commodity into a value added suite of products… cheque books need to be opened and money needs to be committed." The NDC carried out a series of focus groups targeting mothers – the primary dairy buyer. The findings showed that "dairy is not on their radar… this is not a highly engaged category". The NDC argues messaging should focus on two key themes: naturalness and protein content. Specifically, protein messaging should focus on "staying healthy", "staying strong" and "not slowing down". Rather than discussing muscle mass and ageing, to appeal to women marketers should focus their energies on protein's role in building tone and condition, the NDC suggests.
3. Social media
In recent years, consumer-facing industries have had to react to the rapidly evolving world of social media. Information is now quickly and effectively disseminated between consumers – and FMCG brands are still figuring out how to tap into this communications opportunity. Tim Harrap, head of collaboration at Lye Cross Farm, suggests the dairy sector could and should do more to be involved in the "assertive" world of social media. "Facebook and Twitter is out there. There is a conversation going on. If you aren't involved in it you are dampening engagement," he says. However, Harrap also warns that dairy companies must meet consumers on their own terms: "Organisations don't Tweet. People do."
4. Innovation
Product development is essential to drive excitement in any category. R&D delivers products that provide additional benefits, adding value, driving purchase and supporting brand loyalty. It is the lifeblood of a thriving category. And, significantly, there is shockingly little innovation in liquid milk. In the UK, NPD contributed 0.1% to total milk sales last year. The perception of milk as a basic product – an accompaniment to a hot drink or cereal – perhaps serves to inhibit innovation. But, in a vicious cycle, a lack of innovation certainly contributes to poor consumer opinions about the category. Here are some key innovation trends that should be leveraged in liquid milk.
Milk is a nutritious product. Among other nutrients, a single cup of milk contains a significant amount of an adult's recommended daily allowance of calcium (28%), vitamin D (24%) and riboflavin (26%). Dairy is also a good source of protein – an area of massively growing interest for the health conscious consumer. Gareth Turner, senior brand manager at Arla Foods, insists a focus on "need-based innovation" should enable dairy companies to leverage this "naturally healthy" message. "We need to help [consumers] find the functional health benefits [of dairy]," he suggests. Paul Cousins, of Cousins Davis Associates, an advisory group that has worked with the likes of First Milk, adds the messages around health communicated by dairy-based sports nutrition brands are "trickling down into other areas" of the dairy sector.
The industry needs to find a way to "get milk out of the home", Cousins continues. With shoppers increasingly buying food on-the-go the dairy industry must offer milk to consumers in this context. However, doing this effectively is not easy. Packaging, in particular, has proven something of a sticking point: consumers don't like to drink milk with sports caps, Cousins Davis research has found. How can the industry deliver an easy-to-consume product? While an effective answer is yet to be found, it is nevertheless an area that warrants further R&D. "It is a drive that is essential as more consumers eat on the hoof," Cousins argues.
According to Scott Wotherspoon, CEO of A2 Milk's UK arm, there is also an opportunity for dairy manufacturers at the premium end of the market. In Australia, he says "value has been brought into the market through the introduction of a premium product". A2 uses milk from dairy herds that have the A2 protein and the company says that means it is suitable for people who "don't get on with milk". The proposition has taken off in A2's domestic market but the company has found it tough to win UK consumers over and compete with the bargain-basement prices of private label milk in the country. A2 is working to revitalise its business in the UK, where it now sells milk in smaller pack sizes at a 40% premium to regular milk, as well as expanding into the US.
Glanbia's Avonmore milk brand is a poster child for successful innovation in liquid milk. NPD at the Irish brand has focused on functional, fortified products that also "deliver on taste", Glanbia's head of beverages Robert Jordan says. For Jordan, Avonmore's success can be chalked up to its ability to deliver health and wellness in an everyday accessible form. "If you want people to think about a health and wellness brand they need a trigger… it has to be available and it has to deliver on taste," he suggests.
Avonmore innovation has included work on its Supermilk product – where messaging focuses on vitamin D content and bone health – and its Slimline offering targeting women aged 25-40, where messaging is concentrated on the line's added iron and vitamin C content. Avonmore Heart Active includes added vitamin D and is aimed at people concerned about their heart health. Most recently, the company launched a protein enriched milk that, Jordan reveals, has the highest NPD purchase rate in milk in Ireland.
Glanbia's work to build the Avonmore brand has been innovation-led, Jordan continues. "Our strategy with the trade was to say 'we will be the guys to bring innovation to the marketplace'."