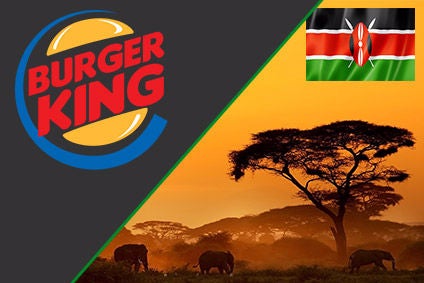 November saw Burger King open its latest market in Africa, Philippines-based foodservice giant Jollibee indicate plans to enter Canada and Europe and MOD Pizza, the US fast-casual chain, raise more finance for expansion.
Burger King continues expansion in Africa
November saw Restaurant Brands International open the latest African market for its Burger King chain.
RBI has made Kenya the latest stage on Burger King's push into Africa, where it already has outlets in Cote d'Ivoire, Egypt, Morocco and South Africa.
Kenya's first Burger King outlet was opened in Nairobi, the country's capital, under a franchise deal with NAS Airport Services Limited, owned by airline catering and logistics company Servair.
Burger King is among a number of international fast-food chains that have either entered Kenya or have expanded in the east African country in recent quarters. With Kenya's middle class expanding, the habit of eating out more regularly grows in tandem, attracting the attention of multinational operators.
In September, US burger chain Hardee's entered the market. Last month saw KFC, which entered Kenya in 2011, open its first outlet outside Nairobi with a store in Nakuru, the country's fourth-largest city.
Stephen Dutton, foodservice associate at Euromonitor International, suggests Africa is featuring more regularly on the radars of international foodservice chains amid uncertainty in other emerging markets. "Africa has become an increasingly attractive region for global chains that have started to look beyond Asia and Latin America for global growth, especially as market uncertainty and economic slowdown has led other major global foodservice companies, such as McDonald's and YUM! Brands, to refranchise company-owned outlets and restructure operations, particularly in China, in order to mitigate risk. Economic uncertainty in Brazil and elsewhere in Latin America has had a similar effect," he says.
Dutton welcomes Burger King's interest in Africa but says the operator's partner will have a "critical" role in devising the right offer for local consumers, especially as, he suggests, the chain will be positioned at the "premium" end of the market.
"Nas Servair … which also owns and operates Burger King's Ivory Coast outlet, will be crucial in understanding local market conditions, and what consumers want and expect from a foreign fast food chain. While there is a growing demand for foreign chains and international concepts in Sub-Saharan markets like Kenya, given the region's rising disposable income levels and large, youthful populations, it is important to realise that a foreign fast food chain like Burger King is going to have a more premium positioning in terms of pricing relative to most other foodservice options in the region," Dutton says. "A strong local franchising partner will be useful here in determining which products are likely to resonate best with local consumers, and what menu offerings are most realistic in terms of affordability."
Fahhan Ozcelik, a foodservice industry consultant, suggests consumers in sub-Saharan Africa are generally more interested in chicken products and cautions tastes can vary within countries. However, he says Burger King will be aware of the characteristics of the market. "Sub-Saharan Africa is a challenging region for burger concepts as the main attribute of the consumers is chicken and in fact chicken on the bone. Furthermore, the local culinary tastes driving the sensory traits of the consumer even varies within a single country, from region to region. Burger King is quite aware of these facts that are the barriers for fast-paced growth," he says.
Jollibee set for Canada, eyeing Europe
Asia's largest restaurant company, the Philippines-based Jollibee Foods Corp., looks set to be looking to add more markets to its international operations.
Jollibee Foods Corp. has a global network of over 3,000 stores, with chains including the namesake Jollibee, alongside the likes of Yonghe King in China and Chowking in the US and the Middle East.
The operator looks set to be expanding across the US border into Canada, while also preparing for a push into Europe.
The foodservice group's first Canadian Jollibee outlet appears to be set for the city of Winnipeg, with reports suggesting a second could hit Mississauga in Ontario next year.
Meanwhile, Philippines newspaper Manila Standard has also reported Jose Miñana, the president of Jollibee Foods Corp., as saying the chain is looking to open its first Jollibee store in Europe in 2017 or the following year. The outlet is set to be in Italy.
Industry watchers say Jollibee Foods Corp.'s international strategy for its namesake chain has focused on Filipinos living abroad and suggest any push into Canada and Europe will follow that path.
"I believe the strategic move to Canada is due to the fact of natural expansion targeting the migrated Filipino population in Canada like they did for the expat Filipinos in Middle East. This will bring the fast-paced brand awareness and trial generation for Jollibee brand that is hardly known in these markets and in very competitive QSR segment," Ozcelik says.
Euromonitor's Dutton adds: "This approach has seemingly worked well for Jollibee, and I expect the brand to continue to expand in this way. Europe is also home to an increasing amount of refugees, especially in Italy, as the country has served as a first point-of-entry for many of the newest refugees. Jollibee's diverse menu, family-friendly atmosphere and affordable prices – the brand offers value discounts on family-size portions, much like KFC in some markets – could potentially appeal to these consumers as well, in addition to the brand's traditional Filipino consumer base," Dutton suggests.
US fast-casual chain MOD Pizza gets fresh investment
MOD Pizza, set up in 2008 in Seattle, has been one of the fastest-growing players in the fast-casual pizza market in the US and last month announced another investment round in a bid to support its further expansion.
Fidelity Management & Research Company has joined the MOD Pizza shareholder roster alongside existing investors that include private-equity firm PWP Growth Equity.
MOD Pizza has 177 locations in 19 US states and has also entered the UK. Next year, the company plans to expand in its existing markets while also entering states including Florida, Alabama, Georgia and Utah.
In 2015, MOD Pizza was named the fastest-growing restaurant chain in the US by industry consultants Technomic. David Henkes, advisory group senior principal at Technomic, describes MOD Pizza as "a strong performer in a segment full of high-performance chains".
However, Henkes says while fast-casual pizza has been "the single fastest growth area within the US restaurant industry for the past several years" the market is starting to slow.
"There's some concern that the fast casual pizza category is cooling," Henkes tells just-food. "Fast-casual pizza is underpenetrated with a lot of room for growth, and much of the funds will be used to expand into new markets. However, the urge for many of these high flying chains to use funds to open as many restaurants in as many markets as possible should be tempered a bit, particularly as some cautionary signs go up for the restaurant and especially fast casual industry, not to get caught doing too much too fast. Continuing to invest in the guest experience in-store, updating and innovating around the menu, and keeping the unit look and feel "fresh" should all be on the table in addition to unit expansion."