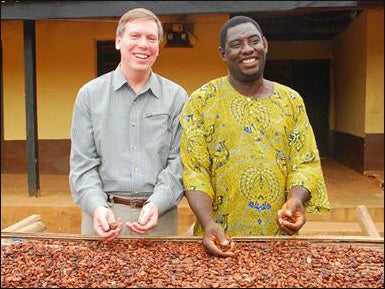 To the delight of the more socially-aware chocoholics in the UK, Cadbury yesterday (22 July) revealed it had started production of Fairtrade Dairy Milk.
The move, first announced back in March, sees Dairy Milk become the latest of only a handful of major UK grocery brands to switch to Fairtrade certification.
In February last year, Tate & Lyle said it would move its retail sugar range to Fairtrade but, up until now, the numbers of household brands securing certification are few.
Cadbury says its decision to take Dairy Milk into the Fairtrade sphere is part of its "broad commitment" to "empower farmers" and Trevor Bond, MD of the company's UK and Irish operations, yesterday spoke of his "pride" at the move.
Some may sniff at the thought of a multinational looking to help its suppliers in the developing world. In the UK, Cadbury has faced fierce criticism for its ambition to boost margins, partly through a restructuring programme that cost hundreds of jobs.
However, it could be argued that Cadbury's decision to take Dairy Milk into Fairtrade fits neatly with its Quaker origins. Moreover, the seed of the idea could rest directly with CEO Todd Stitzer. Last month, Dominic Lowe, the MD of Cadbury's ethical chocolate business Green & Black's, told just-food that Stitzer is a "very religious man" and had a "deep conviction" that switching to Fairtrade was "the right thing to do".
Nevertheless, Cadbury's decision also makes sound business sense. Amid the turbulent conditions affecting the UK economy, Fairtrade is a sector going from strength to strength.
According to stats from IGD, while less UK consumers are buying organic products, Fairtrade is among the other ethical categories that are holding off the worst of the downturn.
"Fairtrade is most linked to looking after people," industry analyst James Amoroso says. "Organic food is looking after oneself; 'green' food – for example, low-carbon footprint – is about the environment. People most like to help other people."
Matthew Taylor, consumer markets analyst at Datamonitor, argues that, as Fairtrade products are, generally speaking, not seen as luxuries, people are more prepared to pay a higher price. "Most products eligible to use the Fairtrade label are far from luxuries, which means that any price premium will translate to a few pence, which even in the current recessionary conditions, is a price that most will be prepared to pay," he says.
Fairtrade Dairy Milk is expected to increase Fairtrade sales by around GBP200m (US$331.1m), although the sector remains far from immune to criticism. Some argue that the emergence of multinationals into the Fairtrade sphere hinders the industrial development of farmers in the developing world, while others see there being an almost colonial relationship between Western manufacturing giant and supplier.
Alex Cole, global corporate affairs director at Cadbury, insists the UK confectionery behemoth can help improve the long-term livelihoods for its farmers.
"We support the Fairtrade model of sustainable development through empowering small scale farmers and their communities," Cole tells just-food. "This enables them to improve both the quality of their cocoa and life in their communities.
Todd Stitzer, Cadbury, and Benjamin Atiemo, Cocoa Farmer, in Adjiekrom Village in front of a cocoa bean drying table
"We believe that we should go beyond farm level standards to fair trading principles. It is ever more important, in the current economic climate with high food prices, that we can ensure fair prices and a sufficient amount to invest in community and business improvements for the longer term."
While Cadbury seems to have stolen a march on its rivals, the likes of Mars also claims it is investing in the long-term sustainability of cocoa farming.
In April, Mars outlined plans to use only "sustainable" cocoa in its products by 2020. The M&M's-to-Snickers maker teamed up with the Rainforest Alliance and drew up plans for the not-for-profit organization to certify 100,000 metric tonnes of cocoa annually for use in its products.
Mars will look to promote its sustainability credentials by placing a Rainforest Alliance logo on the Galaxy bars it sells in the UK and Ireland from next year.
"The move from Mars could be seen as a more long-term commitment as the company looks to reform over the next decade with the aim of only selling products using sustainable cocoa by 2020. At present, Cadbury is concentrating solely on Dairy Milk," Taylor says.
Cadbury's Cole, however, hints that Dairy Milk will not be the only brand that moves to Fairtrade. Cole explains: "We've chosen to start with our flagship brand, Cadbury Dairy Milk – 48% of our chocolate sales in the UK – and in our home market. This is just the start of a long-term journey for both other markets and other brands. We're currently in discussion with the Fairtrade Foundation to explore how we might roll out certification across other brands, other ingredients and other Cadbury businesses across the world. We haven't set a fixed timeline but we stick to our promises."
On the Mars move, Cole adds: "We welcome any move by our industry and other businesses to support farmers in the developing world, and offer consumers ethical choices."
The moves from Cadbury and Mars prompts the question – whither Nestle or Kraft Foods? Amoroso says Cadbury has secured a "significant consumer-oriented competitive advantage".
"Inevitably, Cadbury's competitors will be forced to move. Fair trade is a trend, not a fad. Ultimately, the day will come when all food products are fair trade," Amoroso argues.
"There is a limit currently to how many cocoa beans can be certified Fairtrade. To that extent, Cadbury has ring-fenced the category. Over time, however, an increasing proportion of the coca harvest will be able to be certified. This is why Mars has now also started the process. Nestle, Kraft, Ferrero and the others will have to move to a fair trade designation of some kind or be labelled 'unethical'."
So, as the first Fairtrade Dairy Milk rolls off the production lines at Bournville, Cadbury could be said to have gained that coveted "first-mover" advantage – at least, of course, Divine notwithstanding, among the major chocolate brands.
But it seems highly likely that, in the years to come, ethical chocolate will become another competitive battleground for the confectionery giants.