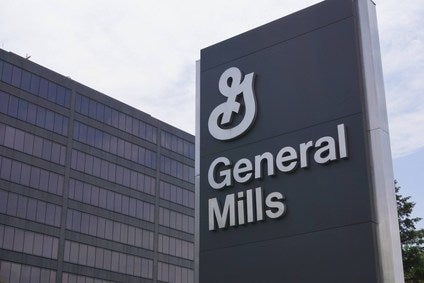 Right-sizing and a continued acceleration to position itself as a "better-for-you" food maker are likely to feature heavily on General Mills' agenda in the near term, an audience at this year's Consumer Analyst Group of New York investment conference was told.
The company insisted measures it had put in place since it presented at the event last year to try to boost falling profits and drive growth in sales and reshape its business were working.
In the year to the 25 May, General Mills' net sales were up 1% but adjusted segment operating profit dropped 2% and net earnings fell 1.7%.
In the first six months of its new financial year, the Cheerios owner's performance worsened, with net sales down 3% year-on-year, operating profit 30.4% lower and net earnings falling 31.5%.
General Mills believed it was taking the right steps to put the issues with its business straight. Last year, in a bid to boost margins, the company took a fresh look at its costs through Project Century, a review of its manufacturing and distribution network, which led the company to announce the closure of four three plants in the US and one in Canada. It also announced plans for cuts of a further 700 to 800 jobs in the US.
Beyond cost cutting, General Mills has worked to reshape its portfolio and prioritise three key areas – cereal, yoghurt and healthy snacking – in a bid to drive sales.
The firm has looked at its new product development and announced the launch of 250 products. Under its Yoplait Greek yoghurt brand, General Mills launched flavours backed with an ad campaign, a move which has seen its share increase in the Greek yoghurt category. In fiscal 2015, Yoplait US has delivered broad based sales growth and "growth is accelerating," assured CEO Ken Powell. General Mills is also set to roll out a low-sugar version of its core Yoplait product.
Yoghurt – seen by General Mills as a "healthy snacking" opportunity – is just one of the areas which has received attention from the firm in the last year. The company is increasingly looking at how to boost its presence in the better-for-you snacking category to meet growing demand for wellness foods, and convenience. As a result, some of the launches in the year included a bite size version of its Nature Valley brand in the UK. In the US the firm launched a snacking version of its Larabar granola product.
This recognition of "wellness" is likely to continue to feature strongly as part of the company's plans as it tries to better meet the shift in consumer trends.
There are some early signs General Mills' work is paying off. According to Powell, retail sales for the company's natural and organic snacks, although a smaller part of its business than, say, yoghurt and Cheerios, are growing double-digit.
"Consumers are increasingly focused on health and wellness," Powell said, and over the last two decades, General Mills has innovated to meet consumer's changing habits toward simpler foods and ingredients and assured at this year's CAGNY, it will continue to do so.
The company pointed out its natural and organic cereals are seeing good growth, both in natural channels and mainstream channels. This focus on simple, better-for-you products will remain. Just last week saw the launch of a gluten-free variety of Cheerios in a bid to tap into growing consumer interest in products that omit the ingredient.
"The millennial consumer is abandoning cereal in a way no other consumer has before," COO Jeff Harmening said, adding that this trend came as consumers seek ways to "redefine wellness".
"If we deliver what consumers want, our cereal sales will grow," he added.
The fresh work on healthier NPD comes as General Mills has also looked to use M&A to boost its business in that part of the US food market. Last year, it acquired US natural and organic food firm Annie's for US$820m.
Powell has expressed confidence this focus on health has seen the company grow its net sales and gain dollar share over the last year, so it's no surprise the firm is doubling down on efforts in the area. Product "renovation", like its move on the sugar content on Yoplait, will be a key activity over the next year.
Harmening said healthier lines – specifically more "natural and organic" products, and the launch of snacking products on the back of increasing demand for convenient options would continue to be a big focus for the group. Presently a US$600m business, by 2020, General Mills is looking at growing its organic and natural arm to US$1bn.
Sanford Bernstein analyst Alexia Howard said today (18 February) the strategies outlined by General Mills to improve its performance were "steady", although she noted the company's 2020 forecast for natural and organic sales.
"The presentation suggested that the company is pursuing a fairly steady strategy of innovation and previously announced costcutting, rather than making any bold moves," she wrote in a note to clients.
"To address shifting consumer attitudes, General Mills focused on the importance of innovation around on-trend categories including natural, organic, gluten-free and protein. Following the acquisition of Annie's, the company has more than $600m in pro forma annual sales of natural and organic products, and expects this to increase to $1 billion by fiscal 2020."
Howard said General Mills, unlike some peers in recent days, stuck to its annual earnings forecast but suggested its work on margins is overshadowed by others in the industry.
"The company reiterated guidance for FY15 and also the long-term earnings growth algorithm: In contrast with many other food companies' earnings guide-downs late last week, General Mills reiterated both short-term and long-term guidance. Though, we note the goal of 150 basis points of operating margin expansion over the next five years for the international segment is hardly groundbreaking next to Mondelez doing 300 basis points in three years for the company overall or Heinz seeing 600-700 basis points of margin improvement in a single year."