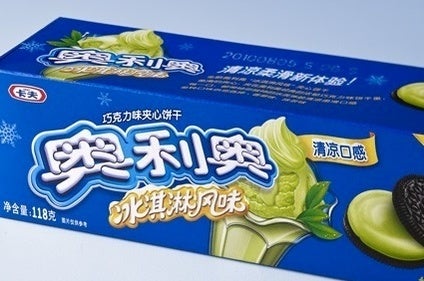 Mondelez International has pursued an aggressive cost-cutting agenda that has seen it maintain profits in the face of growth-limiting macroeconomic headwinds. Even as the company said it expects margin expansion to be the primary profit driver in 2015, it would appear that Mondelez is shifting its focus to long-term growth initiatives. Katy Askew reports.
Mondelez International affirmed its outlook for 2015 at the Consumer Analyst Group of New York investment conference yesterday (18 February). The group expects to see organic net revenue growth of "at least" 2%, adjusted operating income margin of 14% and double-digit constant currency EPS growth.
The company, CEO Irene Rosenfeld said, is prioritising margin expansion and earnings growth. On the top line, a difficult consumer environment is expected to limit expansion. Organic revenue gains this year will be "modest", with the sales slowdown witnessed in the back half of 2014 expected to continue throughout 2015.
In this context, Mondelez continues to focus on advancing its cost-cutting agenda. Work on its supply chain is on track to deliver US$3bn in productivity savings during the year, the snack maker revealed. "We continue to advance our supply chain reinvention initiatives… driving overheads down by using a zero based budgeting model," Rosenfeld explained. The company is centralising functions, such as procurement, and sharing services. "In the face of challenging macroeconomic headwinds we are controlling what we can control."
While this is driving "top tier" shareholder returns, Mondelez is also setting its sights on investing in long-term growth. Cost reduction and margin expansion are "providing fuel to invest back in our growth platforms", Rosenfeld suggested.
This represents something of a shift in the recent rhetoric from the US snacks giant. As Sanford Bernstein analyst Alexia Howard noted today: "Mondelez touched on its top-line potential for the first time in a while, including innovation, white space, and acquisition of health and wellness assets, as the most recent focus has been on margin expansion."
Mondelez is further zoning in on snacking. According to the company, the category is "on-trend" and meets consumer demand for food on-the-go. "Although snacks have slowed more recently… they are still growing faster than most food categories," Rosenfeld contended. The sector also benefits from higher margins and lower private label penetration, the chief executive continued.
As part of this drive, the company is adjusting its portfolio and revenue mix. Mondelez is in the process of separating its coffee business into a stand alone joint venture with Master Blenders. Mondelez has also moved to make two bolt-on acquisitions – Kinh Do in Vietnam and US free-from business Enjoy Life Foods – as it works to gain access to higher-growth emerging economies and expanding categories within developed markets.
"We will continue to seek tack-on acquisitions to strengthen our positions in key countries or categories, especially in emerging markets. Our acquisition of Kinh Do is entirely consistent with that strategy. With about $175m in sales, Kinh Do is one of largest snack companies in Vietnam, a fast growing market of 90m consumers, more than half of whom are under 30 years old. In addition to leveraging Kinh Do's iconic brands and leading posts in biscuits and moon cakes, we will invest to intro our power brands into their distribution network," Rosenfeld told CAGNY.
"While our acquisitions will be predominantly in emerging markets we will continue to seek opportunities to fill portfolio gaps in developed markets as well," she added, pointing to this week's Enjoy Life Foods buy. "It is a great fit with our strategy to expand into fast growing on-trend better-for-you areas."
Acquisitions are just one way for Mondelez to expand in emerging markets. With a particular focus on the traditional trade, the company is also working to grow its distribution network in these countries. In Brazil, the group aims to get its brands into 20,000 more outlets this year, in India Mondelez aims to add 233,000 more outlets – still only 16% of the 7m places where confectionery is sold – and in China the firm intents to add 24,000 outlets while "continuing to increase the efficiency of the 400,000 added since 2011".
In addition to this initiative, Mondelez plans to expand the categories in which it is present in key emerging markets. "We have significant white space opportunities. Today, in most our emerging markets we have a meaningful presence in only one or two snack categories," Rosenfeld said. For example, the group's business in China is focused on biscuits and gum, while in India and Russia, its presence is mainly in chocolate.
Another area of growth identified by Mondelez is expanding its so-called "innovation platforms" that can be built on the global stage. Innovation have accounted for about 13% of revenue in recent years and will remain an important top-line driver, the company suggested.
"Marvellous Creations is the next innovation platform we are taking global," Rosenfeld revealed. "We initially launched Marvellous Creations in 2012 under Cadbury Dairy Milk in Australia where it generates about $40m in sales… In 2013 we launched it in the UK under Cadbury Dairy Milk and Germany under Milka. Last year we introduced it in Canada and Russia. So far this year, we have launched in South Africa and Egypt. We expect to roll out Marvellous Creations to other countries in the coming years and anticipate that it will become a 500m platform by 2018."
While Mondelez has identified these new areas of growth, the firm still expects its "power brands" will account for the lion's share of revenue expansion. The company is stepping up investments in marketing behind the brands during 2015.
"We rely on our power brands and innovation… today our power brands… account for more than 60% of revenue… over past few years they have grown on average twice as fast [as non-power brands]," the chief executive observed. Power brands receive 80% of advertising spending and while the group has cut its overall marketing spend, it has put more of its money behind key brands.
Mondelez insisted its primary directive during 2015 will be cost control and margin expansion, and it has some competitive challenges in some markets and categories after its price hikes in 2014, moves it took to offset a spike in the cost of some commodities.
Nevertheless, the group investing in initiatives that to try to drive its long-term top-line growth.