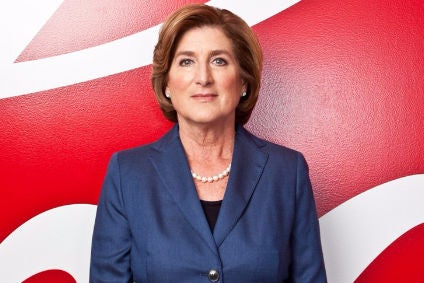 Having last week reported full-year earnings short of analysts' expectations, Campbell Soup Co. noted a challenging business environment in the packaged foods industry amid changing consumer preferences. Its sales were pretty much flat. Andy Coyne takes a closer look at the key issues it is facing.
The middle aisle malaise is here to stay
"The operating environment for the packaged foods industry remains challenging due to shifting demographics, changing consumer preferences for food, the adoption of new shopping behaviours and the dynamic retailer landscape," Campbell Soup Co. chief executive Denise Morrison said in a statement accompanying yesterday's announcement of the US food giant's annual results.
Perhaps the understatement of the (food sector) year.
Manufacturers of so-called centre-aisle products, such as Campbell's soups, have struggled to achieve meaningful sales growth, both because of the changing customer preferences Morrison refers to – the trend towards more natural foods being the big one – and also because supermarkets, responding to this trend, are dedicating more space to healthier options, including wholesome prepared meals and the products of smaller independents with 'green' credentials, as well as own-label products, thus crowding out middle-aisle space.
Amazon's acquisition of Whole Foods is expected to exacerbate this trend in the US as previously peripheral providers, and health-conscious retailers, become more mainstream.
To add to these more macro challenges, it is understood Campbell has been unable to come to an agreement on a promotional programme for its soups with a large (unnamed) food retailer.
Thus growth is hard to find, as Morrison said in the presentation to analysts following yesterday's results announcement.
"Growth. We're all in search of it. And we recognise it's been elusive for several years as the entire food industry grapples with the seismic shifts that have altered the consumer, food and retail landscapes," she said.
"These changes we've been discussing with you over the last six years have not only accelerated but converged. They have had a dramatic impact on consumer behaviour. Consumers no longer settle. They demand."
But it is one thing recognising the problem, of course. The trick is to find a solution.
Morrison reminded analysts that "at this very meeting, in 2011, I outlined our growth strategy by focusing on two critical spaces: one, strengthening our core business; and two, expanding into faster-growing spaces".
But yesterday she said: "We expect the operating environment to remain difficult".
It feels like a long slog. Investors appear to think the same thing. Campbell's shares fell about 4% on the day of the announcement to near a two-year low.
Cost savings should help. Campbell said yesterday it has increased its multi-year cost savings target by US$150m and now expects to deliver US$450m in cost savings by the end of 2020.
It says a large portion of that will be reinvested in the areas of the business it has identified as high growth.
Diversifying into faster-growing spaces" may help
Changing direction when you're steering a supertanker is no mean feat but to be fair to Campbell it is trying hard.
"Our intention has been to move Campbell in the direction of health and well-being. Although these strategic decisions have not yet yielded the sales growth to which we aspire, they have given us platforms for future growth," Morrison said.
She suggests the company's commitment to health and well-being has been "unwavering" and emphasises its "real food philosophy and our values".
In fact, Morrison went further in her presentation to analysts, she said: "Our goal is to be the leading health and well-being food company. When people look for something real to eat and something that tastes good, they're going to look for the food we make."
Products can be adapted and added to of course but large companies often respond to consumer trends with their wallets.
Thus, in Campbell's case, it paid US$700m in July to buy US natural food group Pacific Foods.
The acquisition of Plum Organics baby food back in 2013 is another example.
Analysts will almost certainly applaud the strategy of going green and bolting-on key acquisitions that improve its credentials in this area but the market's patience is not infinite. At some point investors and shareholders will be expecting this approach to feed through to the bottom line.
Yesterday's results revealed that, on a quarterly basis, sales of its V8 healthy drinks were down while its Campbell Fresh segment (C-Fresh), which has given the company a presence in the growing packaged fresh category, increased sales by just 1%. C-Fresh spent the year recovering from a trying 12 months previously when it endured recall of a Bolthouse Farms drinks line and made a series of commercial decisions that hit sales of carrots and carrot ingredients.
There is, however, still plenty of work to do with that part of the Campbell empire, as Morrison admits.
"Let me be blunt. We learned some tough lessons with C-Fresh, which we discussed with you at length. But it's essential to separate strategy from execution. Without question, we could have done and should have been better. And I believe it will significantly improve under the new C-Fresh leadership team. But our strategy was and is sound," she told analysts.
Consumers may take some convincing
It's going to be a hard sell for a company still best known for selling stuff in tin cans to re-invent itself as the go-to brand for health and well-being but stranger things have happened.
And if it buys growing brands and retains their brand identity – as has been the case so far – so much the better.
Morrison remains confident. "Campbell holds an advantaged position among our peers, and we exceed most of the other players in terms of the amount of vegetables and whole grains in our foods," she said.
"On this dimension, I believe our credentials are in the top tier in the industry. We have a powerful connection with consumers, especially families, whether it's our iconic soups, Goldfish, Plum baby food or Vita-Weat crackers, our brands have and will continue to play an important role in the moments that matter in people's lives."
Further acquisitions and international expansion seem likely
Morrision talked about "seeking external development opportunities" which can be seen as shorthand for looking for acquisition possibilities, especially, one would assume, deals that take Campbell further into fast-growth categories or new areas.
Speaking to analysts on Thursday, Campbell highlighted how it planned to invest in the snacking side of its business, prompting Bank of America's Bryan Spillane to ask if M&A would be part of those plans.
Morrison indicated that, alongside innovation and looking to push its existing brands into new channels, M&A would be a lever for Campbell's snacks assets.
"We continue to be very disciplined about the M&A that we do and this will be no different. But this is an area, where we have an interest, particularly in the better-for-you snacking arena."
As for international expansion – an area in which some large US food firms often come under fire from analysts who feel they are too focused on the home market – the expectation is with sluggish growth at home the company will look to expand beyond its shores.
CFO Anthony DiSilvestro told analysts last week Campbell will invest in its Global Biscuits and Snacks business to grow in existing markets – principally Pepperidge Farm in the US and Arnott's in Australia – but he also said it will leverage the brands in its portfolio with broader geographic potential, namely Goldfish, Tim Tams and Kelsen.
"We'll continue to expand our business in developing markets like Indonesia and China," he said
New channels and innovation are likely to have a big role to play
Companies such as Campbell have traditionally been highly dependent on distribution through stores whereas the direction of travel is increasingly online purchasing.
Through Amazon and its Prime two-day delivery programme, Whole Foods could sell more of its shelf-stable goods, including its 365 Everyday Value brand, online.
Such potential will not have been lost on the likes of Campbell, which is busy trying to build its e-commerce offering and investing in the evolving channel.
CFO DiSilvestro told analysts: "We will continue to invest in Habit, focused on personalised nutrition, in the Acre Venture Fund, focused on early-stage investments, and to further build our internal innovation capabilities, for example, a rapid incubation process in C-Fresh, and also to support new product launches.
"On e-commerce, we are standing up a new e-commerce organisation, including a dedicated customer team. We are also expanding our digital capabilities and evolving our supply chain model for late stage differentiation."
In May it was announced that Campbell had invested in Chef'd, an online meal kits business, while it is also backing start-ups through a mentoring programme in conjunction with Foodworks Brooklyn.