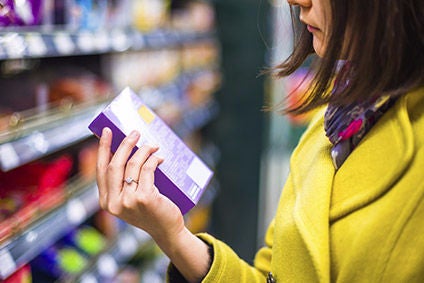 A decade ago, a handful of companies looked to label a product's carbon footprint. The concept never took off. If the idea is revisited, would it now gain traction? David Burrows reports.
In March 2007, a new logo appeared on Walkers crisps. It showed the product's carbon footprint – 75g CO2e, encompassing everything from potato production to processing, packaging, logistics and disposal. The label – initially on the UK's most popular variety cheese and onion – was tiny, but this was big news, and grabbed headlines across the world.
Raising awareness of carbon emissions is "the right thing to do", then Walkers chief executive Neil Campbell said. "We hope this label will empower people to make informed choices about the products they buy."
Of course, that would require a carbon label on every grocery product – and that was the ambition. Coca-Cola, Innocent, Sainsbury's and Tate & Lyle also signed up to the pilot scheme, while Tesco, sensing a rising tide in interest among consumers, promised to put a carbon figure on its 70,000 products. In my notes from the time, there is a line from The Carbon Trust, the organisation behind the certification scheme. "Ultimately the aspiration is that everything you can buy will have a carbon measure with it – 75g is the first number out there and there's not much context for it."
That quote still rings true more than a decade on, because the concept of carbon labelling food never quite stuck. However, thanks to the latest stark analysis of climate change from the UN it's back on the radar.
"If you buy a washing machine, a fridge or a television in Europe, it comes with a [mandatory energy efficiency] sticker," wrote Joseph Poore, an agriculture and environment researcher at the University of Oxford, UK, recently. "So why has our food system – which threatens 10,000 species with extinction, emits about 30% of greenhouse gases, and drives 80% of our nitrogen and phosphorous pollution – only ever had voluntary ecolabels?"
Walk down a supermarket aisle and it's easy to spot ethical labels like Fairtrade, or the Marine Stewardship Council standard for sustainable seafood. Badges for sustainable palm oil are harder to find, but there, and there are also a number of 'high welfare' schemes for meat, dairy and eggs. Picking out healthier products is also getting easier thanks to initiatives like traffic-light nutritional labels.
However, try to determine which food brands have a low environmental impact is pretty much impossible. And the difference between two very similar products can be significant, as a study that Poore co-authored shows. There was the bar of chocolate that emits 6.5kg of greenhouse gases, unless the cacao trees are growing and storing carbon, in which case the figure drops to zero. High-impact beef producers were found to create 105kg of carbon dioxide equivalents and use 370 square metres of land per 100 grams of protein – respectively, 12 and 50 times greater than low-impact beef producers.
Climate labels would allow consumers to tell these products apart, Poore tells just-food. He wants to see a warts-and-all exercise, assessing the environmental impact of all food and drink, the results of which would be displayed on-pack. This would have to be mandatory, he says, with supermarket aisles illuminated with green, amber and red labels depicting each product's water use, emissions, impact on biodiversity and pesticide toxicity. But would it shift consumption patterns?
In Europe, energy labelling, together with accompanying ecodesign rules, has cut carbon emissions by 7%, The European Commission says. Some 85% of consumers use the energy label when purchasing. But would they buy into an environment label for food?
The short answer is: we don't know. Evidence for consumers' appetite for a carbon label tends to be dated, given how quickly the concept dropped off the radar. A YouGov survey in the UK found 44% of people would switch to a lower-carbon product even if the brand was not their first choice, while a Populus poll showed 49% are more likely to buy a product that has a carbon label on pack. That research is over 10 years old. A (non-peer reviewed) study involving 400 US shoppers, published last year, showed 45% rated a carbon label more important than five other existing eco labels.
What do food manufacturers think? just-Food approached ten of the largest global firms to ask. Nestle was the only one to respond to the question directly. "We don't believe on-pack labelling to be the best option for communicating complex issues and data on environmental impacts."
European trade body FoodDrinkEurope is similarly sceptical. "The complexity of providing verifiable, meaningful, reliable and non-misleading environmental information to consumers, as well as additional information about food and drink products that is either required by law or voluntarily provided, needs to be balanced with the risk of information overload and the fact that consumers are, in most cases, under time pressure when making decisions," a spokesperson explains.
Indeed, a climate label would offer at a glance comparisons for consumers but it would lack context. Denmark has just announced plans for a new ratings scheme for food that would be pinned to packaging. Morten Høyer, the director of the Danish Agriculture and Food council, suggests it is a "fine idea" but fraught with challenges. "It may be necessary to compare the climate effect of a product with how nutritious it is," he explains. "A soda might only have a small impact on the climate, but it will not sustain you."
There is also the chance it will demonise certain products. Red meat would likely be the big loser in any mandatory climate labelling scheme. Governments have been notoriously reluctant to tell people what to eat, or even ruffle livestock farmers' feathers by pushing the 'less livestock' message in the context of sustainable diets. So a label that made most meat look bad is unlikely to be seen as a vote winner.
Consumer awareness of the impact of livestock farming on climate change is also at an all-time high, so why bother with a label? YouGov research from this year, shared by meat-free supplier Quorn Foods, shows 51% of UK consumers understand meat reduction can help reduce environmental impact. Quorn is one of the companies that has invested more and more in product-level carbon footprinting. Half of its products by volume globally have a certified carbon number attached to them – the one for its mycoprotein-based mince showed the carbon footprint to be 90% smaller than beef mince. It's a positive story, but one the company has been reticent to share, says Louise Needham, the manufacturer's sustainability manager. That could soon change: the timing "seems to be right" to start delivering an environmental message, she says.
Others working in meat alternatives are cautious about the impact a climate label could have. Would it ignore animal welfare, for example? Intensively reared tends to equal lower emissions. Zak Weston, a corporate engagement specialist with the US-based The Good Food Institute, also wonders if, perversely, labelling would encourage people to eat more meat if it's marketed as 'better' for the environment.
The more the concept of a climate label is unpicked, the more complicated it becomes. Sarah Jane Widdowson, from the UK-based environmental consultancy Ricardo, swings from the "Monday morning grump" in her that thinks the idea is too fraught with complexities – you need to not only choose the right metrics, but then decide which one is "king" and get everyone to agree on it – to a glass-half-full approach that wonders whether a label that is universally supported and adopted could do great things. "It would start to normalise climate change and make it part of our every day lives," she says.
On the other hand, perhaps consumers want the food industry to do the decision-making for them.
Carbon labels came unstuck after the financial crash, when environmental claims tumbled down shopper priority lists, and manufacturers and retailers fell over themselves to cut prices. The idea of spending hundreds of thousands of dollars on expensive life-cycle analyses for every product in a company's portfolio was dismissed as folly.
"Ten years ago, we naively expected business-to-consumer [footprinting] to be bigger than business-to-business," explains Martin Barrow, director of footprinting at The Carbon Trust. "Business to business is hugely dominant."
Most of the large food manufacturers and retailers – especially those that are publicly-listed – are conducting analyses of their carbon impacts. In fact, Barrow estimates his team may well be doing "40 or 50 times" the amount of life-cycle analyses they were a decade ago. This is an issue that's "not far off being super-critical for shareholder value", he says.
Environmental issues are firmly back on the agenda. The damage done by food production and the potential crisis should nothing be done is well known, says Giles Bolton, responsible sourcing director at Tesco. The retailer was forced into an abrupt volte-face on its footprinting programme (by 2012, it had pulled the plug on its project), but last month it launched a new sustainable consumption initiative with WWF.
The plan is to reduce the environmental impact of the average UK shopping basket by 50%. Interestingly, research conducted for the retailer showed 59% of consumers are confused about which foods count as "sustainable".
"Consumers absolutely want to move towards more sustainable consumption, but they want it to be made very easy […] that's the sweet spot for us," says Bolton.
Could a climate label be part of the programme? Bolton won't say, but Tesco will likely have to trigger change at both ends of the supply chain – forcing producers and manufacturers to reduce their emissions, while promoting or spotlighting the most sustainable brands and products in store. If successful, it could shift the whole sector.
The real benefit of a climate labelling system, insists Poore, is not that it changes consumer behaviour. "You change the whole production dynamic," he says, "and companies compete on environmental performance rather than just on quality and price". That's what happened with fridges – no one wanted a red label when everyone else had green. "It would give retailers and manufacturers a kick," he adds. "You might have ready meal manufacturers reducing their beef content to move out of the red zone, for example."