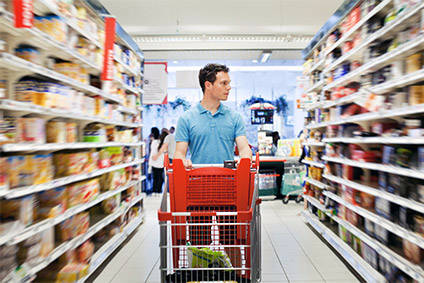 In western Europe, more consumers are looking for new products, are becoming more interested in quality and are increasingly demanding a shopping "experience". Frédéric Nicolas, shopper insights director for IRI, argues food manufacturers can benefit from these trends but suggests their retail customers may need a little encouragement.
Shoppers have changed – that much we know. Not just in the way they shop, but in the way they feel about shopping. You might expect emotion to be a fundamental part of the shopping experience when it comes to clothes or perfume perhaps but even within FMCG, consumers are hugely influenced by the shopper experience when buying.
However, stores have changed very little over the years. When you go into a supermarket in France, for example, it is much the same as it was ten years ago. The average rating out of ten given by shoppers to supermarkets is 7.1 compared to more than eight for specialist channels, according to online shopper research from IRI this year. While in France hypermarkets and supermarkets still represent 90% of sales, the need to 'experience' products in-store is as important as ever.
This desire for a shopper experience that is up close and personal may not be the same across Europe, where there is something of a north-south divide. In southern European countries – Spain, Italy, France etc – contact with products is important and physical stores are strong, while digital channels in the UK and other parts of northern Europe are much more successful.
Pleasure is a priority it seems. It is not just the physical experience of going into a store, shoppers also want to try new products. New product sensitivity – a measure of the percentage of consumer who regularly or always search for new products when shopping for consumer goods – has increased by nine points to 22% over the past two years, according to research from IRI this year – to taste things, smell them and test them before they buy. Shoppers' first expectations are for more samples and tastings – and manufacturers and retailers have a responsibility to bring stores to 'life'.
But while shoppers want the in-store experience, they are also more demanding and savvy than ever before. They are understanding the typical manufacturer and retailer strategies more than ever. It is no longer enough to use words like 'new product' to catch the eye of a shopper. We are also much more discerning about 2-for-1s or half-price offers.
Another interesting dilemma is shoppers want choice when they go into the store, yet they also want clear shelf space. The percentage of shoppers who find it hard to locate products on the shelf has doubled since 2013, according to our research. With many retailers, like Tesco and Morrisons in the UK cutting back on product lines in order to reduce their range assortment, this balance is going to be a difficult one.
Given that shoppers now have less time to do their shopping, what can manufacturers and retailers do to excite them? Just because shoppers claim to have less time to shop, it does not necessarily mean that the shopping experience has to be shorter. Consumers will spend more time in-store if the experience is pleasurable.
Manufacturers need to put pressure on retailers to invest in better signage and lighting in their stores and to do more to excite the shopper once they are there. We are seeing a decline in in-store demonstrations and tastings, as retailers focus more on price and promotions and fail to invest in in-store events and demonstrators, which cost money.
Promotions need to be less and less about discount and more and more about bringing life into a store. Manufacturers like French dairy giant Danone and pasta group Barilla are recognising that in-store investment can bring a lot to a brand.
Retailers also seem to have less staff serving and helping customers. This is a mistake. In an increasingly digital world, human contact is more and more important for shoppers, even among the younger generation, including millennials, who still prefer to go in-store for the experience. Perhaps surprisingly, according to an IRI study conducted in France in 2014, the percentage of shoppers using their smartphones when out shopping for FMCG products is low, and has fallen in the last two years from 10% to 8% among shoppers owning a smartphone.
Packaging is also hugely important in the shopper experience and a factor on which manufacturers should capitalise more, especially in a busy category. Nice packaging can be the way to excite the shopper and deliver pleasure from purchasing. That said, in France, IRI found that while shoppers chose products because the packaging looks good, packaging as a good teaser is not enough. The product has to deliver quality as well, with consumers more and more sensitive to it. According to IRI's study, over half (51%) of shoppers pay more attention to the quality of consumer goods products – including attributes such as taste – than last year.
But what defines 'nice packaging'? It depends on the category, but according to the last IRI Shopper Survey, which was carried out in the second quarter of 2016, we know colour is probably the most important attribute. Strong colours often have an emotional connection for shoppers and are highly visible in the store. We are also seeing a trend for vintage style packaging, and some manufacturers have been taking advantage of this, reviving old and even 'dead' brands like Mars recently did in the Netherlands when it relaunched the old Twix brand there.
There are, however, other factors to weigh up when considering labelling. With shoppers more worried about the products they buy from a health and ethical perspective, and the rising popularity of organic and even locally produced products, the focus for manufacturers should be on clear labeling, informing the consumer about the product, and transparent packaging to show it off. Interestingly, the level of pack reading during shopping is now 75% compared to just 58% in 2009.
Rapid technological development is changing the way we shop, but it is clear the in-store experience is as important, if not more important, than ever. Manufacturers and retailers must collaborate better to excite the shopper and put the human element at the forefront of the shopping experience once again.